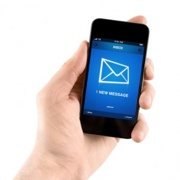 StockCharts members have had access to custom technical alerts for some time now. Alerts allow members to receive an email message whenever any technical situation occurs with one or more of their stocks. They are very similar to our Advanced Scans and can be customized to recognize any set of indicator-based signals you can imagine. When a user installs an alert into our system, we automatically run that alert every 60 seconds while the market is open and, if we get any hits from it, we then notify the user via email.
Our Extra and ExtraRT members can create up to 5 different alerts and our PRO users can create up to 50. For more information on Alerts, please watch this video on the topic.
Again, until now we have only be able to notify you of an alert signal via email however now that has changed. Today, I'm happy to announce that we now support alerts via Mobile Text messages (SMS)!
As of today you can now select either "Email" or "SMS" from the "via" dropdown on the Alert Workbench page. If you select SMS, we will send a text message to the phone number that is registered to your account when your alert is triggered.
Note that it is important to ensure that you have set your correct phone number in your StockCharts.com account area. You can check to see which phone number we have on file by clicking on the "Your Account" link in the upper right corner of any of our webpages.
There is no additional fees required to take advantage of this new feature. Just start using it. It is yet another way we are continuing to improve StockCharts.com.
- Chip