When China has trouble, it seems the rest of the world does too. The reality that we are seeing China pull back is not that big of a surprise. While China had a blip this week, the US market had already stalled below the 200 DMA in December. That was not necessarily China induced. As well, the Santa Claus rally failed to materialize. So is it time to get bearish forever? No. But we are in bear market with 5 lower highs and the market high on the $SPX was back in May. There is a reason that top performing stocks are large caps with slow to no growth. WMT recently, MCD, GE come to mind. The problem is there are a lot of distractions obscuring what is changing.
On the first Commodities Countdown of the new year, we'll discuss some of the major turns that are happening while the news flow seems to be covering H-Bombs. You can register for that here. Commodities Countdown 20160107.
One of the moves we covered off back in Mid-December is the potential for the Japanese Yen to break out of the 9-month trading range. That is playing out, with very little fanfare by the mainstream media. On the chart below, it is very close to a new 52 week high. This could put a lot of pressure on the Japanese Equity Market.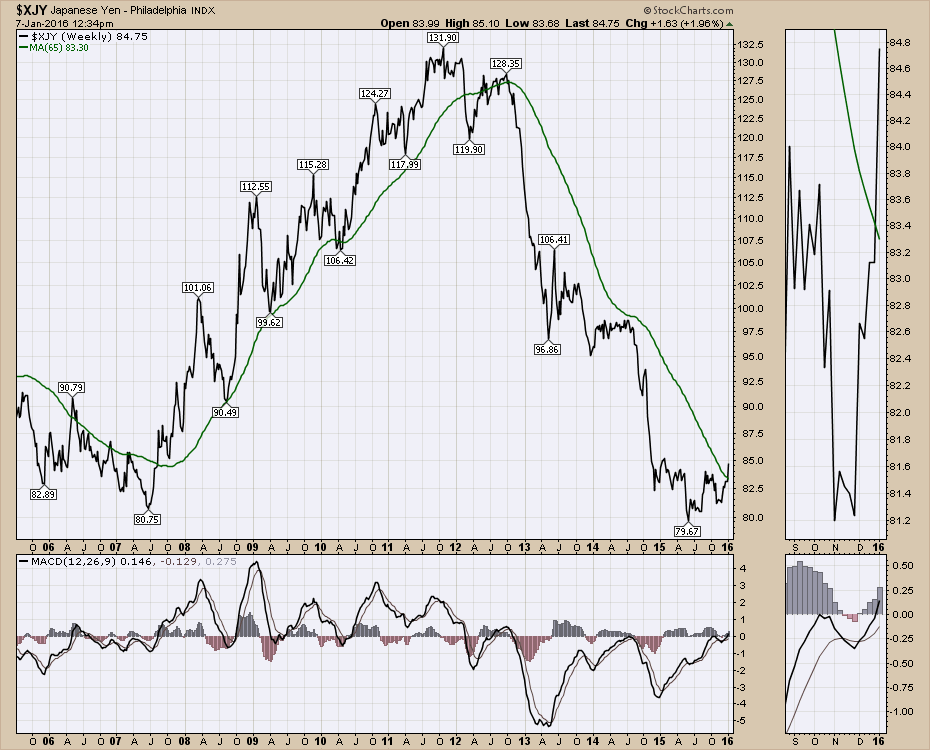 This situation is very important to monitor. Here is the chart of the $NIKK. The $NIKK started to soar when four central banks started a QE program at the same time in 2012. Now that the Japanese market seems to be rolling over, it would appear the Japanese QE is starting to lose its effect. Recently, when more corporate tax cuts were announced and more government investment in the Japanese stock market was announced, the Japanese market had an 883 point swing intraday.
Notice the $NIKK rolled over slight before the US market back in 2007. The change in the Yen and the corresponding move in the $NIKK warrants attention as Japan is the third largest economy in the world.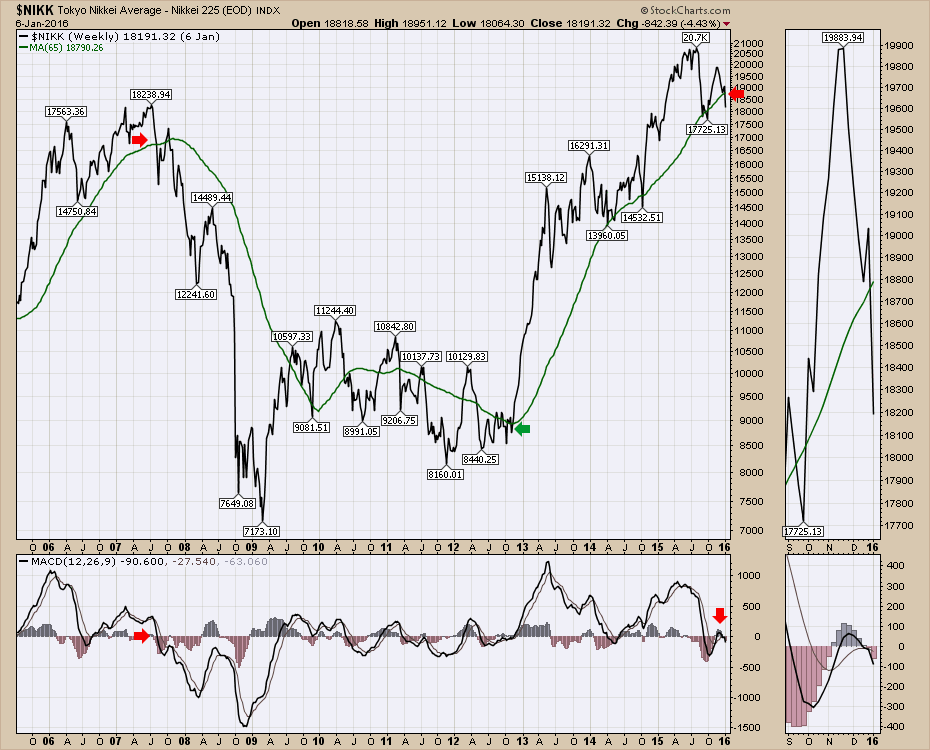 If both China and Japan are slowing down, it will stress the US and European markets. The US transport charts suggest that the US market is slowing down as well. This lack of global growth is adding pressure and we are witnessing what appears to be the turning point. I will cover this off in greater detail on the webinar, but there are lots of changes happening as the new year starts. Stay tuned on the Commodities Countdown Webinar 20160107 this afternoon if you would like to catch the changes that appear to be turning.
There are some things starting to go up, and for investors, these could bring positive returns in another down tape.
Good trading,
Greg Schnell, CMT