I covered off Natural Gas on The Canadian Technician Webinar 20160308. The candle on Monday looked bullish on a reversal from the serious slide in Natural Gas. Today's price action continued higher so far, but this chart will not update until End-Of-Day.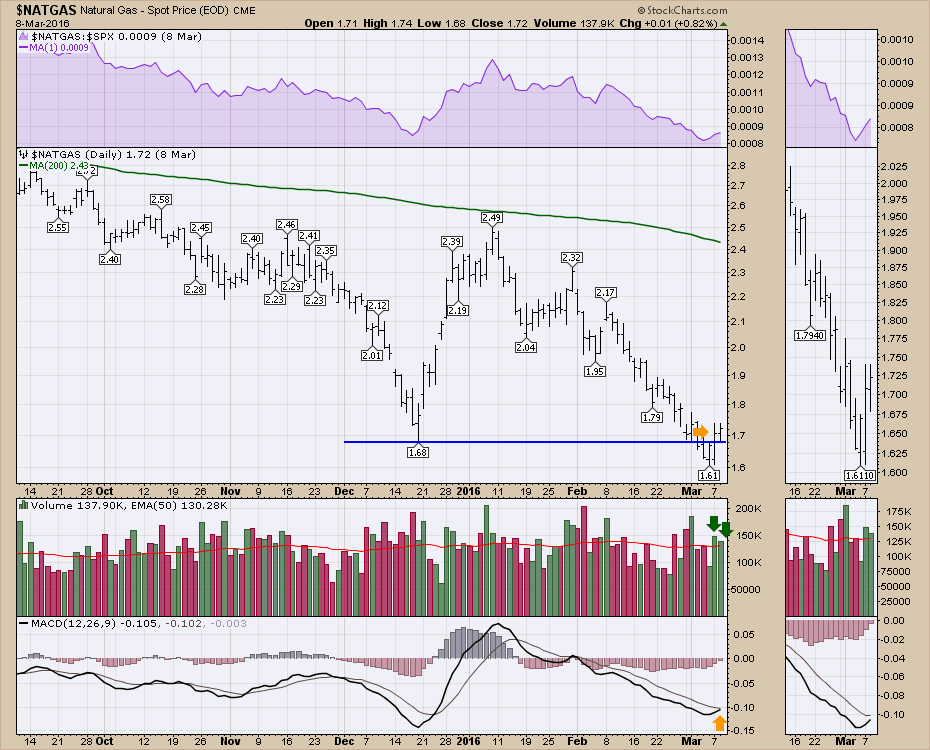 ---
The very long-term monthly chart is the main reason we have been hunting $NATGAS for the low to be put in here.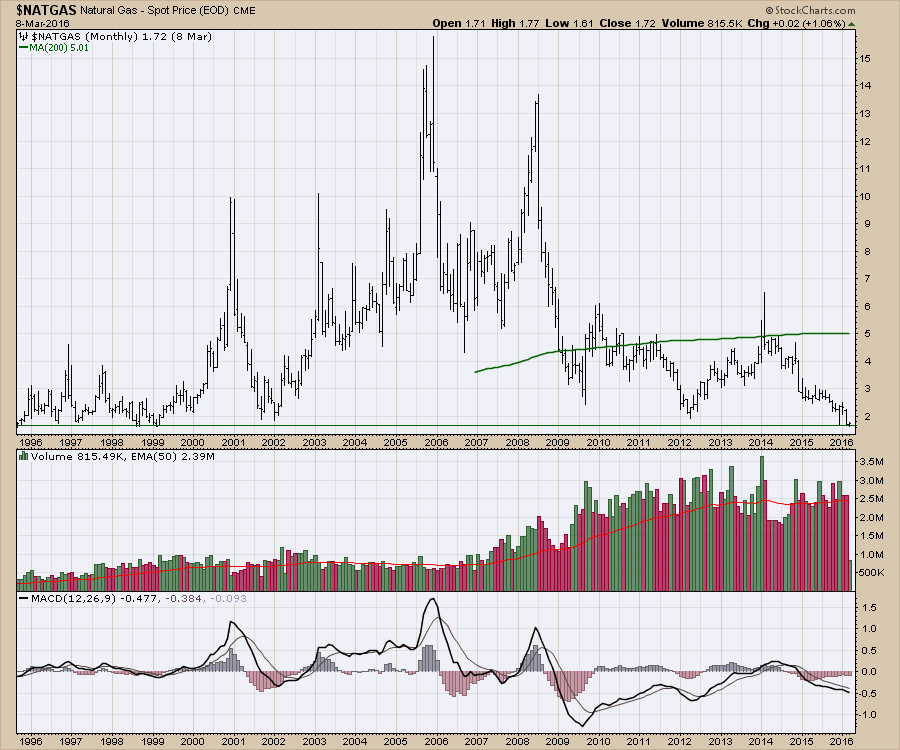 A chart on $GOLD seems timely. Using GLD as a proxy, you can see GLD broke the trendline today. Followers of the webinar will not be surprised by the price action. Hopefully, you were able to lock in some of the huge gains we made in the gold miners over the last few months. The recent stalling action was a good reason to exit.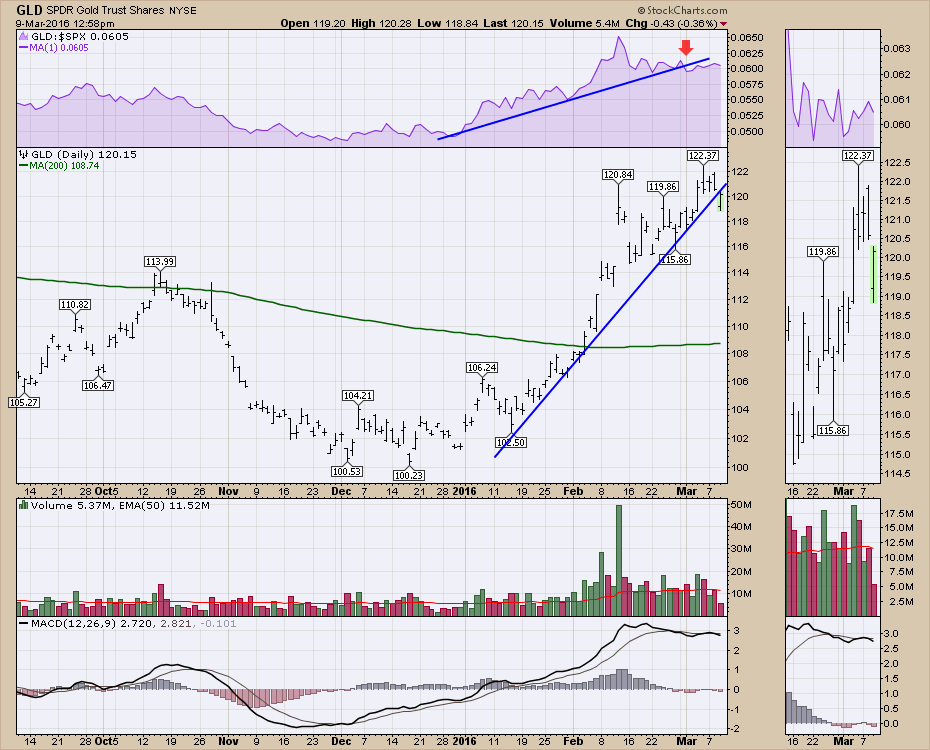 For long-term thinkers, Gold has given us a bull market signal on the RSI. Any dips to the 40 or 50 level on the RSI should be monitored to enter long positions.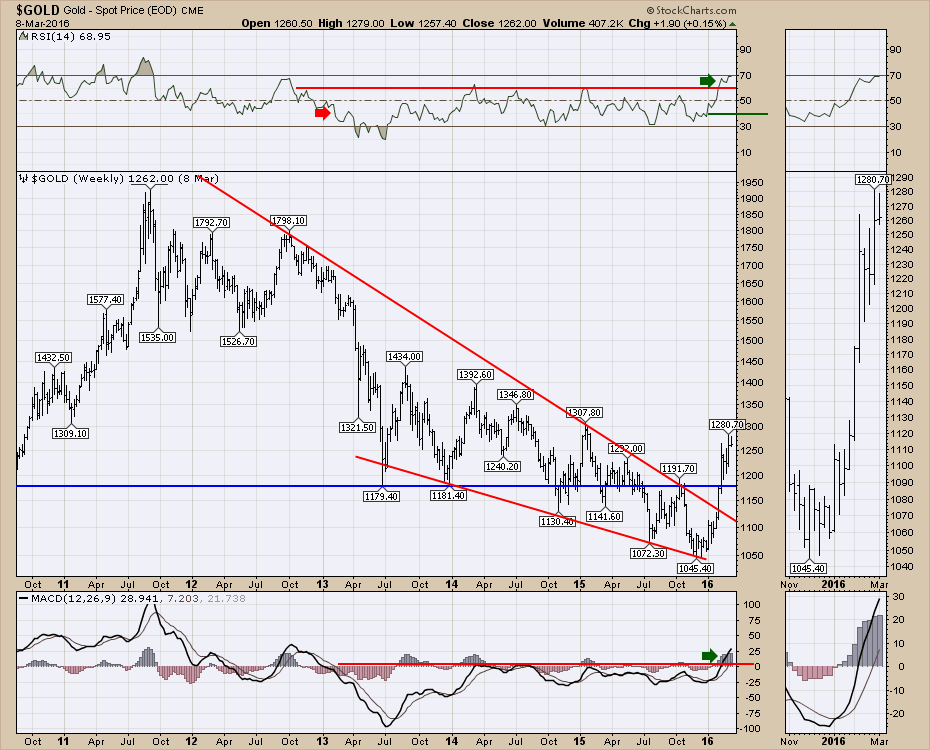 Lastly, the most important chart to commodity-watchers is the chart of oil. So far this week, we have had a failed breakout. Oil will need to close above $38 on Friday to hold hope that the low is in. In my technical work, it would appear that we need to go down and test the recent low, put in a higher low on momentum and the RSI before the final low is established or confirmed.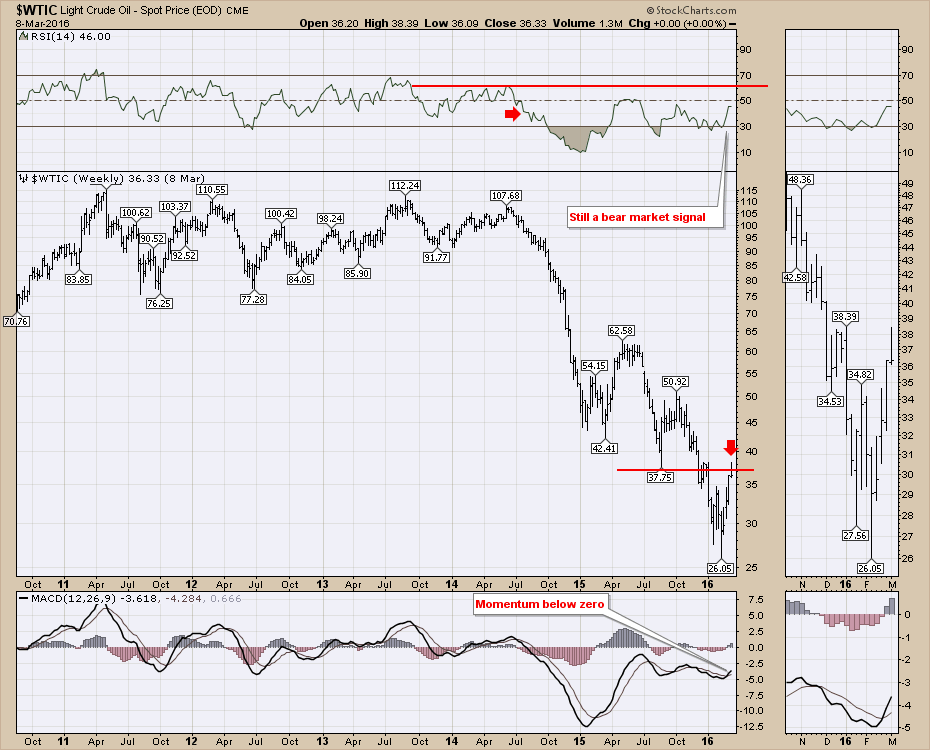 I would encourage you to listen in to The Canadian Technician Webinar 20160308. I covered some of these charts on that webinar. I will be doing a Commodities-focused webinar on Thursday, March 10, 2016. Click here to register. The Commodities Countdown 20160310. Some comments from last week's webinar asked for a wider view of the US markets on the upcoming webinar. I will try to squeeze it all in.
Regarding connecting to my articles,
I was recently asked about subscribing to StockCharts blogs. You must subscribe to each blog independently. I currently write on four different blogs within StockCharts. The Canadian Technician, The Commodities Countdown, Don't Ignore This Chart, and the ChartWatchers newsletter. If you are missing some of the commentaries I refer to, it could be posted on different blogs. I try not to duplicate across them. Sometimes different gold articles are discussed on the Canadian blog as well as the Commodities Countdown blog as an example. Please register for each of them independently. We are trying to allow you to control which writers hit your inbox. You can also follow me on twitter @schnellinvestor. You can also connect with me on LinkedIn.
With that, I'll look forward to catching you on the webinar @ 5 EST.
Good trading,
Greg Schnell, CMT, MFTA