All over the globe, the developing world is building nuclear facilities with Uranium as a fuel source, and in the developed world, it seems we are trying to close them. Without weighing in on that debate, chartists have been watching for signals in the uranium market that Uranium demand is about to go ballistic. The problem is we've been waiting for years already.
On this week's webinar, (Commodities Countdown 2016-01-14), one of the charts sparking interest in Uranium this week is the Uranium ETF (URA). Why? Well for me, the SCTR ranking went above 75. That puts it on my radar. You may not like it yet as this 5-year chart is demonstrably ugly! But a change in trend is worth watching. A break above the red line suggests some further interest.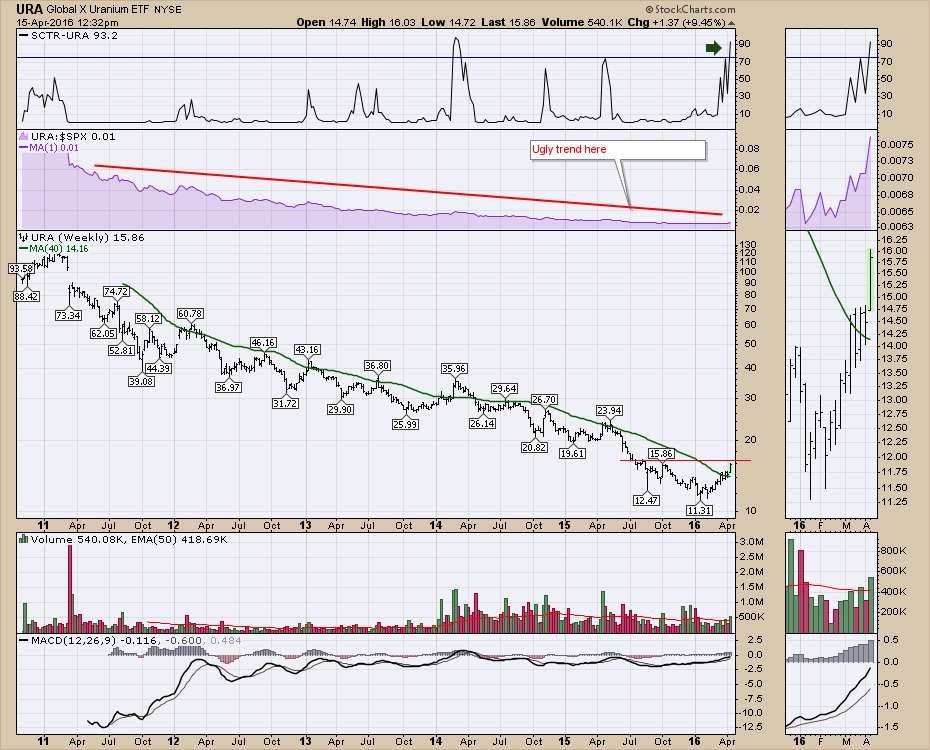 ---
The 800-pound gorilla in the uranium space is Cameco (CCJ) and that chart is still stuck in a Cigar Lake smoke room. Cigar Lake is Cameco's newest major mine that has been an immense challenge.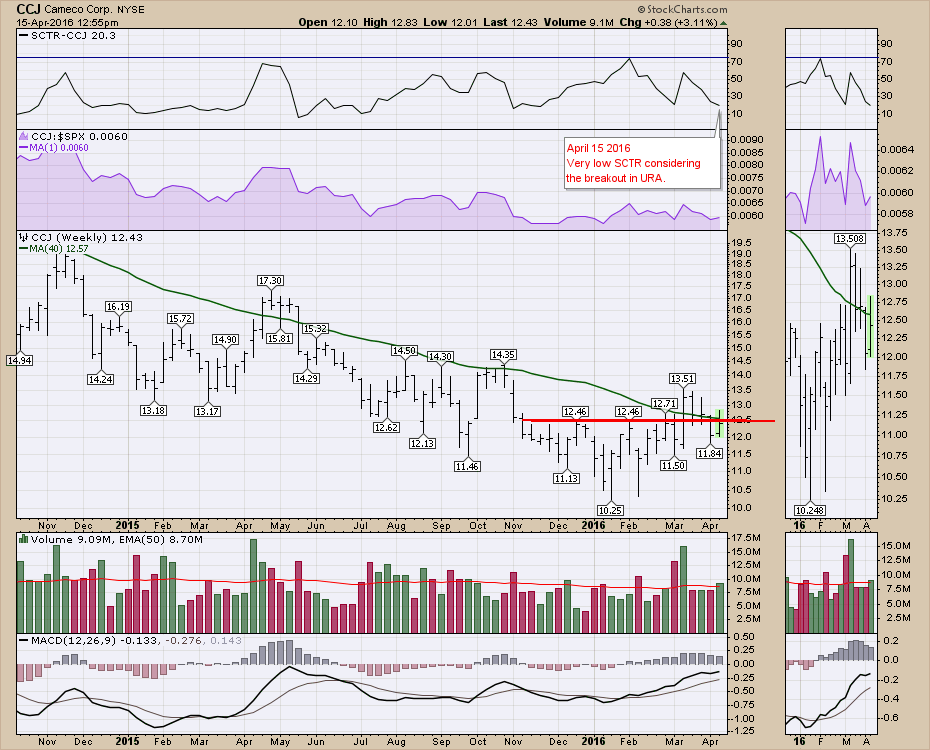 The $USD looks to be closing this week higher than last week. It has also formed a bullish outside reversal bar that would be more meaningful if it closed near the top. It does suggest indecision if it just closes mid-bar which is under Thursday's close below.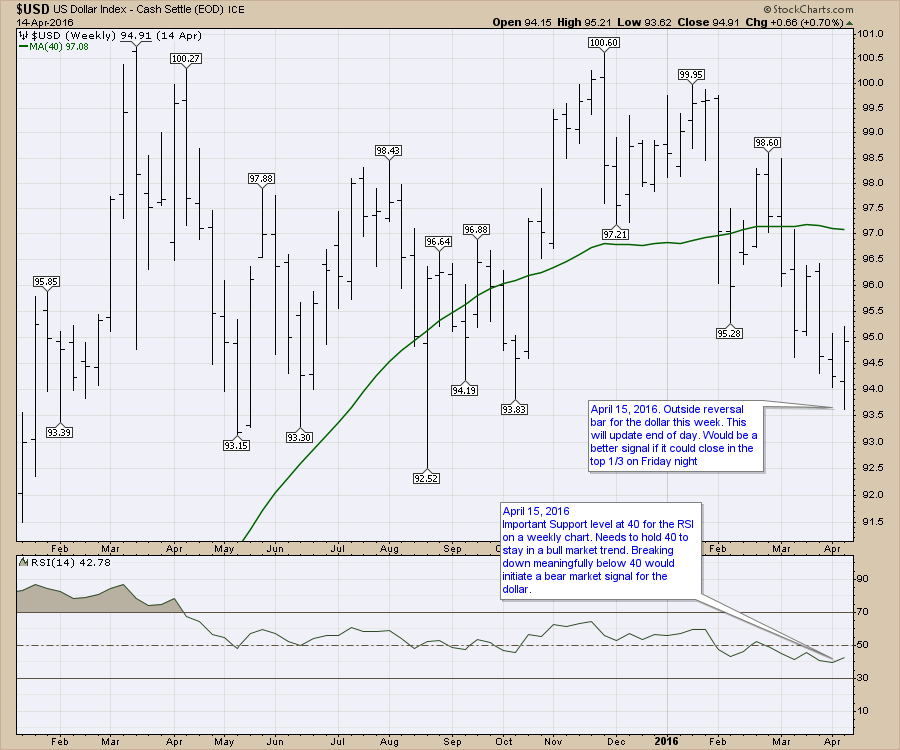 Oil ($WTIC) is making a meaningful reversal off the lows. It has now reached a horizontal resistance level that will be tested next week. We have the Doha meeting where they will ... who knows! Interesting that the chart reaches this horizontal support/resistance as the parties get together. As Toby Kieth sings "A little less talk and a lot more action!", that is probably what will be required to add more fuel to the rise in oil prices.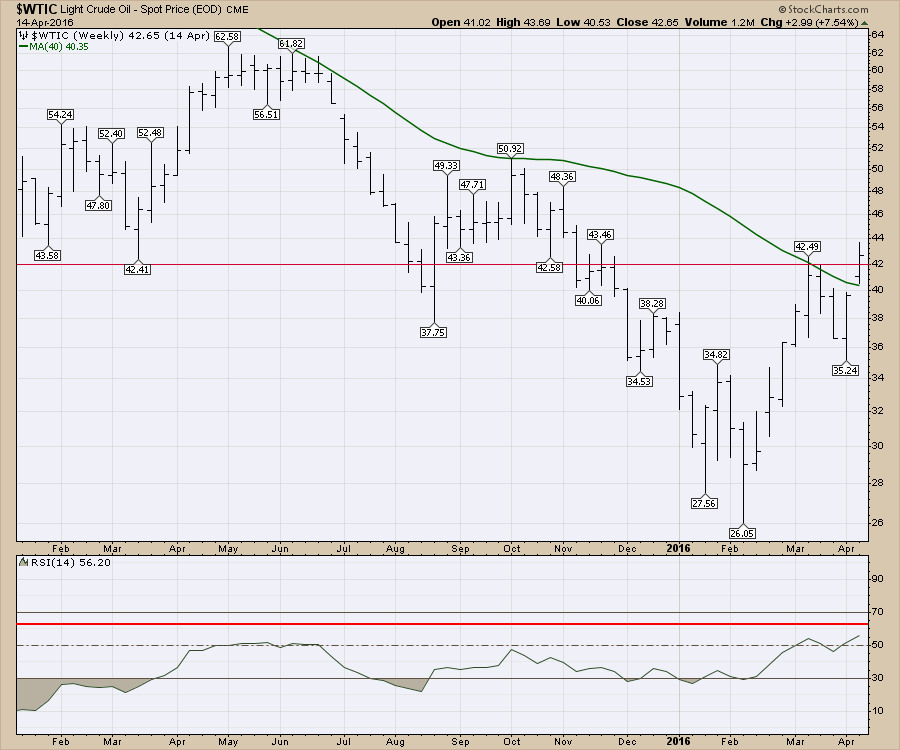 The webinar talks about some interesting work by Bill Strazzullo in New York City at the MTA conference using a different form of volume by price. I explained the 30,000-foot view of the analysis on the webinar. I covered off oil extensively on the webinar, (Commodities Countdown 2016-04-14), starting at the 13:15 mark.
Gold's big push to start the week is creating a higher-high, higher-low, but lower close this week. Is it a bump in the trend? I'll be watching the resolution of the $USD for further clues. At midday today, GLD was hovering around the 10 WMA for support. This is easier to see in the zoom box on the right.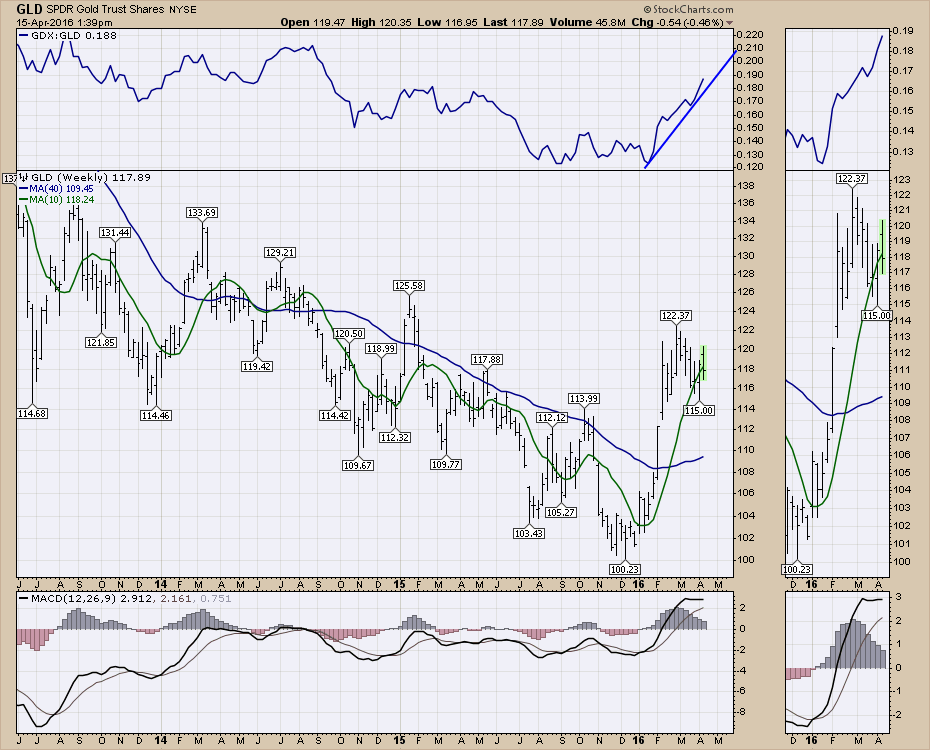 There is a broader conversation about gold on the webinar as well, right near the end. Commodities Countdown 2016-04-14.
I will be doing a live presentation in Winnipeg, MB on Saturday, April 30. Please click on the CSTA for more information. Winnipeg CSTA Special Event. I'll be presenting at Golden Gate University in the fall as well.
This fall, we'll be holding the most accessible ChartCon2016 in September. Please register as soon as you can so we can do the planning required to make this a big success. This Chartcon will produce actionable ideas for you.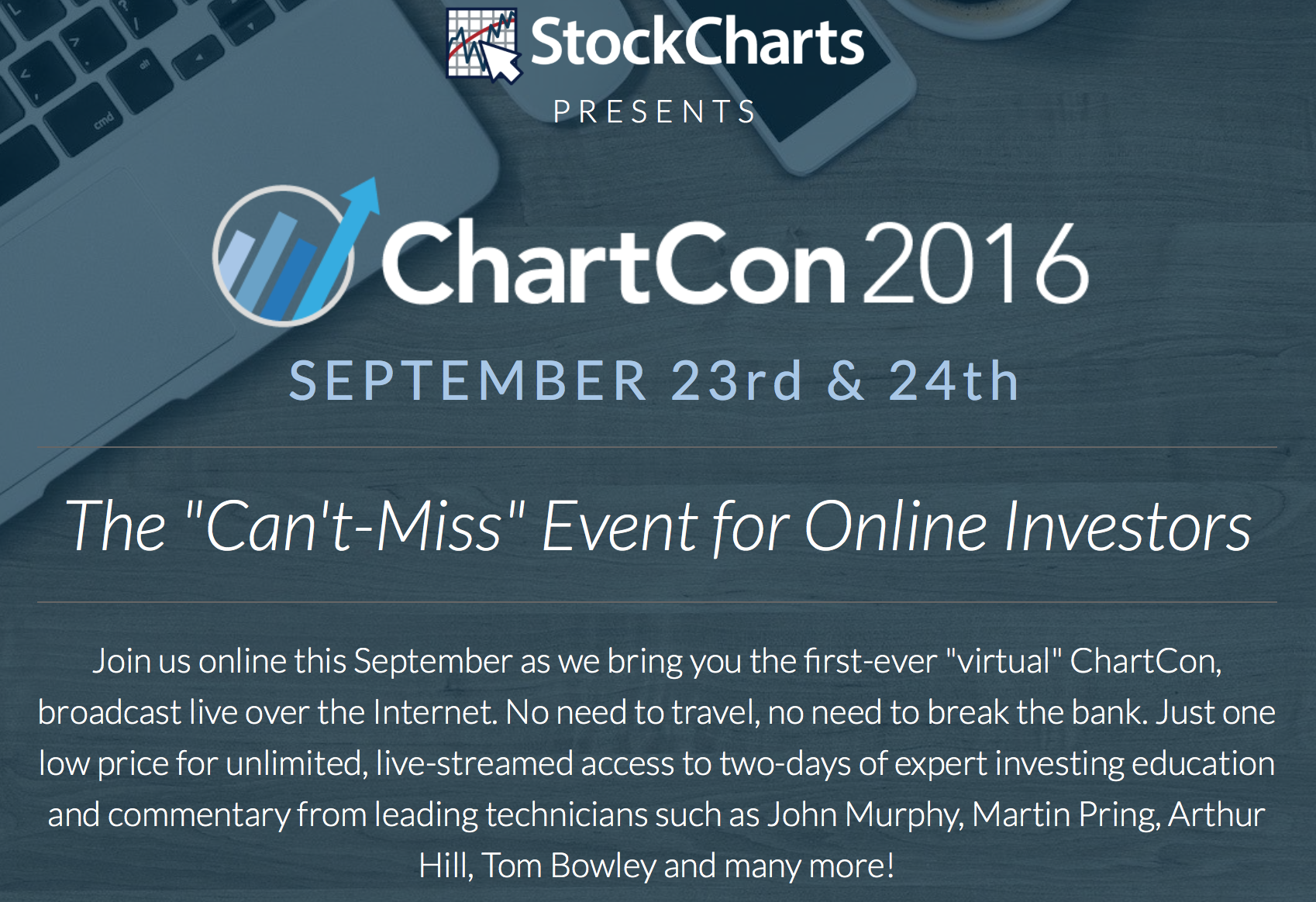 Lastly, there is always a twitter feed! Greg Schnell, CMT, MFTA
On another note, if you would like a technician to present to your audience, please send me an email: gregs at stockcharts.com as our goal is to help investors understand technical analysis.
Good trading,
Greg Schnell, CMT, MFTA.