Commodities continued their pullback this week. The problem is that a lot of them have been teetering on support. This week marks a break in my optimism. First, Crude oil finished the week at the uptrend line. On the webinar, I used the close rather than the intraday lows. The bottom line, oil needs to hold here.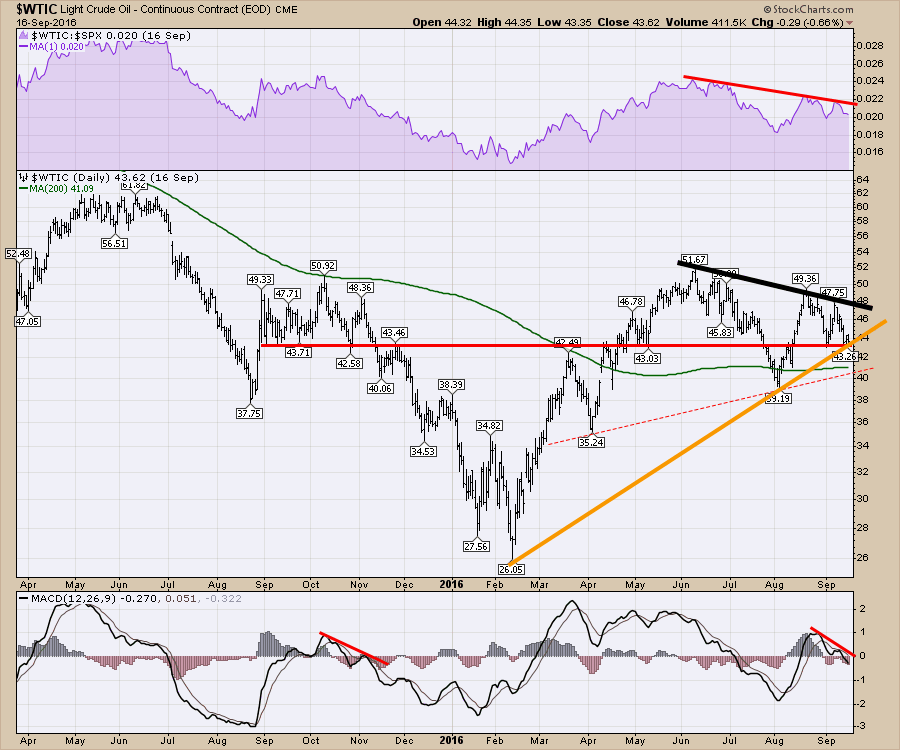 ---
Gold closed below the uptrend line. This is an important level of support. There is horizontal support at the orange dashed line. Normally, orange dashed lines are on a highway. We don't want this one to be a passing lane. $1330 must hold or $1250 looks likely. I had more to say on the webinar about looking for support on the gold miners this week if it is going to show up. Here is the webinar link.
Commodities Countdown 2016-09-15.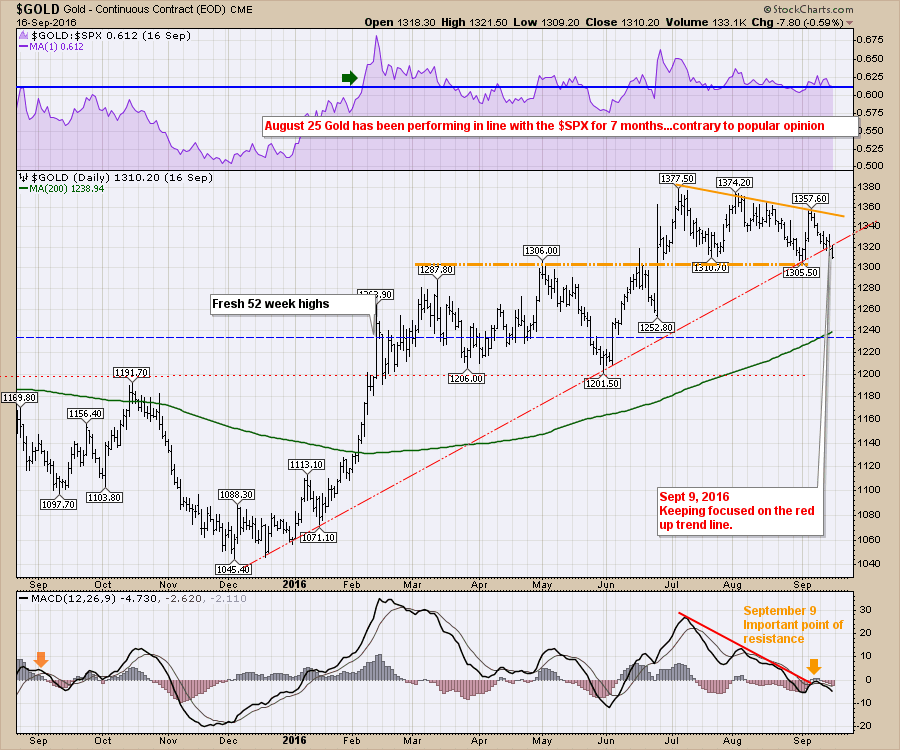 One of the concerns is comparing the two charts above. Oil has had four peaks, all progressively lower. Gold has had three peaks, all progressively lower. This is not promising at this point. We need Gold and Oil to start to rally very soon if the next commodity bull market is underway. I have discussed why we should be in a primary bull market on many occasions during the webinars. I have also indicated why it is important that the rallies get very strong, very soon.
The $CRB is mired below the 182 level. This is a long term line that may be indicating a new reality for commodities for all investors in this cycle. Some investors have been actively investing for 45 years. Most of us have shorter memories during our investing education. You can see in the zoom box that the $CRB is having trouble closing above the 182 level. The last three months have 'selling wicks' on the tops of the bars. The open the month, trade higher but fail to hold and sell off by the end of the month. These selling wicks have been concerning as we continue to close below long term support. If we continue to have this situation where commodities are in a new era, this will be very concerning for global growth. Emerging market equities and emerging market currencies track commodities with a little bit of variation but broadly speaking they do mimic each other. So a failure of commodities to rally could affect emerging markets and global growth.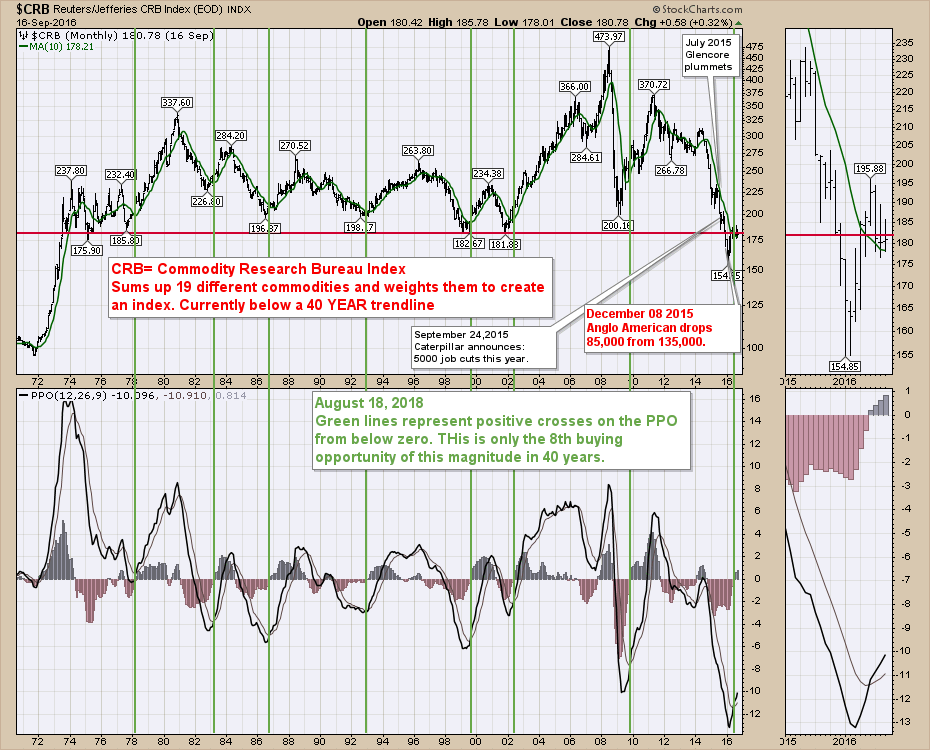 Lastly, the China A-Shares broke down this week below a short trend line. Here is the ETF, ASHR. This concerns the potential for emerging markets.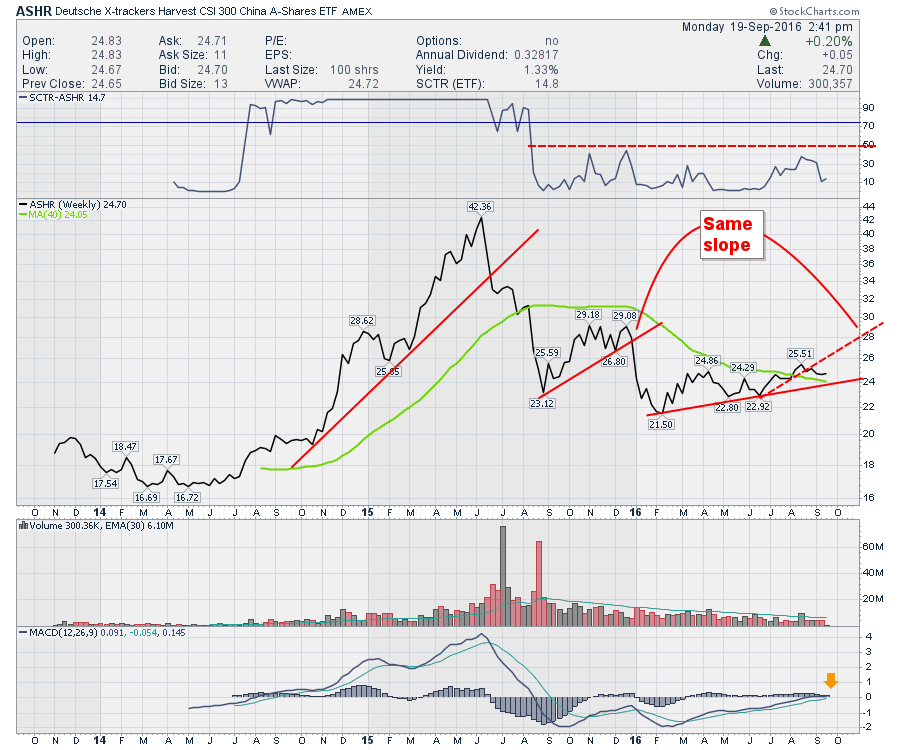 A failure of China to rally here is very important. I strongly recommend watching the webinar. I went into detail as to why this week is starting to turn my bias off bullish to weakening and the current knife-edge we are sitting on. We are not there yet, but it is an important time to tune in. Commodities Countdown 20160915.
---
This Friday, September 23, Chartcon 2016 is coming to you via live stream broadcast! Rather than have customers spend all the money to travel to the event, we have arranged for all the technicians to gather in one location and broadcast from there, saving you thousands of dollars. It should be a fantastic couple of days with a tight synopsis of the markets from an award winning Technical Analyst crew. You can register for this event for under $200 and have access to the recordings. Chartcon 2016.
---
On another note, I will be presenting in person at Golden Gate University this week if you are in the area.
September 20th, 2016 @ 4 PM
Golden Gate University. Rm 3214
536 Mission Street
San Francisco, 94104
Cost: Registration is $10 for MTA members and $20 for non-members
You can register through the TSAA-SF website. Click here.
---
If you would like to receive future articles by email, click on the Yes button below. I do roughly one-two articles a week from each blog (Commodities Countdown, The Canadian Technician, Don't Ignore This Chart) so you need to subscribe to each one individually. I also do a couple of webinars each week and you can view those live or in our webinar archives. As a heads up, I'm on twitter @Schnellinvestor.
Thanks for taking the time to join me.
Good trading,
Greg Schnell, CMT, MFTA
PS. Chartcon 2016, Register Here!