As the 10 Year Yield ($TNX) broke out of its trading range, it injected volatility into the market between Friday and Wednesday. Until this starts to settle down, it is likely that we see wide price swings each day affecting a lot of the asset classes. In the near term, this range at 17.5 may hold but the highs for the year are around 20.0. The 200 DMA at 18.0 could also provide some upside resistance.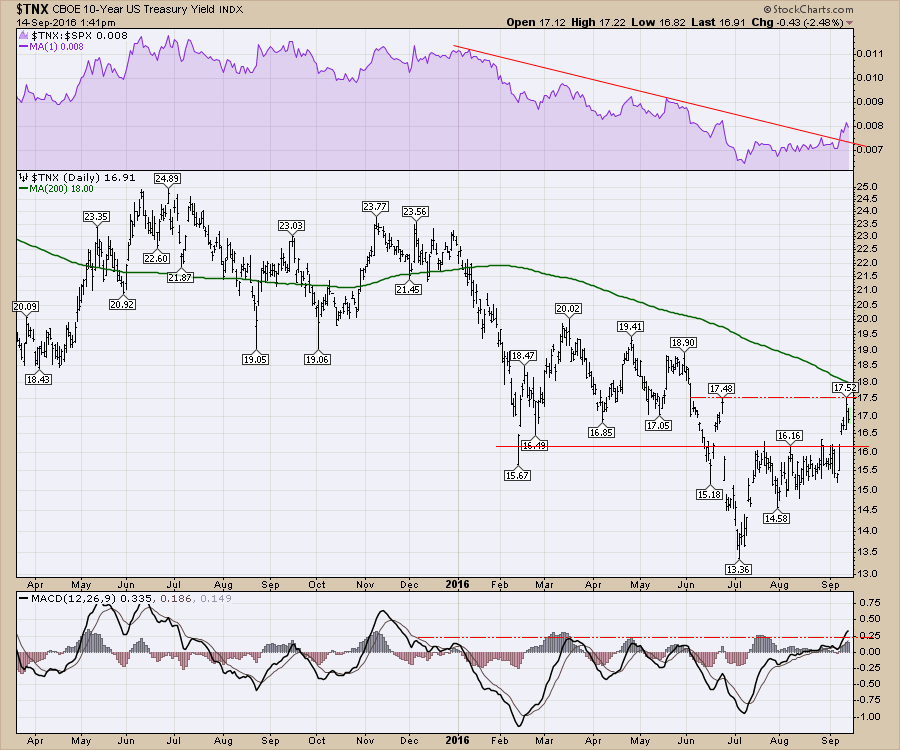 ---
For crude oil, Thursday's jump was welcome, but we have pulled back as the treasury yields popped. That puts Crude Oil ($WTIC) at an important line in the sand.
I have drawn a red line showing where oil broke down in November 2015. There was support around $43.50. Notice the MACD signature of waning momentum (November 2015) as it tried to accelerate higher to $48.36. When that did not hold, it was a major pullback for crude oil.
Now we have a similar setup. Crude bounced off the red support and surged up to $47.75. However, the momentum waned on the recent peak and looks suspect. This could be the start of another major move lower in oil at a similar level on the chart. For me, this is very concerning.
We do have a couple of things to be aware of that are supportive. So far, since the February low, all the intermediate lows have been rising. The last prominent low on the chart was $39.19.
So we have a series of technical support levels in play just below the current price. $43 was the most recent low, $41 is the 200 DMA, and the red uptrend line at $40. If it gets that low, there will be a lot of focus on the $39.19 low holding.
On a bearish note, we have three lower highs since the early June high so that is problematic.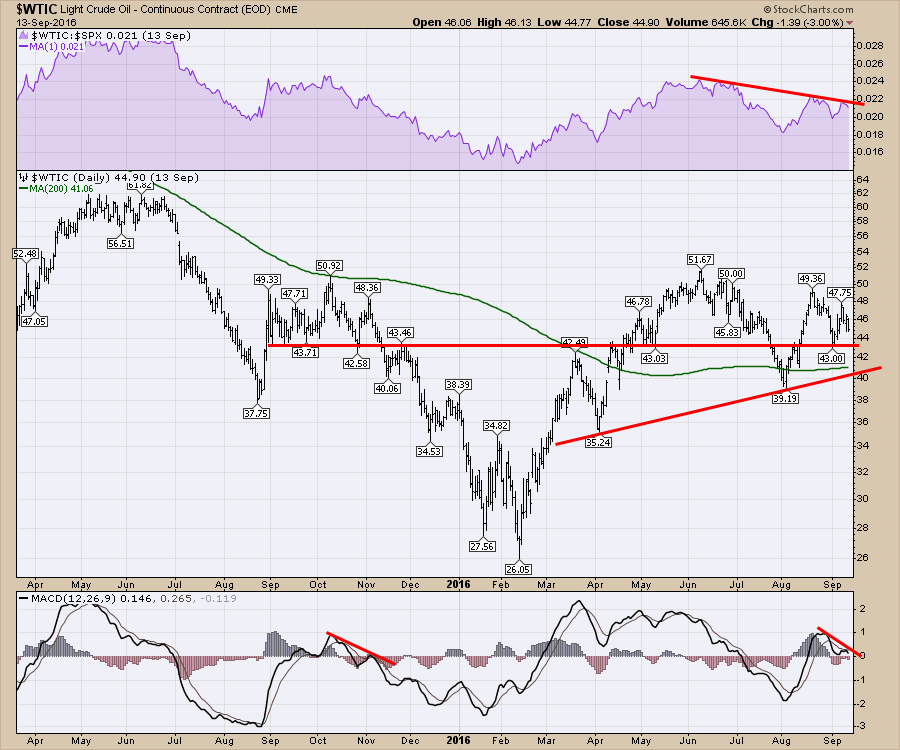 Looking to the XLE, it looks like it wants to lead higher. We have just the opposite of crude with higher highs continuing on recently. The breakout above resistance is bullish as it happens, but the price action since has me revising it as a bearish failed breakout. This chart has red line support at $67.50, rising trend line at $65 and the 200 DMA at $63.32.
For bearish factors, we have the weak MACD and the failed breakout.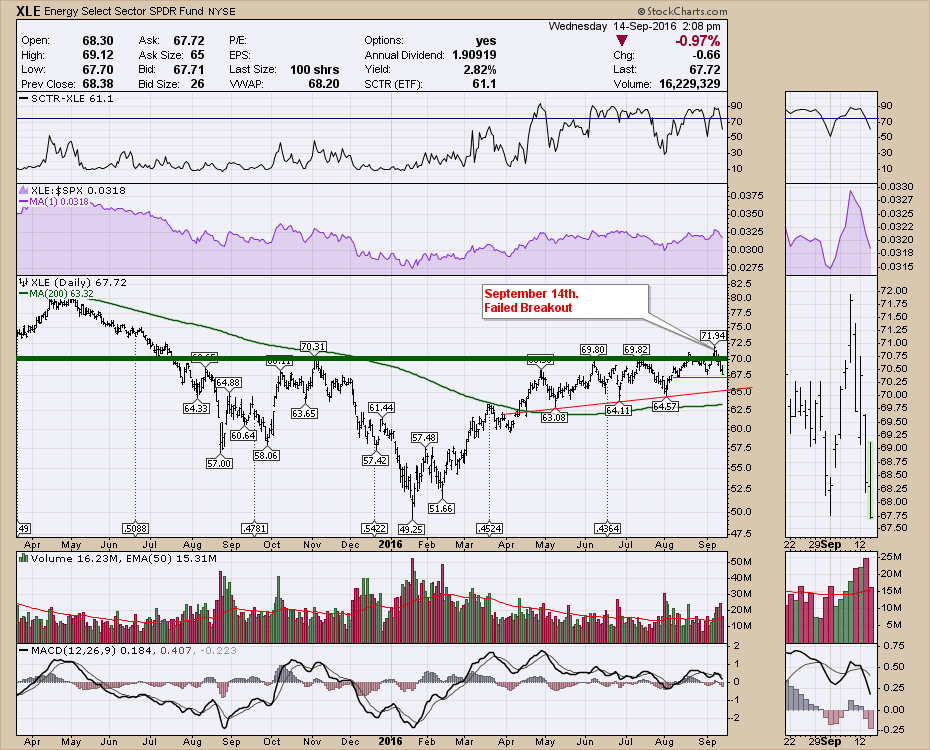 One more place to look is the Exploration and Production ETF (XOP). This also experienced a failed breakout like the XLE. Today it is breaking below the most recent short-term low. The 200 DMA looks to be the next important level of support.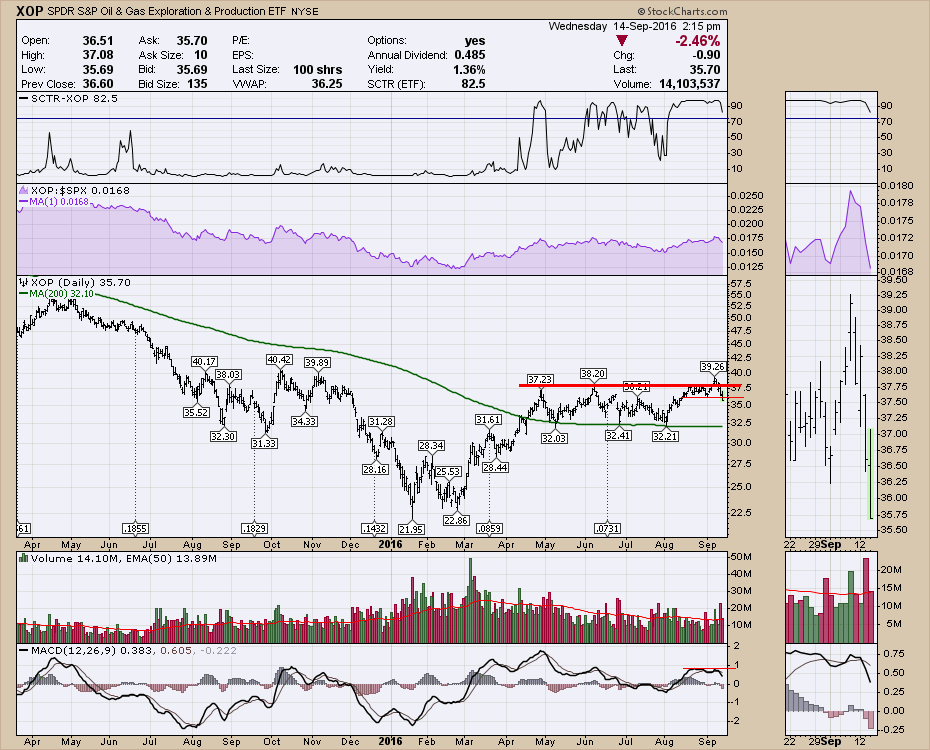 These markets are never easy and this current setback is frustrating after the breakouts on XLE and XOP. In the charts shown, they don't collectively look ready to bounce here. However, they all have support at some lower level that looks more likely.
We'll keep watching and I will talk more about these charts on the Commodities Countdown Webinar 2016-09-15.
---
This month, Chartcon 2016 is coming to you via live stream broadcast! Rather than have customers spend all the money to travel to the event, we have arranged for all the technicians to gather in one location and broadcast from there, saving you thousands of dollars. It should be a fantastic couple of days with a tight synopsis of the markets from an award winning Technical Analyst crew. You can register for this event for under $200 and have access to the recordings. Chartcon 2016.
---
Next, I will be presenting in person at Golden Gate University in September if you are in the area.
September 20th, 2016 @ 4 PM
Golden Gate University. Rm 3214
536 Mission Street
San Francisco, 94104
Cost: Registration is $10 for MTA members and $20 for non-members
You can register through the TSAA-SF website. Click here.
---
Feel free to pass this article on to friends and family. If you would like to receive future articles by email, click on the Yes button below. I do roughly one-two articles a week from each blog (Commodities Countdown, The Canadian Technician, Don't Ignore This Chart) so you need to subscribe to each one individually. I also do a couple of webinars each week and you can view those live or in our webinar archives. As a heads up, I'm on twitter @Schnellinvestor.
Thanks for taking the time to join me. If you would like to receive a few of these Commodity market-related emails each week in your inbox, click on the Yes button below.
Good trading,
Greg Schnell, CMT, MFTA