One of the major things going on right now is the number of currency trendlines breaking. This is starting to spill into other areas of the market. Here are some of the charts that are in addition to last weeks break of the Yen and Pound.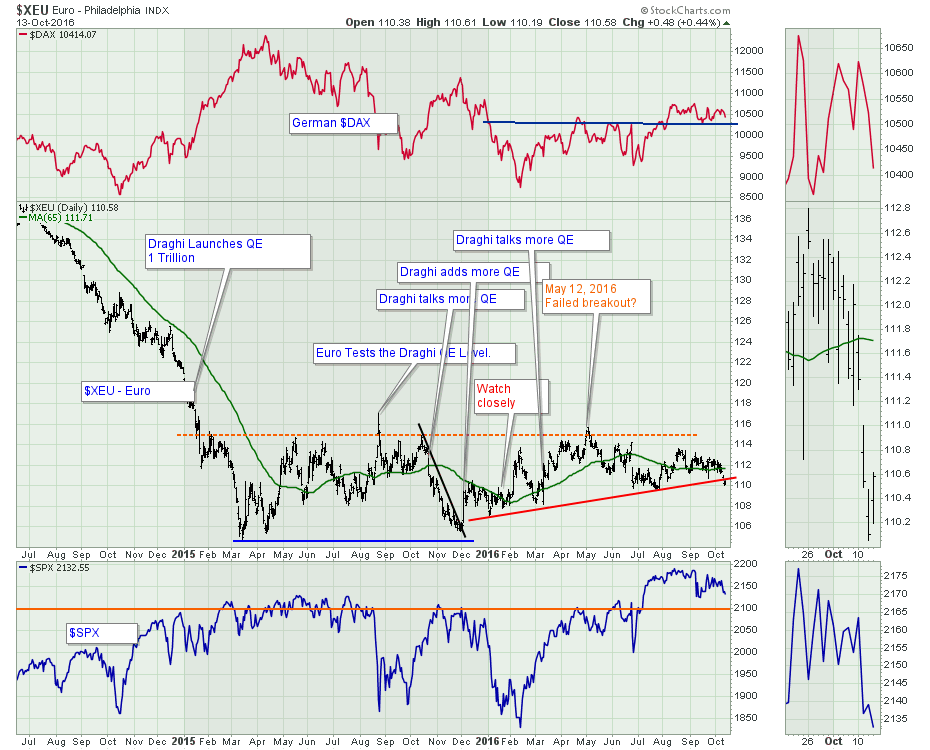 ---
I like to watch the Swedish Krona (FXS) for clues about the Euro. It is thinly traded but it is also a part of the Dollar Index. This snapped a two-year trend line.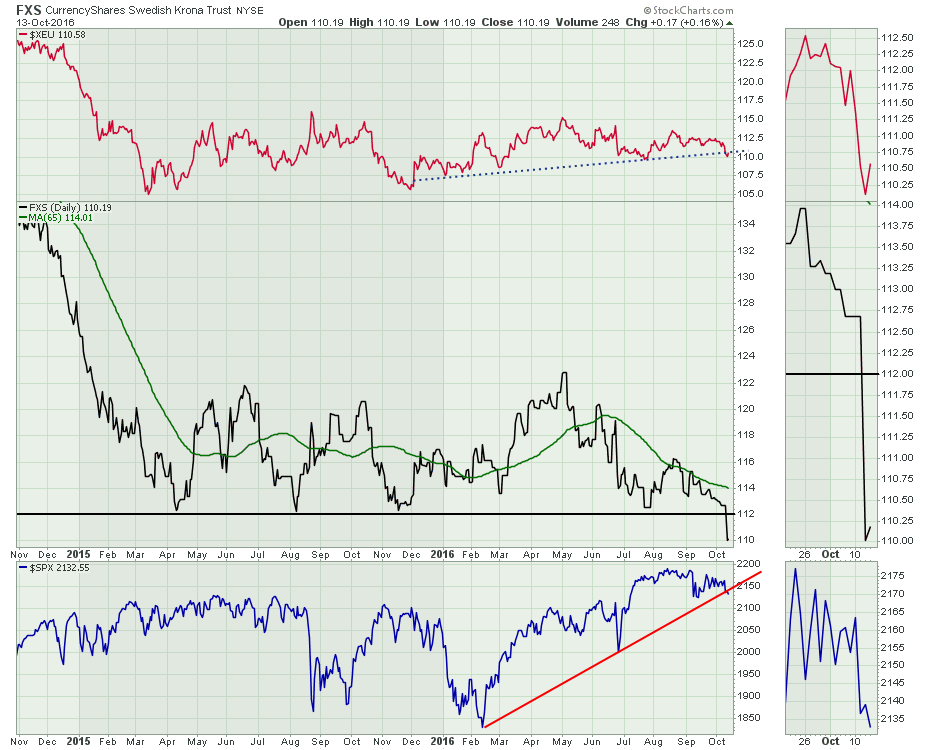 The Canadian Dollar ($CADUSD) keeps drifting lower which does not suggest higher prices in Natural Resources like oil.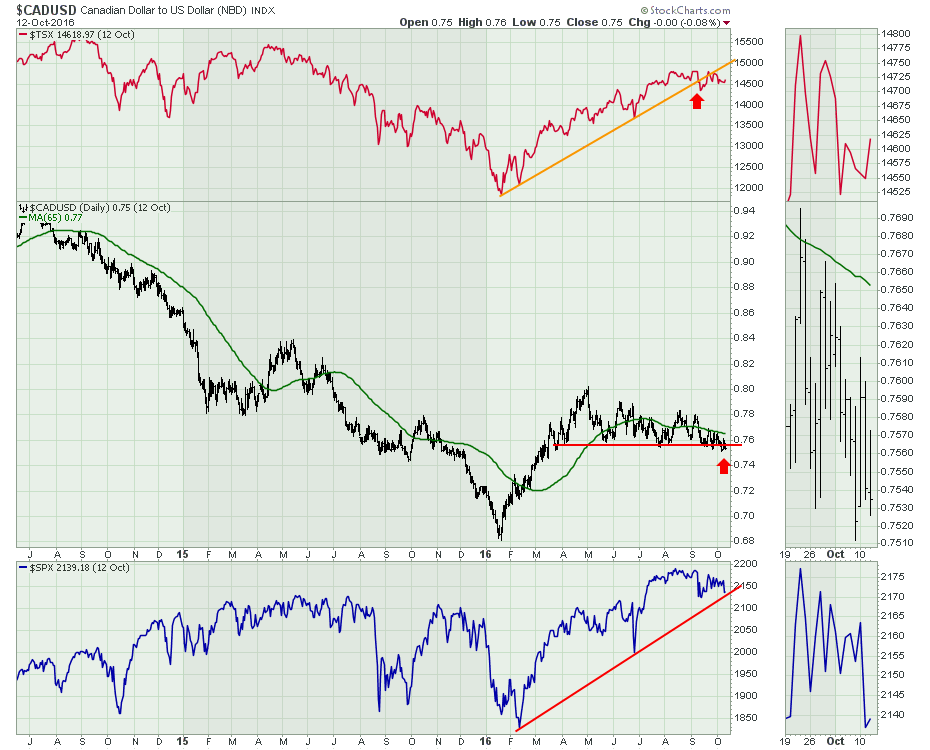 The Aussie ($AUDUSD) is also focused on Natural Resources. It sits marginally above the up sloping trend line.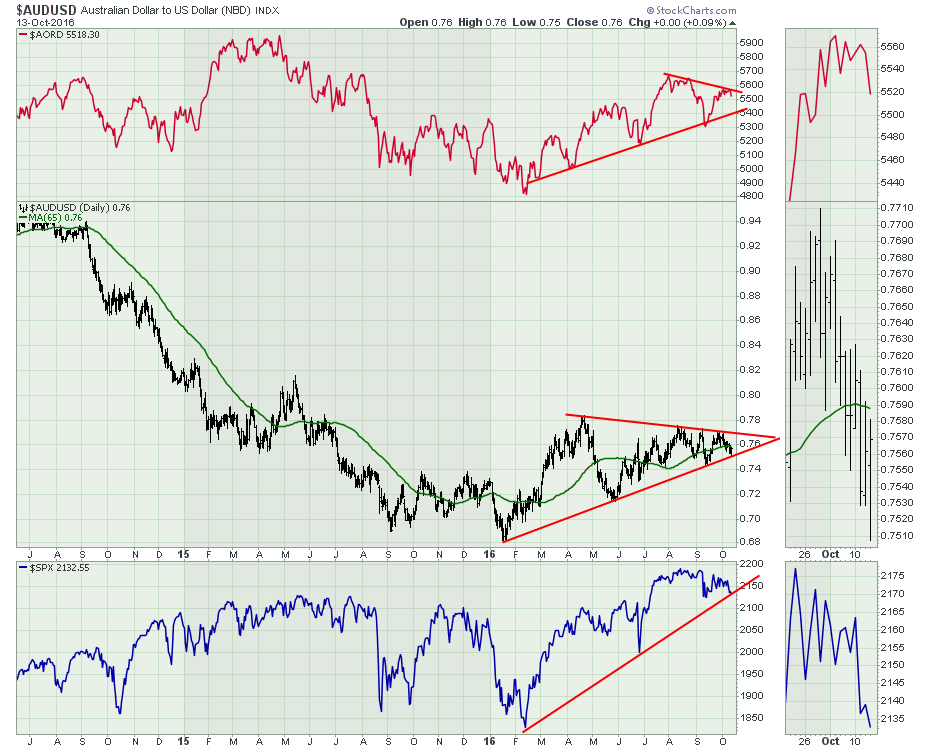 Those are the most important trend changes that make me reconsider my bullishness. If the US Dollar ($USD) is going to break out significantly higher, this will be a brake on the commodities.
I think the webinar outlines some significant risks for the market right here. Here is a link to the Commodities Countdown 2016-10-13 webinar. Below I have embedded it if you would like to watch it right here.
Commodities Countdown LIVE! with Greg Schnell - 2016-10-13 17:00 from StockCharts.com on Vimeo.
Webinar Skim // Breadth (Important) 0:00 // Index Analysis 7:00 // Currencies 24:00 // Transports 31:00 // $CRB Components 36:00 // Energy 43:00 // Metals/Miners 52:00 // Ag 54:00 // Autos 58:00 // Global Markets 60:00 //
---
This is definitely one of the faster-paced chart reviews of the market. I apologize for the speed but I was trying to frame the Currencies/ Equities/ Commodities relationship. I did not get time to do the bond market.
I think the webinar does a great job of framing the debate right here. I strongly recommend having a plan for protecting your capital always, but at this junction, the breakdown in breadth concerns me. I would recommend buying some puts or locking in some gains. You never have to sell anything, but you should know where you want to get out. Locking in gains is part of trading.
For an update on my charts of interest: Commodities Countdown Charts
You can also follow me on Twitter @Schnellinvestor.
Good trading and enjoy the weekend.
Greg Schnell, CMT, MFTA.