The Energy Sector (XLE) is trying to bounce off the uptrend line. There is also a horizontal support line and the 200 DMA just below.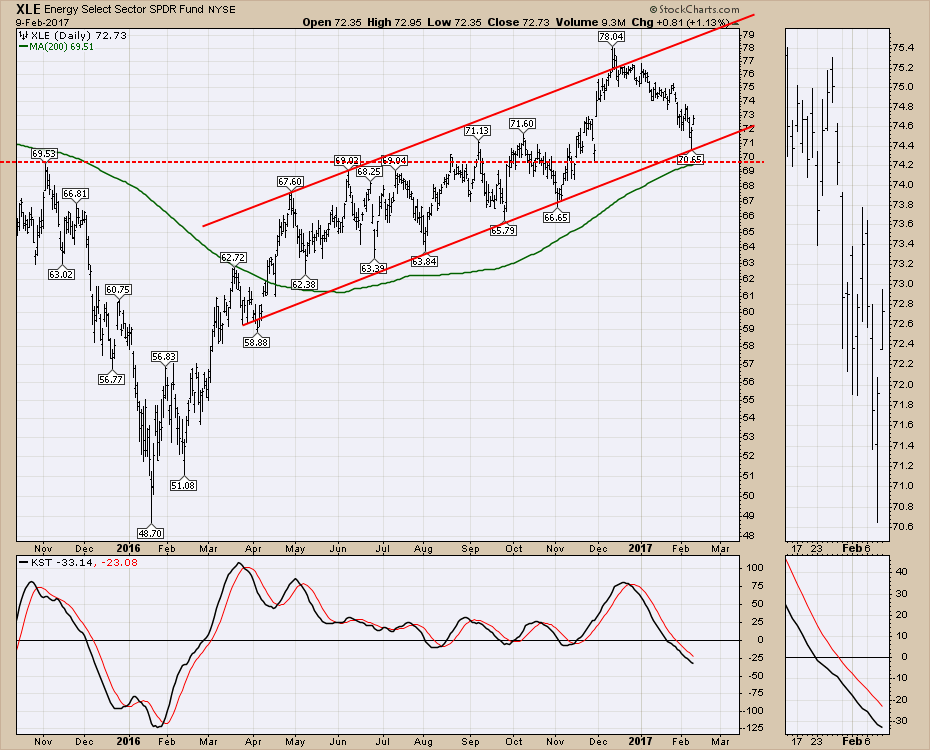 Based on the KST it looks a little early. Looking through a lot of individual energy charts, they are at support. The kick up in XLE on Thursday is worth watching. There is a seasonal tendency higher for energy at this time of year.
---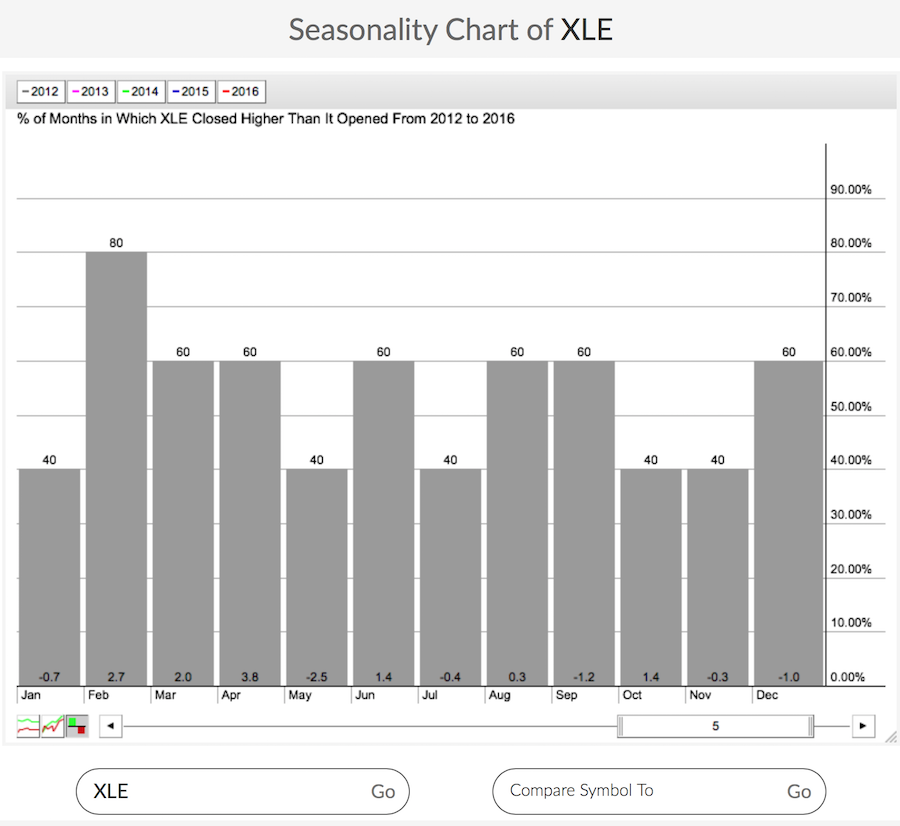 I agree that the energy sector is at an interesting place for support. Stops can be put in place very close to this level. I am not as convinced that the stocks are ready to bounce but this is a compelling place to hunt down the strong stocks in the group and look to by them when the setup meets your style.
With today being the one year anniversary of the low in the $CRB, could this be a seasonal bounce setting up? I am not so sure, but there are ways of playing the strongest stocks in the industry which can work as defence if this does not hold up. The webinar covers off ways to find those stocks.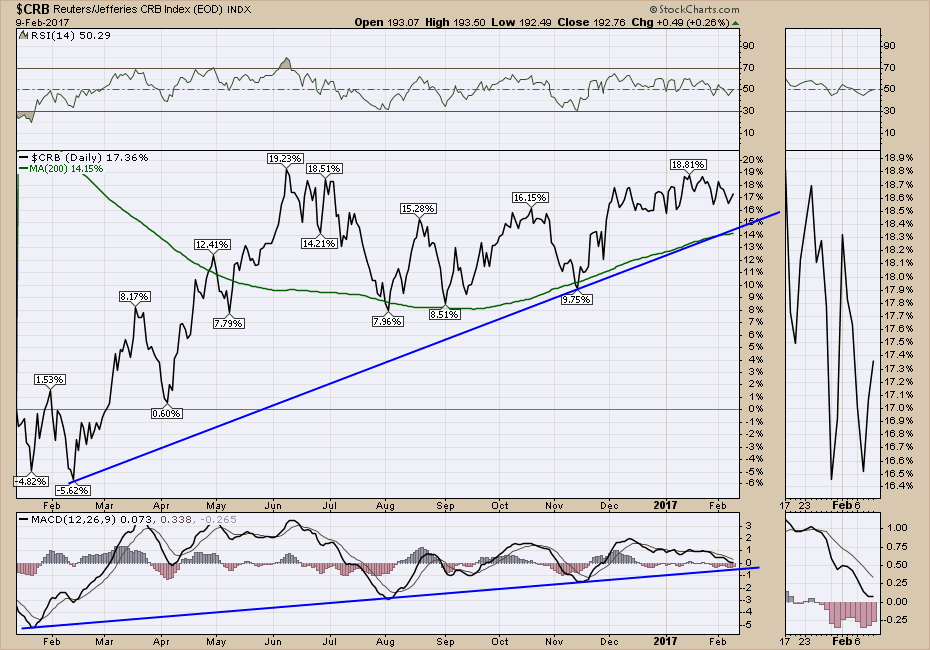 Moving on to currencies, one thing that is changing today is the 6-week swing in the $USD. Notice the MACD signal and the fact that the RSI stayed in bull market territory.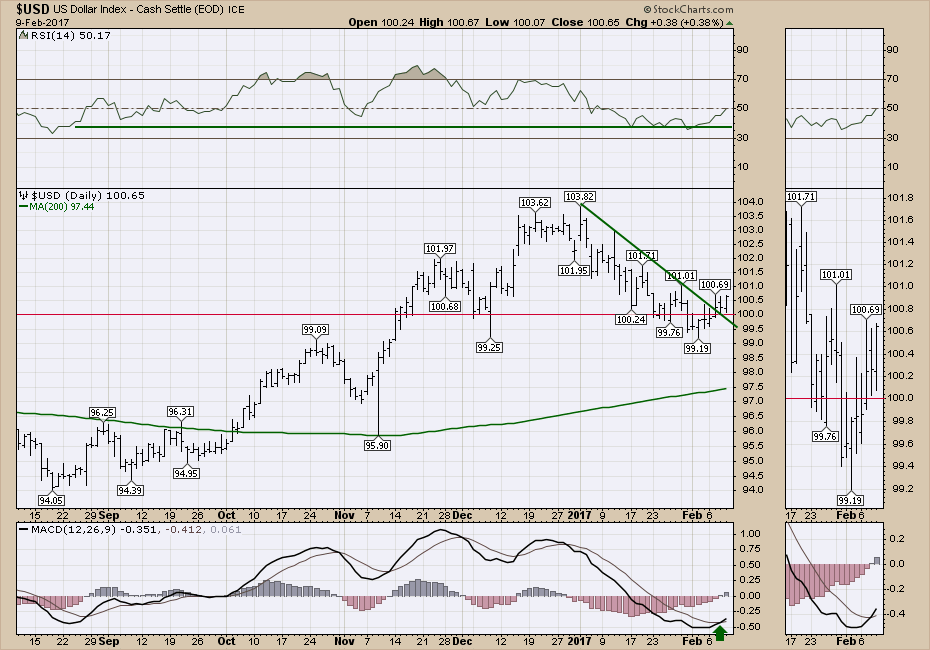 It is important to recognize that the $USD could be just finishing a correction or consolidation within a massive uptrend. The RSI on a weekly chart suggests we are still in a major bull market. A four to six week correction is perfectly normal. Pulling back to test this very important horizontal support/resistance line is critical. A bounce from support here would send the dollar significantly higher. This is a critical pivot point for the $USD.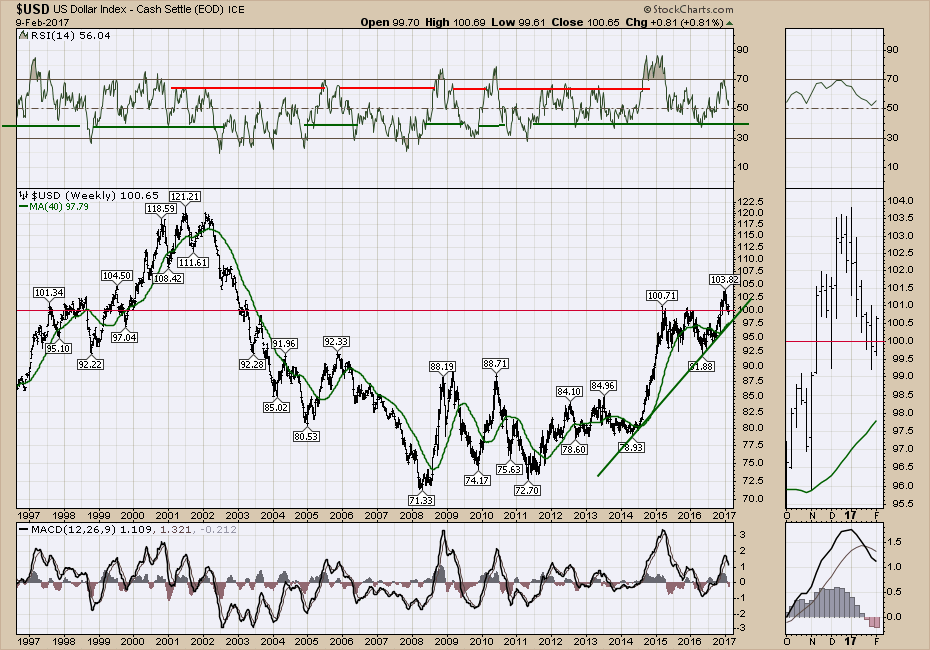 So far the $USD has built an inside week after last weeks' outside week as you can see in the zoom box on the right above. So we need to watch for the resolution of this. If the $USD starts to run from here, it would not be a surprise with the other world currencies at resistance. At least 5 of the other major world currencies are right at resistance struggling to break higher.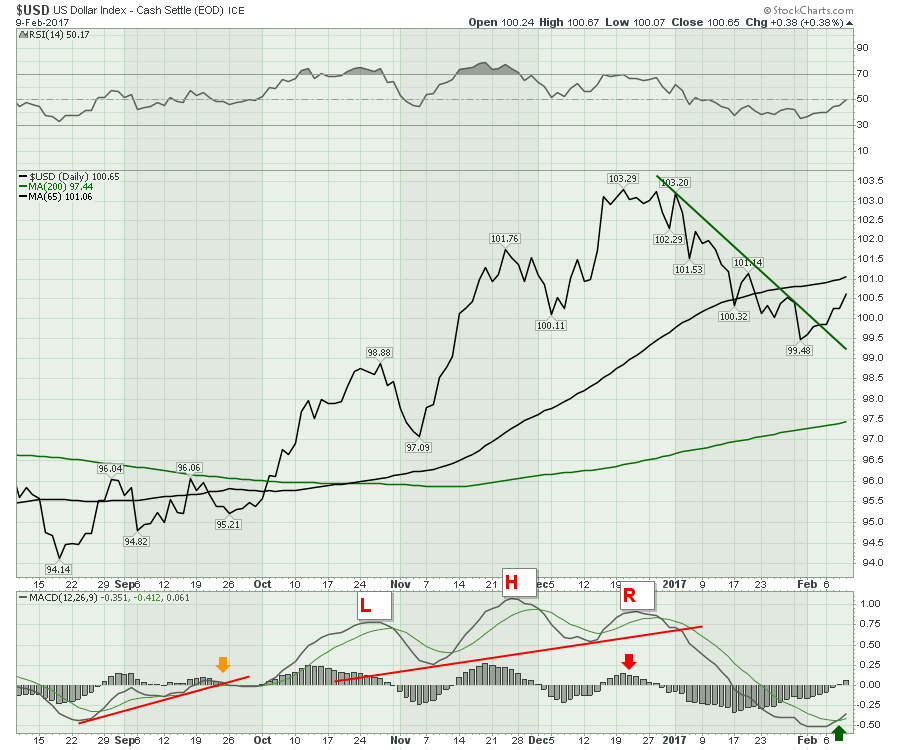 Here is the link to Thursday's webinar. I spent quite a bit of time showing how to scan for stocks in the energy sector turning up by running a scan on a specific chartlist. Lots of the viewers were very specific that they found that particular methodology helpful. I spent some time to explain the condition of the the precious metals in the webinar, so I would encourage members to take an hour if they are interested in the Gold stocks here.
Commodities Countdown LIVE! with Greg Schnell - 2017-02-09 17:00 from StockCharts.com on Vimeo.
The big reason these webinars are such a valuable tool for StockCharts.com members is that they also demonstrate different methodologies used by the different hosts. The webinar this week helps show if the energy sector is going to actually bounce from here and how to monitor it. Understanding the progress of the industry group turning up is extremely valuable.
If you would like to become a StockCharts member, we have a couple of things going on this week that make this an important time to subscribe.
Setting up the 'custom' CandleGlance tool was described in the Tuesday webinar. This makes it very easy to visually view stock patterns that you like to trade with your own settings from a chartlist. On the webinar from Thursday, I showed how to analyze a chartlist for stocks turning up in a sector that has been sold off by using a very simple scan that members can use. On Saturday, I will make sure that members know how to set up their own chartlists. I have over 200 chartlists and find them very valuable.
---
On Saturday, Tom Bowley and I will be doing a special event for a market outlook and we plan on focusing on two different areas of the market that we think holds promise in the near future. This is a members only webinar. One of the purposes of the webinars are to help existing subscribers streamline their workflow to make more profit by being well setup with chartlists and custom settings. We hope to make those nuggets of information available on the webinar. If you would like to become a member to utilize these tools, you can click this link to get access to the webinar on Saturday. Use the code BESTCHARTS to get a 10 day free trial.
Good trading,
Greg Schnell, CMT, MFTA.