The commodity charts continue to drift lower. There are lots of nice trend lines formed, but there seems to be little energy for a break to the upside just yet. The currency charts are important this week as the $USD seems set up for a sell signal on the momentum indicator. That might create a spark in the commodities and the emerging markets.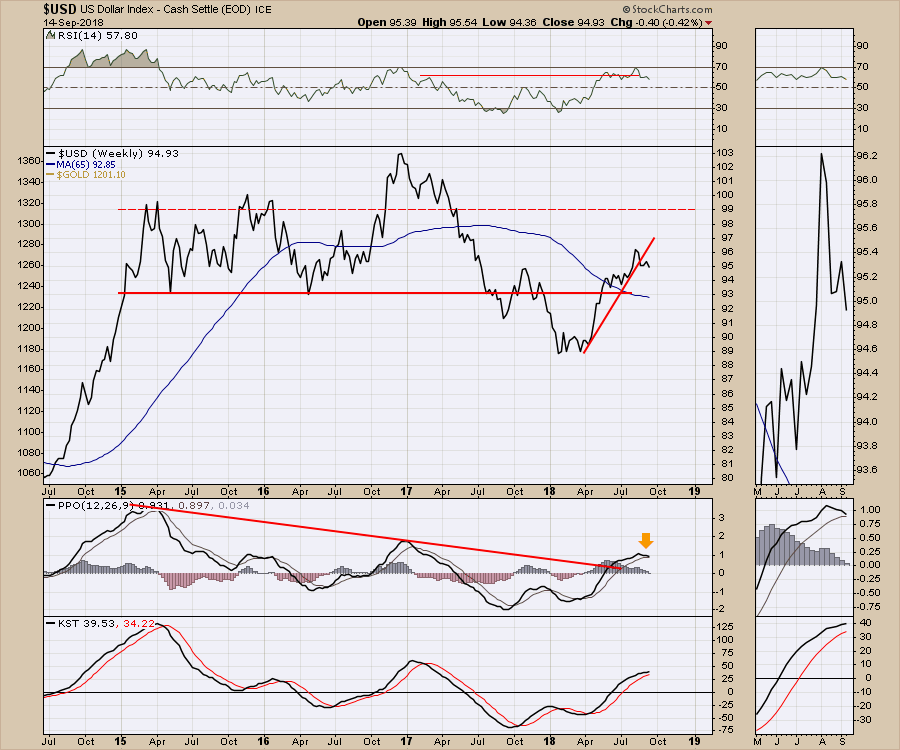 ---
The Yen is still holding above the black horizontal support line. However, the zoom panel shows a strong move down on the week with a lower high and lower low. So this is not supportive of a dollar move lower.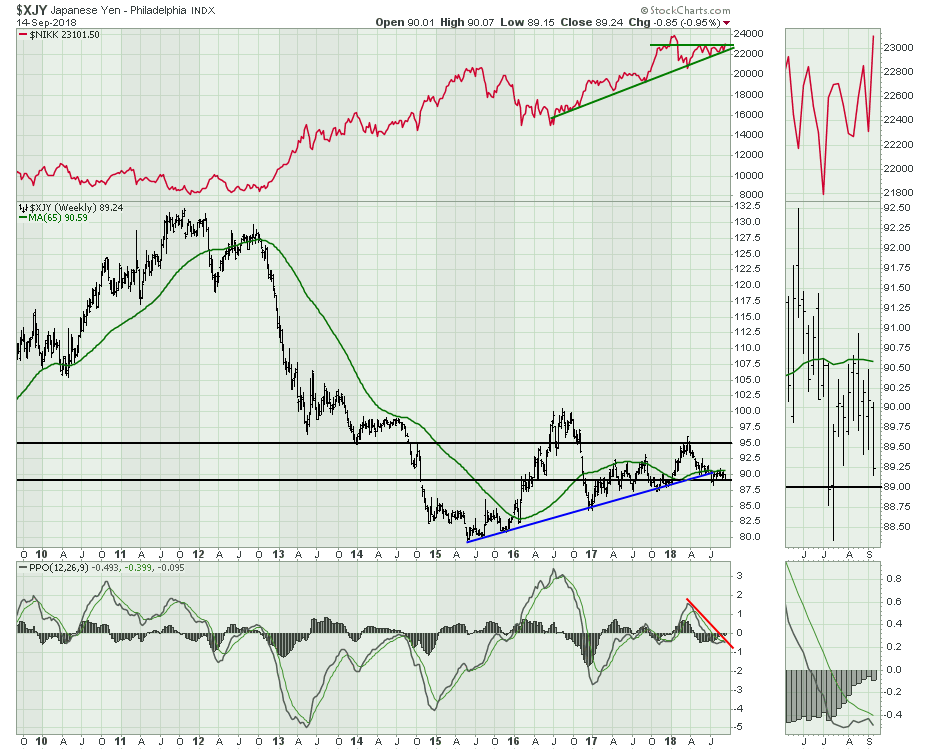 The Euro is the heaviest component of the Dollar index and the $XEU indicators are telling us it is shaping up to create a buy signal on the weekly PPO. There is an important 18 month topping structure on the $DAX in the top panel. The upsloping trend line has already been broken so just horizontal support remains.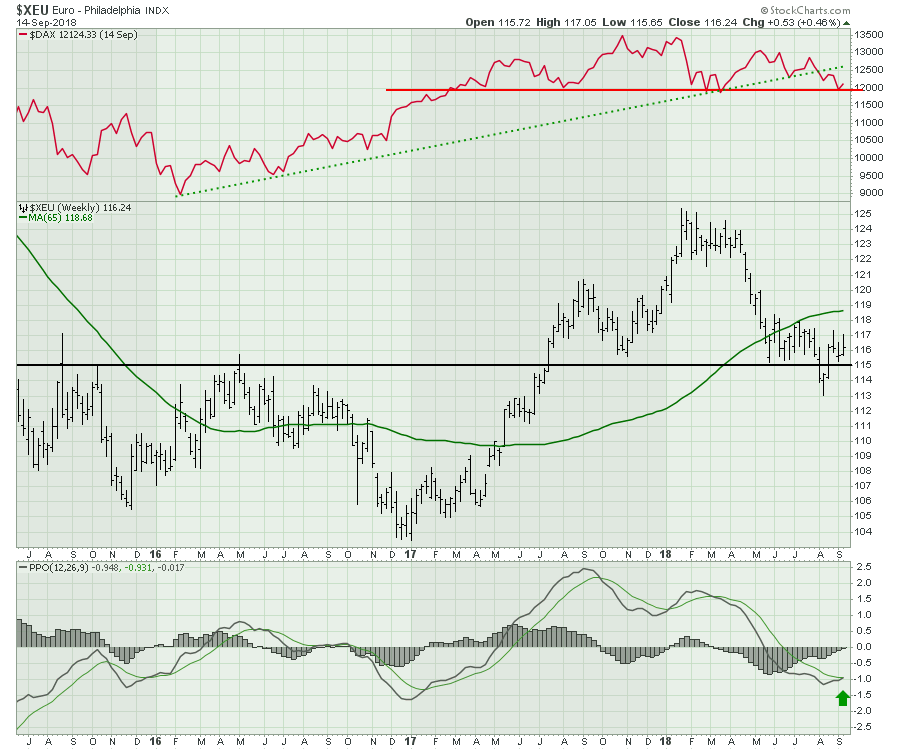 The Canadian Dollar continues to hang around the 77 level which has been an important support /resistance zone.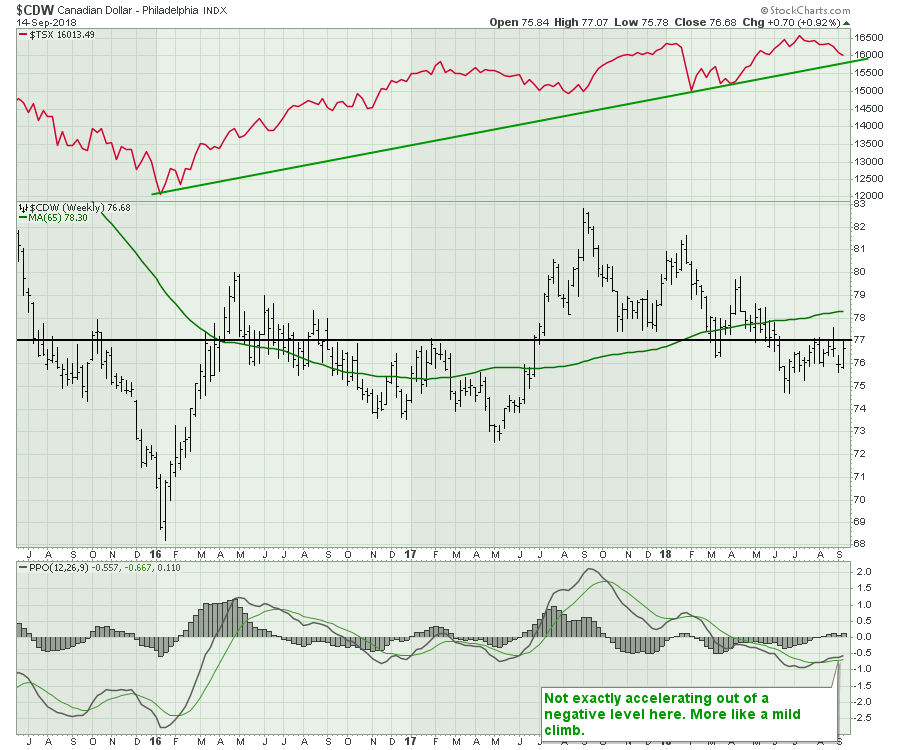 On this weeks video, the case for directional changes in the currencies shown above are presented. While the $WTIC chart was above the 10 week moving average this week, it was about the only commodity thing that perked up. The bonds present a mixed picture. If the bond yields accelerate above the 3% level, This might create a selloff in bonds. This will create a thrust for investing the freed up capital somewhere else. Is it equities or commodities? Lastly, the end of the video covers off the dichotomy in the Bullish Percent Indexes. With that, here is the Commodities countdown video for the week.
---
The Canadian Technician video is concerning as the market struggles. This week the Canadian market teeters on the edge of a major breakdown. It would be great if buyers step in here at the 200 daily moving average to keep it from accelerating lower.
---
The Final Bar. This week I reviewed a strategy for managing parabolic moves. Our latest area is the Gram-ma industry. The grams of marijuana grown have been rising parabolically as well.
---
If you are missing intermarket signals in the market, follow me on Twitter and check out my Vimeo Channel often. Bookmark it for easy access!
Good trading,
Greg Schnell, CMT, MFTA
Senior Technical Analyst, StockCharts.com
Author, Stock Charts for Dummies
Want to read more from Greg? Be sure to follow his two StockCharts blogs:
Commodities Countdown and The Canadian Technician