I don't want to become a Johnny One-Note by reporting on gold two weeks in a row, but gold continues to attract my attention. Last week $GOLD capped off a strong rally when it broke decisively above a long-term declining tops line. Since it was very overbought, we had to wonder if the breakout would hold.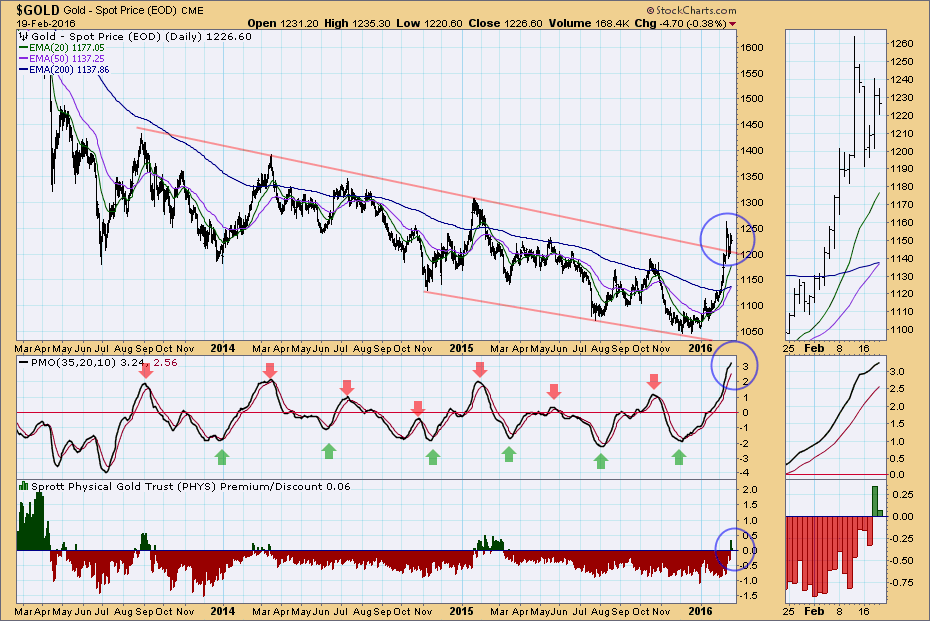 ---
This week the picture continued to improve as price pulled back to successfully retest the support line, then bounced higher again. It looked as if the PMO might be topping, but it continued to move higher.
A particularly positive development is that the DecisionPoint Long-Term Trend Model (LTTM) is about to generate a BUY signal, when the 50EMA crosses up through the 200EMA, which should happen next week. This is a big deal because the model has been on a SELL signal since 2/15/2013. (The Intermediate-Term Trend Model has been on a BUY signal since 1/25/2016.)
Finally, sentiment has switched from negative to positive as the Sprott Physical Gold Trust (PHYS), a closed-end fund that owns physical gold, began selling at a premium to NAV this week. This is important because gold will not be able to move significantly higher if negative sentiment persists. Yes, sentiment is a contrary indicator when it reaches extremes, but at moderate levels it should show that perceptive investors recognize the direction of the trend.
The biggest problem I see right now is that the PMO is very overbought. With all the other positive evidence, I am going to assume that this condition will resolve positively. For example, price could continue higher at a slower rate, which would allow the PMO to correct downward without a corresponding price drawdown. Another possibility is that the PMO will continue higher and become even more overbought. In a bull market this is possible.
CONCLUSION: The picture for gold is more positive than it has been for years. A solid bottom has been set, a breakout and retest have been accomplished, sentiment has turned positive, and the LTTM is about to generate an LT BUY signal. The overbought PMO is an issue, but in bull markets overbought conditions are not always a problem.
---
Technical analysis is a windsock, not a crystal ball.