Many of us remember the financial crisis in 2008 when Lehman collapsed and the credit markets froze. The S&P 500 plunged some 40% and the 20+ YR T-Bond ETF (TLT) surged over 30% in a flight to quality. This was a true financial crisis and the markets reflected this crisis. The chart below shows 3-month Libor ($LIBOR) surging from 2.85% to 4.85% as interbank lending froze in September 2008. This spike in the Libor confirmed a credit crisis and the markets responded accordingly. What about now?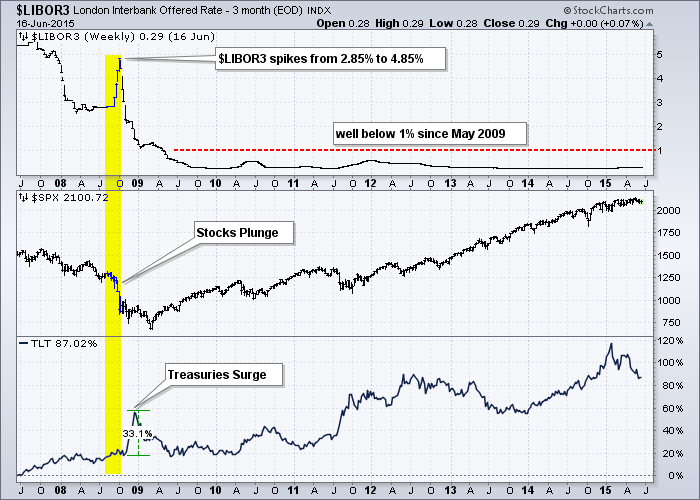 Click this image for a live chart
---
Matthew Lynn at MarketWatch.com wrote a great article detailing three telltale signs that the Greek situation really is getting out of hand. Of these three, there is one we can chart and watch for a sign that inter-bank lending has stopped. Yes, it is good old Libor. $LIBOR is for the London 1-month interbank offer rate and $LIBOR3 is for the 3-month rate.
As the second chart shows, $LIBOR3 spiked twice since 2010. The rate spiked above .50% during the flash crash in May 2010 and during the European sovereign debt crisis in September-October 2011. The blue line is at .35% and I would use this as the first line in the sand. A surge above this level would suggest risk aversion in the interbank market and this would be the first real sign that trouble is spreading. As the chart stands, $LIBOR3 is creeping higher, but has yet to spike and signal trouble that could affect US stocks. Chartists, therefore, should tune the news out and tune the charts in.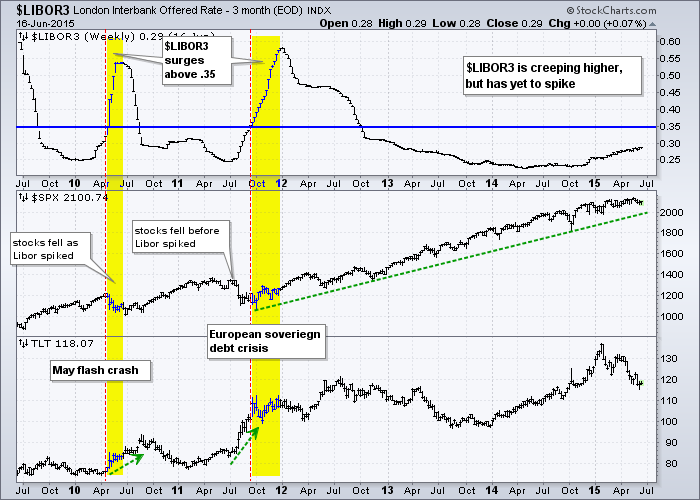 Click this image for a live chart
Thanks for reading and have a great Fed day!
Arthur Hill CMT
@arthurhill