We had quite an end to the holiday-shortened week after Biden unveiled his infrastructure bill. The $2.3 trillion plan not only proposes to invest in infrastructure and climate change, but a large portion of funds are allocated for 5G/broadband expansion across the U.S. Each of these areas will rely on Semiconductor chips in order to bring about the outlined changes.
Among Semiconductor stocks, there's one company that's set up to benefit greatly. This equipment company makes it possible for 5G chips to be manufactured, and these chips will be needed to bring the faster, 5G-enabled bandwidth that Biden's bill is promising.
DAILY CHART OF APPLIED MATERIALS (AMAT)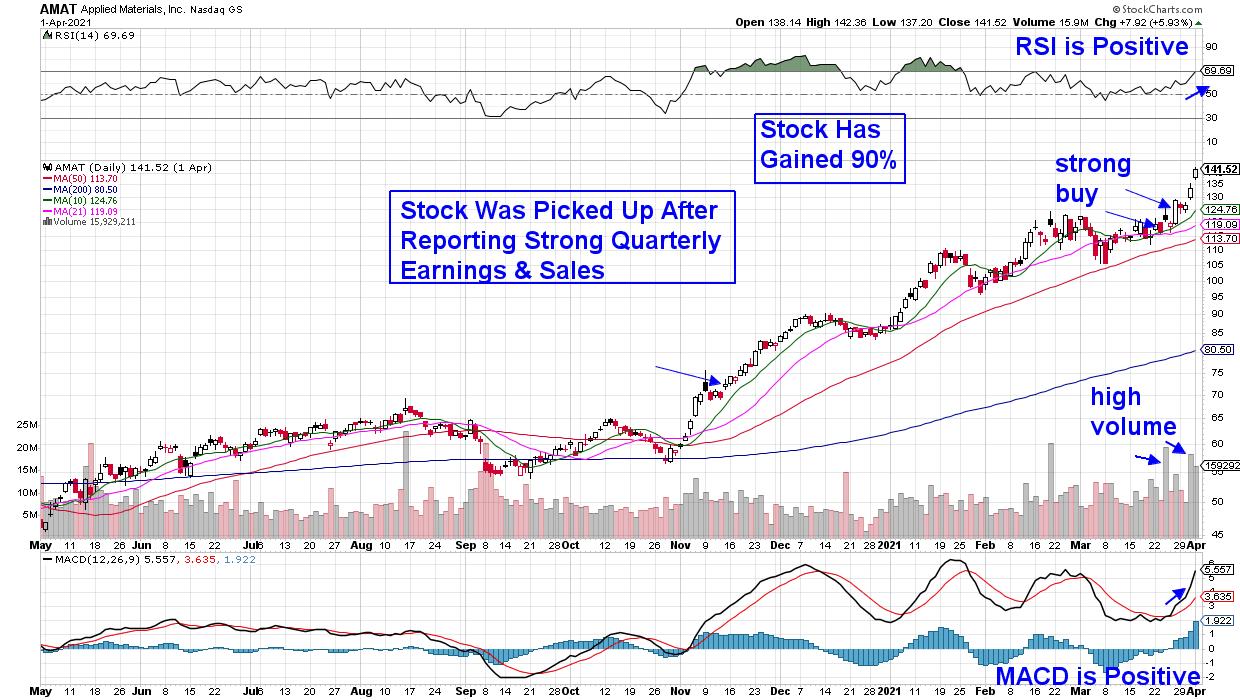 The stock is Applied Materials (AMAT) and it was added to my MEM Edge Report last November after the company reported strong earnings and sales together with a bullish chart. Since then, my bi-weekly report has tagged whether the stock was in a buy zone or could be held with gains at this point at 90%. The two most recent "strong buy" signals on the chart above have produced gains of 22% over the past 2 weeks alone.
The company remains the fastest grower by revenue amid a severe semiconductor shortage that we've been highlighting for some time now. Lastly, AMAT was one of only a handful of Semiconductor stocks that remained positive amid a sharp Tech selloff that began in February. This ability to withstand downward pressure elsewhere in its group is the hallmark of a leadership stock.
If you'd like to be alerted to my other top picks among Semiconductor as well as other leading areas of growth, use this link here to take a 4-week trial of my MEM Edge Report at a nominal fee.
In addition, please join me Monday morning at 9:00 am Pacific time as I join Erin Swenlin from DecisionPoint in her no-cost, live trading room. You can use this link here to sign up!
Warmly,
Mary Ellen McGonagle - MEM Investment Research