Index funds have made real-estate investment trusts (REITs) accessible to investors for years. Now there's something new in physical real estate. • As the population ages, more and more people will be looking for housing developments that offer a little extra in the way of support. One project is having an open house of such a development next month. There are certain to be many more.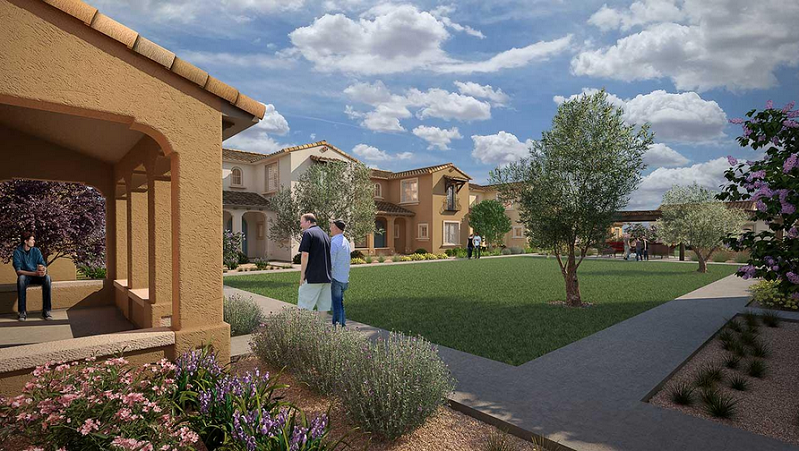 ---
Figure 1. Luna Azul in Phoenix, Arizona (above), is designed as a "pocket neighborhood," a small cluster of residences arranged around a shared, park-like commons and a central community building with 24-hour staffing. Rendering courtesy of LunaPhx.com residences.
• Tens of millions of households hold 401(k) and similar accounts that prohibit buying individual stocks or trading more than once or twice per month. Never fear, there's hope! See my one-page Muscular Portfolios summary.
It's well known that the population of the US and several other developed nations is growing older. Heck, you yourself are growing older even as you read this!
Seriously, by the year 2030, the youngest of the Baby Boomers will turn 65. In the US, people above that age will outnumber people under 18 for the first time, according to an AARP analysis.
It's not just retirees in their Golden Years who will have special needs. With pollution and other environmental pressures on the rise, children and adults with chronic illnesses increasingly require attention. About 147 in 10,000 children in the US (1.47%) are now considered to have autism, up from 113 in 10,000 in 2008 (1.13%), and the trend is worldwide. Scientific American notes that much of the upswing might be due to improved diagnoses. But even so, the rising number of known cases will still require services.
The investment angle in group-living options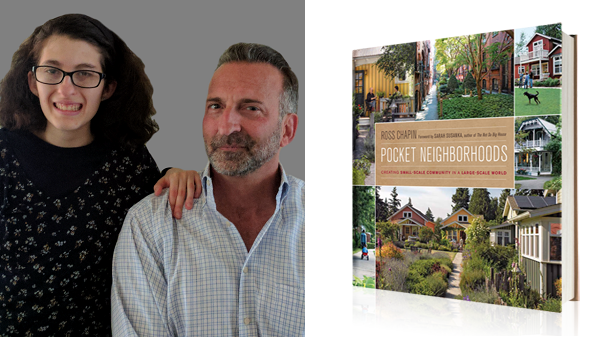 ---
Figure 2. At left, attorney Mark Roth developed the Luna Azul concept for people with inherited or acquired challenges, such as his daughter Emma. Photo from 2017, courtesy of Roth family. The residential site was designed by architect Ross Chapin, whose book Pocket Neighborhoods is shown at right.
Into this growing wave of aging boomers and special-needs children comes Luna Azul (Spanish for "blue moon"), a new development of 30 private homes in Phoenix, Arizona. Its developers call it the first for-sale residential community for people with "intellectual, developmental, or acquired disabilities." An open house to celebrate the completion of the site's first dwelling unit and a shared-use building is being held on May 7.
As president of ECC Management LLC, attorney Mark Roth — who is originally from Phoenix — first conceived of a low-cost community for people with special needs when he was raising his daughter Emma. She is now 19 and legally an adult, but she still faces intellectual challenges due to a genetic "hiccup." In Emma's case, the disability is a social one, too. For example, in conversation with others, she will sometimes stare with a fixed gaze longer than people feel comfortable with, her father says.
During her early school years, other children avoided her and left her out of their activities. But in a setting like Luna Azul, where every household is likely to have at least one intellectually or physically challenged resident, a socially awkward person can find kindred spirits. "When there's a pool party," Roth said in an interview, "my daughter will be invited this time."
The site design — by architect Ross Chapin, a recognized authority on innovative housing development — does in fact have a pool, in addition to a central community house with a kitchenette and event rooms for residents of the one- and two-story cottage residences. Most importantly, the development's dwelling units all have large front porches facing others, and three distinct park-like areas run north-south between the houses. This kind of "pocket neighborhood" is influenced by the so-called Garden Cities movement, typified by the development in 1909 of the charming (and now very desirable) Forest Hills Gardens in Queens, New York. More recently, the New Urbanism movement was responsible for the original 1979 porch-forward design of Seaside, Florida.
However, none of the earlier communities were marketed specifically toward families with a member who faces disabilities or challenges. Roth doesn't seek buyers who plan to "flip" or speculate on units, but the investment opportunities of owning such a property for the long term are appealing. In a one-page PDF, his development company explains how the future value of its cottages will shine:
Renting a room in a group-living facility for adults with disabilities can cost $3,000 per month, and often much more. Over a common planning horizon of 45 years, someone who rents such a place for oneself or a dependent would pay out a total of $1,620,000 in today's dollars. (That would be $36,000 per year times 45 years. The number would be even higher, if an inflation adjustment were added.)
Luna Azul's cottages are selling initially for as little as roughly $400,000 to $600,000, plus an estimated $550 per month per bedroom for HOA (homeowner's association dues). But unlike a room in an institution, each unit in this pocket neighborhood will be a significantly larger two- or three-bedroom single-family residence. Having more than one bedroom allows residents to split housing costs with roommates or family members. If real estate appreciates 3% per year, in pace with inflation, a buyer of a $410,000 two-bedroom, two-bath home today could sell it at the end of 45 years and walk away with a cool $1,550,454 minus transaction costs.
The rental of a room in a facility leaves the payer with no equity. By contrast, buying a small house that has special features gives you an asset worth a million dollars plus change at the end of your need for it. (Personally, I believe homes for aging and challenged individuals will rise in value a lot more than 3% per year, in the same way that sought-after Forest Hills Gardens homes go for a pretty penny these days.)
Everyone wants to live in a green community, but not everyone will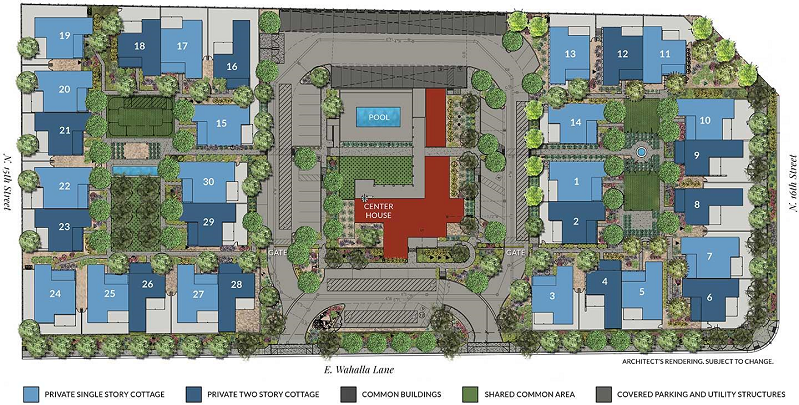 ---
Figure 3. The west and east halves of Luna Azul each have 15 or so homes arranged around a green garden. A mini park, pool, and community center are in the middle of the community. Plan by Ross Chapin, image courtesy of Mark Roth.
How can Luna Azul sell whole houses in the mid six figures, when homes with "special features" can cost much more? The answer lies in several cost-saving measures the development company and the architect identified from the very beginning. (See the site plan in Figure 3.)
Each of the homes has a private backyard and a room-sized front porch, with the central green space and Center House always nearby. Given so many semipublic places for people to relax or socialize, each home can be smaller. The units range from approximately 1,150 to 2,000 square feet.
Parking spaces are located in carports on the perimeter of the property. This clustering eliminates the cost of driveways and individual garages for each unit. But no cottage resident is more than half a block from his or her parked vehicle.
Some pairs of units touch along a shared wall. Luna Azul's particular style of "townhouse" design makes this look and feel like two separate homes, while reducing the land area and construction cost of each unit. Six of the 30 houses do stand alone, for anyone who insists on being able to walk a full 360 degrees around their particular unit.
Because there are no through streets within the community, children and elderly adults are free to stroll to the center building or one of the mini parks with no fear of being hit by traffic. To aid residents who sometimes lose their way, a central sidewalk runs east-west through the development like a spine. Differently styled gardens at either end of the walk provide a clear "I am here and going there" sense of place.
Unlike most "assisted living" facilities, the ownership dues for Luna Azul do not include a prepaid package of health-care and mental-health services. This, of course, lowers the operating cost of the residences. Instead of paying a fixed institutional fee, each family at Luna Azul is expected to choose whatever support services are actually needed — or even none at all, if the safety of a pedestrian-oriented, staffed and securely gated community is all a person requires.
For those who desire activities immediately outside Luna Azul, the development happens to be just across the street from Phoenix's Buffalo Ridge Park. This 168-acre green space includes hiking trails, baseball fields, basketball courts, playgrounds, and an 18-hole disc golf course. (Walking to the park, however, does require crossing an arterial — 16th Street at Wahalla Lane — so supervision might be wise for kids and frail elders.)
Get 'em while you can, they're not making all that many
Everyone dreams of owning a home fronting on a park, with a nearby community center and neighbors who greet you and know who you are. But not everyone gets to live in such a welcoming place.
Because some of its houses share a wall, planning for a pocket neighborhood can run afoul of local zoning codes. Some cities and counties require single-family homes to be at least 10 feet apart. To give you an idea of the scale of most developments, the median lot size in the US for new single-family homes built by speculative developers is about 8,600 square feet (roughly 0.2 acre or 800 square meters), according to a recent National Association of Home Builders study.
Six of those 0.2-acre parcels would take up more space than the 1.1 acres between the goal lines of an American football field. Meanwhile, the median lot size of land purchased by homeowners for custom-built houses (as opposed to spec houses) is much, much larger: exactly 1.0 acre, the NAHB says. One such lot would almost cover a whole football field right there.
Luna Azul's site is 4.5 acres in total. Its 30 dwelling units (not counting the Center House and its adjacent park/pool and several visitor parking spaces outside the gates) sit on approximately 3.0 of those acres. Those numbers give Luna Azul about 10 dwelling units per acre. That's similar to the density of neighborhoods in many cities, whose pre-existing single-family detached homes also consume about 10 units/acre, according to a Places Journal article. A pocket neighborhood doesn't necessarily have to cause alarm for ever-vigilant citizens' groups, which are often on guard against developments that seek more units and more traffic than would ordinarily be allowed for quiet residential zones.
But meeting a particular units-per-acre count is not the only hoop that the old-fashioned concept of houses with front porches must jump through to get permit approval. The list of land-use ordinances is, well, longer than a football field. For example, to get around city ordinances that require all fee-simple houses to face outward toward a street, Luna Azul is legally structured as a condominium association, which has no such restriction. After a majority of the 30 cottages have been purchased, the owners will elect their own board of directors, as in any condo organization.
Chapin's website lists 20 pocket neighborhoods he's conferred with to date. That's wonderful, but at the rate these communities are achieving construction permits, the walkable-homes market for people with special needs is in no danger of getting saturated. That's another reason why I believe units that are currently in the pipeline should appreciate at a healthy clip.
What if you don't wish to invest in real estate in Phoenix? Roth is already investigating new neighborhoods in places like Denver, Colorado, and Boca Raton, Florida. For more information, visit the Luna Azul website. (Disclosure: Roth is also president of the Claraphi Advisory Network, a registered investment advisory firm, which is reimbursing me for my airfare to speak at its annual conference in June, but I have no other financial relationship with him or the firm.)
Unfortunately, no mutual fund or exchange-traded fund currently tracks the profits of pocket-neighborhood developments. To help you invest immediately, the next part of this series will reveal the regulations — new just this month — that you need to know for real-estate investing in "opportunity zones." In these special tracts within every US state, all of your capital gains can be tax-free for 10 years — where walkable neighborhoods are already being started!
• Parts 2 and 3 appear on Apr. 25 and 30, 2019.
---
With great knowledge comes great responsibility.
—Brian Livingston
Send story ideas to MaxGaines "at" BrianLivingston.com
Announcement from the Author
{{ announcement.content }}