I'm giving four investing seminars this month: two in the East and two in the West. We'll reveal the latest scientific findings on crash-proof strategies - what I call "Muscular Portfolios" - and how to use StockCharts.com to get the most from them.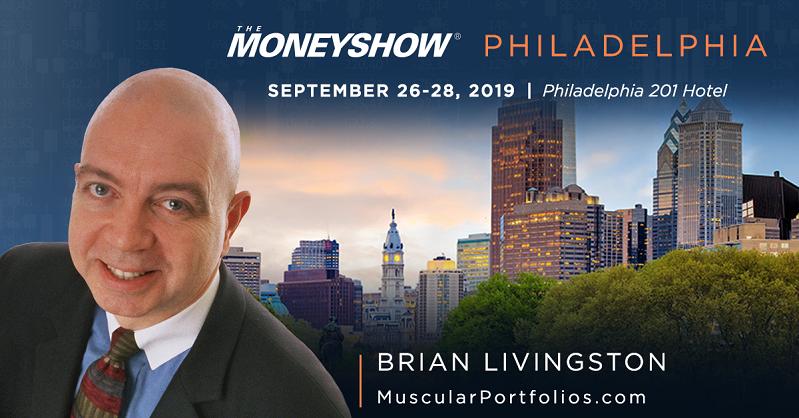 ---
Figure 1. Philadelphia and Silicon Valley are two places I'll be exposing investment secrets this month. Preregistration is required for each event. Illustration by the MoneyShow.
Philadelphia — Sept. 28 & 29
Saturday, Sept. 28 will feature my 1-hour intensive seminar at the MoneyShow Philadelphia. This event is free of charge, but preregistration is required. All attendees will be entitled to a free StockCharts premium trial membership.
Sunday, Sept. 29 is the date of my follow-up 4-hour in-depth seminar at the Philadelphia 201 Hotel. It contains everything you need to manage your own money the crash-proof way, eliminating the fees you may have been paying to "financial advisers" and "wealth managers."
For information on both days, see https://bri.li/philly.
Silicon Valley — Sept. 14 & 15
As I announced on Aug. 16 in my own Muscular Portfolios Newsletter, I'm running two seminars near San Jose, Calif., on Sept. 14 and 15.
Saturday, Sept. 14 is the day the Silicon Valley Chapter of AAII (the American Association of Individual Investors) hosts my 1-hour intensive seminar at the Shoup Park Garden House in Los Altos, Calif. I'll be the second speaker in the program, which runs from 8:30 a.m. to 12:00 noon. Preregistration costs $15.
Sunday, Sept. 15 is the date of my 4-hour in-depth seminar at the Wyndham Garden Hotel–San Jose Airport. The 1-hour intensive is good, but the in-depth seminar gives you the whole enchilada, making you completely capable of eliminating the fees you've been paying to high-priced stock-pickers.
For information on both days, see https://bri.li/sanjose.
These are probably the last public events I'll run in 2019. My next seminar series — located in other metro areas — kicks off in February 2020. I hope to see you at one of the above opportunities!
---
With great knowledge comes great responsibility.
—Brian Livingston
Send story ideas to MaxGaines "at" BrianLivingston.com