Bracing for impact - from any number of concerns; technical, geopolitical and fundamental; remains a focus of nimble trading (nimble because expecting alternating moves this year, and this week, we found need to trade S&P moves in both directions). Currently the market is focused on Ukraine; thus we retained a guideline E-mini /June S&P short-sale from the 1884 level early Friday.
Now, in a tense 'military weekend', we're going to simply focus on one basic historical technical characteristic of extended markets; about when rotational efforts end, and a market reverses. It addresses the suggestion of only 'minor' risk in a forthcoming next corrective wave (we say next because recent highs are ephemeral; merely a result of rotation; not a 'real' broad-based high), as we continue to have 'secular' not merely cyclical issues, challenging markets.
What is that simple observation? That the market 'goes up by climbing stairs; and in a real decline, the market goes down on an elevator'.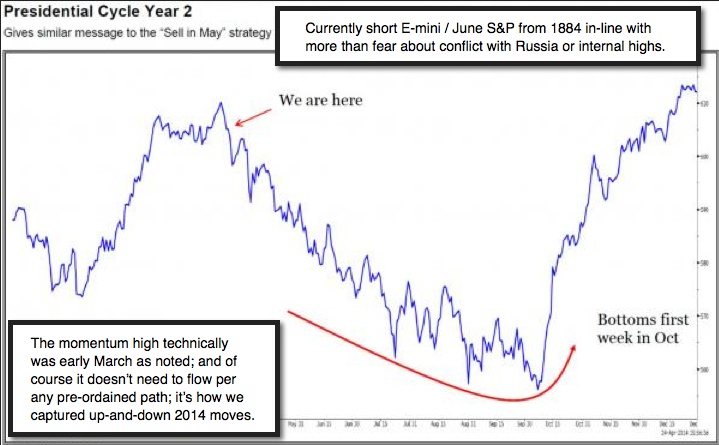 ---
It's classic, if old-school, that we assume many analysts will excuse a decline as solely occurring because of the specter of possible war. Remember in all this, that internal decline 'predated' the current 'angina' by a couple months at minimum; that pundits were changing estimates or guidance without material basics for several months; in a sense so that numbers conform to where the market is, rather than letting numbers speaking for themselves. It means it allowed the already-stretched 'disconnect' between price and reality to widen.
Thursday we indicated intent to sell-short 'on Employment News' if it took the market up early Friday. It did; so we have a single-effort 'live' guideline E-mini /June S&P 1884 short-sale, held over the weekend. It's already a home-run downside gain; which gives us a good 'cushion' ahead of Monday.
Daily action - has been primed for another market decline; following outlined preceding activity, including the A-B-C earlier April decline, and a 'D' wave up, that erratically extended itself 'somewhat'; with further deterioration in stocks of the 'momentum era'; while defensive hiding purchases sustained the S&P. Meanwhile NASDAQ had rallies within downtrends throughout; a pattern that persists since identifying the early March momentum peak.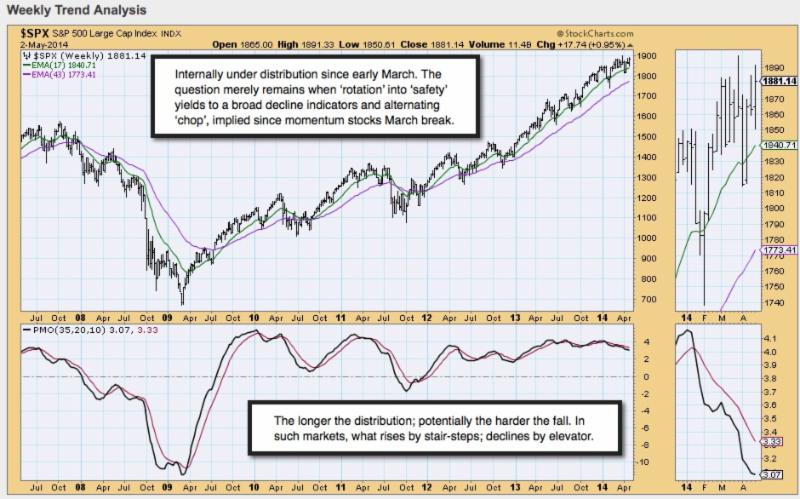 By the way; 'The Russians may still be coming'; per a humorous recollection of Norman Jewison's film of years ago. Loved his work; and delighted to hear from a California investor that Norman is in fine spirits and health (they just had lunch). Lest there be any misunderstanding, we want you to know that too. I vaguely recall meeting him briefly at Carroll O'Connor's Beverly Hills eatery; indeed, back when 'those were the days'.
As to market: Caveat Emptor. Don't drink the 'Kool Aid'.
There are lots of hard challenges ahead; and this time, there must be sobriety in geopolitics & fiscal policies; beyond monetary shell games.

Enjoy the weekend!

Gene Inger
www.ingerletter.com