How To Determine Where Price Will Find Support During A Downtrend
Technical Traders often forget that there are two different perspectives on support and resistance. There are Fundamentalists who do not use stock chart analysis, and the Technical traders who rely solely on technical pattern analysis for their decision when trading stocks.
Support created by the Fundamentalists, behaves differently than support created by Technical traders. It is important to be able to discern which type of support it is on the stock chart, or if both groups were involved in the sideways action. Determining this provides useful information for Technical traders in identifying when to enter or where to exit during correcting market conditions.
---
It is important to be aware of Fundamental support during a downtrend, as the market is still 80% Fundamentalists and a mere 20% who use only Technical Analysis. Below is a stock chart example of Sandisk Corp. (NASDAQ:SNDK) an important Cloud technology stock.
Technical Support can be the highs of a sideways action from a prior uptrend as a stock moves down, OR the lows of a sideways pattern. Usually it is assumed that the highs of a sideways action are weaker support than the lows.
This is due to the fact that much of the time a stock will drop through the highs, and halt within the sideways action or near the lows. The reason stocks do this, is because these are the price levels where fundamentalists were buying on the way up.
When a sideways action has a heavy concentration of Fundamentalist investors, particularly the Buy Side Giant institutions, this becomes an area where their automated orders are likely to trigger as a stock corrects. The orders used by the Dark Pools tend to trigger in a narrow range. That means the stock will drop through the Technical support which is the highs of the sideways action, and catch on the lows or mid-range of the sideways action.
Volume, Large Lot versus Small Lot, Accumulation/Distribution indicators, or Hybrid indicators often will form a V or W bottom on the indicator chart. As these indicators hit the bottom of the chart window decisively, it warns Technical traders selling short that it is time to use a Buy-To-Cover BTC to exit the trade.
The stock may slip down further but the risk of the Large Lot buy orders triggering automatically, rises significantly at these "buy zones" of the most influential giant lot investors in the market.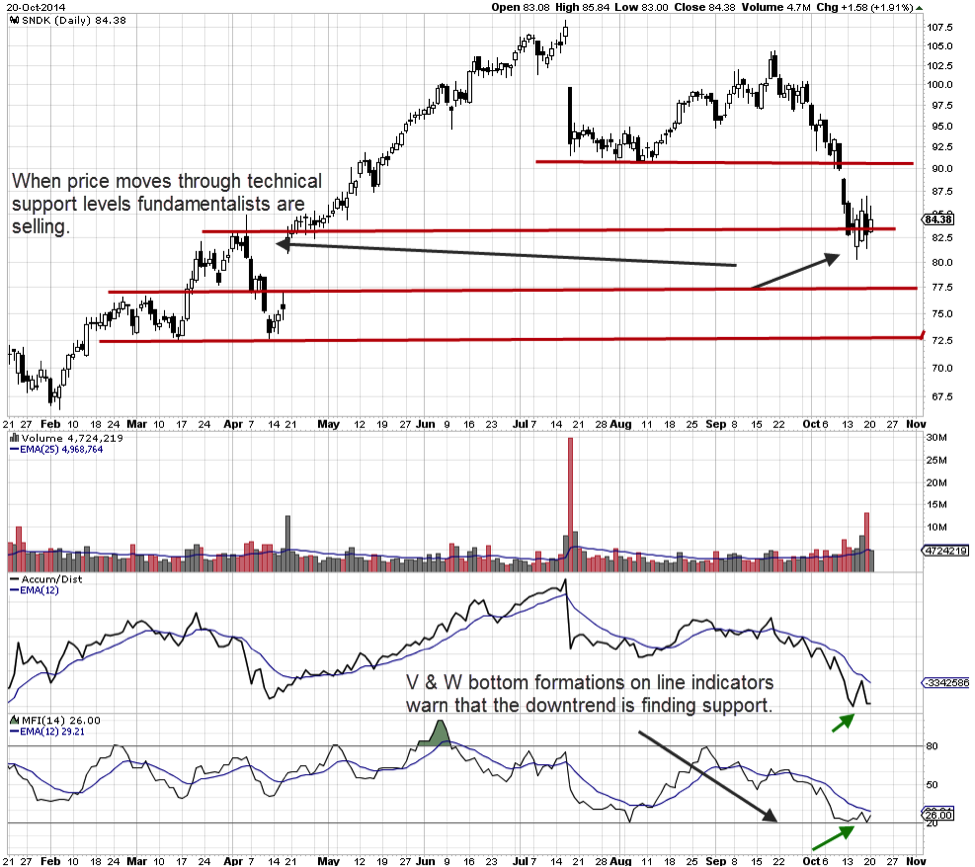 The Accum/Dist and MFI indicators both confirm that Fundamental support has been reached. The extreme low patterns in these indicator chart windows warn of a bounce, before the price moves up suddenly. Using indicators that contain Volume and Quantity configurations helps define Fundamental support levels for Technical traders.
Extreme patterns either to the downside or upside in indicator chart windows are important not to ignore. These are the most common areas where Technical traders either lose some of their profits or take a small loss.
Trade Wisely,
Martha Stokes CMT
www.TechniTrader.com
info@technitrader.com