Rationales & Targets
So, Nasdaq hit a new all time record high. Or did it? Given everything is more expensive 15 years later, we'd argue that a new record high lies quite a bit down the road. The median cost for a new house is 83% higher than when the tech mania peaked and the average cost is 72% higher. Gasoline is close to 140% higher. If we just use the CPI to adjust for inflation, a true new high lies 38% higher for Nasdaq, just under the 7000 mark.
---
Shiller's ten-year cyclically adjusted P/E ratio (CAPE) is now 27.34, as high as it has been since the tech mania and not far from the 30 level that marked the 1929 high. One of the most significant valuation metrics, Tobin's Q Ratio, remains at the second highest level in history, surpassed only by the tech mania. What makes these two valuation extremes even more startling is that Wall Street strategists still see significantly higher prices. A poll of strategists revealed in January expectations for an 8.2% increase in the SPX to roughly 2228. That would place CAPE just a tick away from the 1929 high.
We would guess ignorance must be bliss. For our part, it took awhile for us to be completely convinced but we have no doubt, this is the third veritable mania in 15 years. It is not going to end well and we expect a news event to catalyze a 180 degree turn. Critical support for the Dow is at 17,579 and for the SPX, critical support is at 2039.
Technical Indicators
Advisory sentiment remains one of the most significant negatives in the present environment. Bears are non-existent and no wonder, the six year bull market has decimated the bull case from sheer persistence. Historically, the bear contingent averages 26-27%. Since the beginning of 2014, the bears have averaged 16.1%. In the past, any reading that low would ring the alarms. However, this time the low levels have persisted for 67 weeks, a circumstance we believe has never occurred before. This market is a record setter in so many way, particularly danger signals.
The only clue we may have had to the extended advance and recent run of Nasdaq and the S&P 500 to new highs was the 21-day average of NYSE new highs as a percentage of issues traded. A recent peak nominally took out a prior peak, negating a negative divergence that had been in place for the better part of two years. However, even with new highs only a few days in the past, the indicator is again dropping like a rock. We still see this action as extremely significant and believe the extension was a one off event. New index highs are made possible by new highs registered by individual stocks. Clearly, leadership has been waning since mid-2013. The theme of negative divergence may have temporarily been damaged but overall, our theme is valid.
Breadth Dynamics is awful. New highs for two of the three major indexes and very little to no enthusiasm for the entire NYSE? And how about the Dow? No new high there. The Dow high was made close to two months ago. Given the Dow can now ride on APPL's coattails, this is most unusual. Over the last year, AAPL has been responsible for 11% of the entire increase in U.S. market cap. Prices may fit the definition of a bull market but it sure isn't a bull market for all stocks.
That Was OUR Chart!
[This is just an excerpt from the April 29th issue - contact us for a free three issue trial]
We take care to attribute our sources and have always done so during our 26 year publishing history. One voice is never enough and while composing each new issue, we research other voices, other opinions and other graphics extensively and attribute our sources. The favor is not always completely returned and with some discomfort, we recently found one of our most relevant charts shown without any attribution. We work very hard to present our readers with cogent, pertinent and timely analysis and we're never pleased to see our work lifted and placed elsewhere without permission or attribution.
The lead chart for the March issue of our Pictures of a Stock Market Mania report is now wending its way through several websites, including David Stockman's Contracorner (see http://bit.ly/1Okwjp7). We have referenced several articles from Contracorner in recent months and we're happy to attribute our sources. We do not understand why it is so difficult for a few others to do the same. We subsist on word of mouth and have never marketed our views or sold advertising and never will.
At the very least, we must admit that our chart illustrating margin debt at its "Highest In 85 Years!" is having an impact. It is an astonishing graphic. FINRA just released the March numbers combining NYSE and NASD margin debt, a bit too late to present in this issue, and our own updated analysis will have to wait for the May issue of Crosscurrents. We have updated the chart at bottom left, but it is incomplete. Until the Investment Company Institute publishes mutual fund data for March, we can only use last month's stats to represent total cash reserves. Our snapshot of liquidity as shown at bottom left simply measures the dollar amount of mutual fund cash reserves (positive liquidity) minus total margin debt (negative liquidity). While this simple measure does not purport to be a 100% accurate picture of liquidity, it clearly gives us a handle on the potential for vulnerability. As at the peaks of March 2000 and October 2007, there is a huge potential for damage.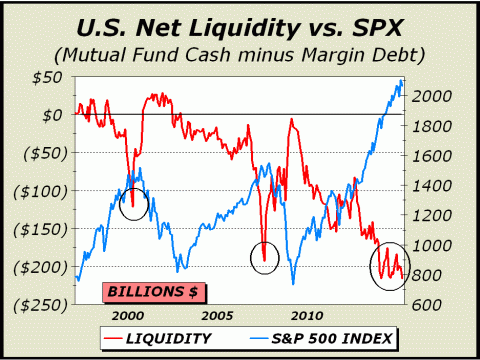 For more information, please contact us:
Alan M. Newman, Editor, Crosscurrents

www.cross-currents.net