New Topping Formations List and New Entry & Exits
Selling short is a trading style few retail and technical traders use even during major Bear Markets. The reason is because it is often far more challenging to understand the technical patterns of the downtrend which include 5 Tips for Selling Short Success.
How stocks move down, where support levels create bounces or rallies, and how to know when to enter and when to exit a sell short trade for maximum profits is a challenge for most traders.
---
Here are 5 Tips for Selling Short Success:
1. Learn to recognize the new topping formations which are
a. Flat tops
b. Flat shoulders variation of Head & Shoulders
c. Rounding Tops
d. Sheer Cliff Tops
e. Ripple Tops
Topping action has changed dramatically in recent years due to the new orders that are used by Dark Pools, High Frequency Trader activity, the return of the Professional human trader to trading floors, changes to regulations for the Buy Side and Sell Side Institutions, new Stock Derivatives, and the fracturing of the Market Venues for processing orders. These newer tops are not in the older Technical Analysis books, because were not occurring on markets before 2010. These new tops are often mistaken as continuation patterns rather than a top, which puts traders at higher risk of a whipsaw trade.
2. New types of Entry and Exit Signals for Selling Short include the following:
a. Inverted Reversal
b. Black Sandwich
c. Black Nesting
d. Bounce Exhaustion
Candlestick sell short signals have changed, due to the variables available to the Professional Traders for where and how they place sell stop orders. Institutions are using Stock Derivatives rather than Swaps and Exotic Derivatives or Hedge Funds. This makes the sell side more active. Controlled bracketed orders are used by many professional Market Participant Groups now.
3. Indicators for Selling Short are important in the 5 tips for selling short success. For example it may come as a complete shock to traders who believe MACD is the best indicator for short term trading, that a 20 year study of MACD concluded with empirical evidence that MACD failed dismally when used as a signaling entry for sell short. If you think about it, this makes sense as MACD was written during a Moderately Uptrending Market with plenty of momentum surges. It was written for upside action. The formula is not specifically designed for the downside price action, which is totally different due to the 9 Market Participant Groups who all react differently to a Bear Market.
4. In a Bear Market technicals rule, and in a Bull Market fundamentals rule. There are more downside technical traders during a Bear Market than fundamentalists in a Bear Market. A Bear Market has a dominant underlying force of Technical Analysis driving price rather than fundamentals, speculative greed, and plenty of uninformed investors to drive price upward. Instead the downside is in the hands of Technical Traders most of the time, with intermittent panic selling or capitulation selling by the less informed or uninformed.
5. The Downside can and does drop with much lower volume. Whereas the Upside requires volume to drive price upward and continue upward trends, the downside can and will slip down due to a lack of liquidity, volume, and activity.
Below is a chart example of International Business Machines (NYSE: IBM).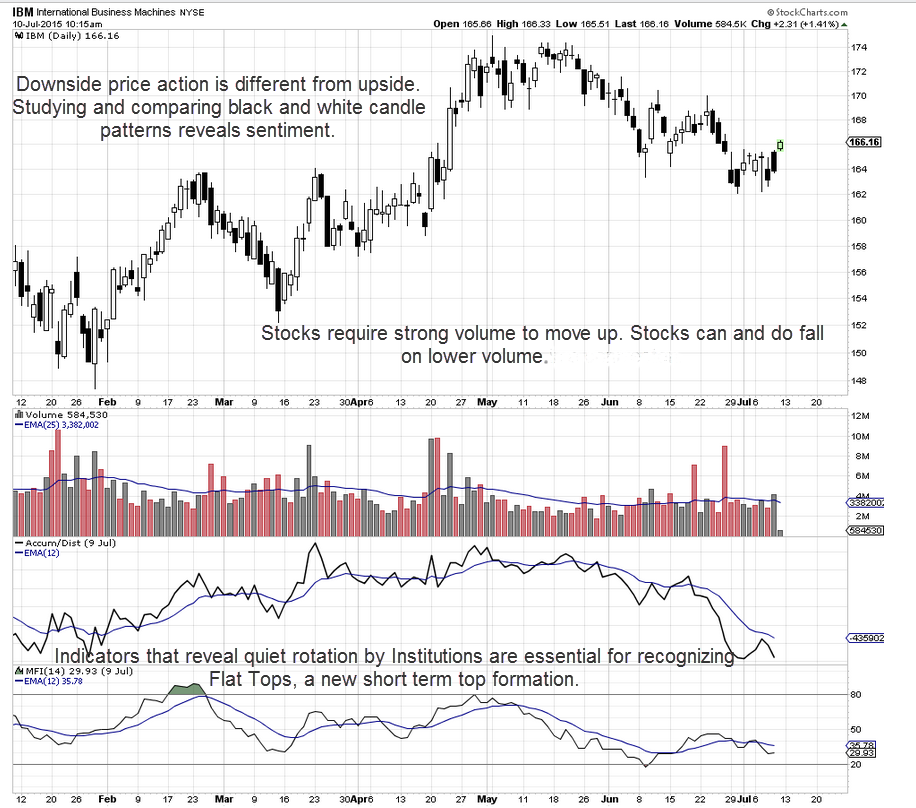 Summary
All too often Technical Traders assume that the downtrend is merely an inverted uptrend, but within the 5 tips for selling short success major differences are revealed. In addition if you were to invert the downtrend, you would find it is totally different when placed over an uptrend of the same timeframe. Also stocks can and do fall on lower volume during a correction.

Trade Wisely,
Martha Stokes CMT
www.TechniTrader.com
info@technitrader.com