Monitoring purposes SPX: Short SPX on 7/26/16 at 2169.18.
Monitoring purposes GOLD: Sold GDX on 6/10/16 at 25.96 = gain 14.97%. Long GDX on 5/31/16 at 22.58.
Long Term Trend monitor purposes: Short SPX on 1/13/16 at 1890.28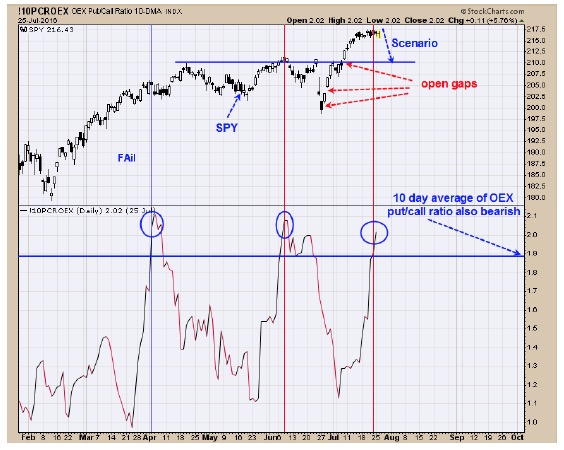 ---
The bottom window is the 10 day average of the OEX put/call ratio. Readings above 1.90 have been a bearish sign for the market and today's reading came in at 2.02. FOMC meeting announcement is tomorrow and could have a short term affect on the market, however it appears when the dust settles, a pull back is likely. There are open gaps below on the SPY and open gap usually get filled at some point. The first downside open gap is near the 210 range and a possible target to the downside. Most bottom signals are triggered by panic in the TRIN and Ticks and where ever panic occurs will be the time to exit the short position. Short SPX on 7/26/16 at 2169.18.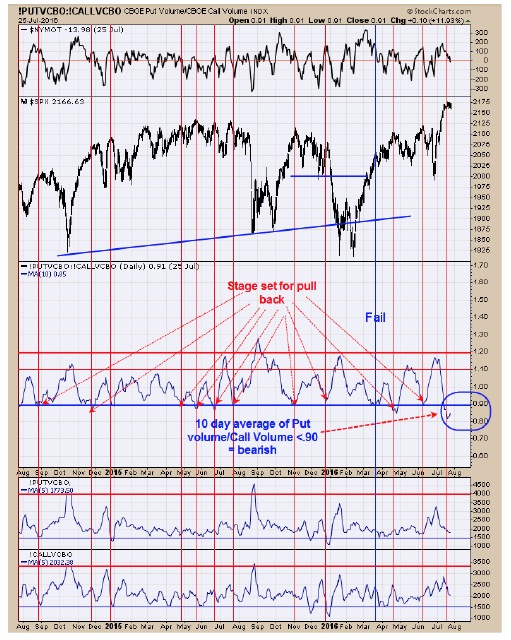 FOMC meeting starts today and ends tomorrow and may have an affect on the market which could turn into a top. The middle window is the"10 day average of the Put Volume/Call Volume ratio" and readings below .90 have been a bearish condition for the market. Today's reading came in at .85 suggesting a top is near. There could be short term volatility on the announcement tomorrow, but the outcome should produce a pull back. Free 30 day trial, send request to tim@ord-oracle.com.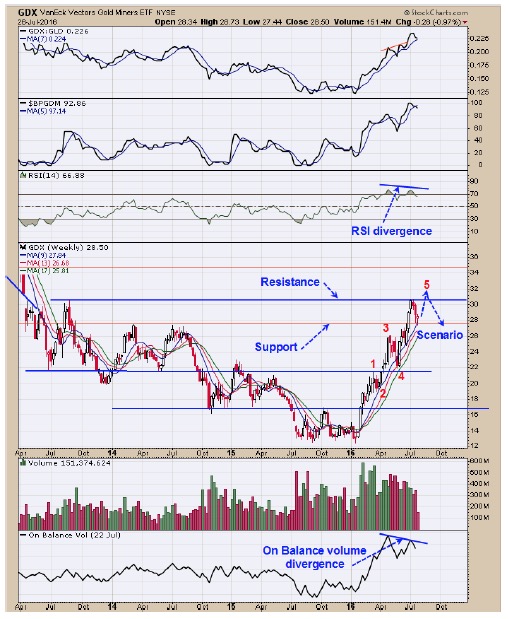 The above chart is the weekly GDX. Couple of weeks ago, GDX ran into the high of August 2013 near 30 range and backed away suggests that area has resistance. Yesterday GDX fell back near support at 27 and found support and today rallied some. Another bounce is possible to test or break to a new minor high completing an Elliott wave five count up from the January low. After the next potential rise to complete Wave 5 a bigger correction could start that may last into the "Eight year cycle low" due around September, October timeframe. Its common after the an Elliott Wave 5 completion, that the next pull back finds support near the previous Wave 4 low which in this case is near 22 on GDX. Don't see a safe trade here for GDX but a lode of gold stocks are on monthly buy signals. Sold GDX on 6/10/16 at 25.96 = Gain 14.97%.
Tim Ord,
Editor
For examples in how "Ord-Volume" works, visit www.ord-oracle.com.
New Book release "The Secret Science of Price and Volume" by Timothy Ord, buy on www.Amazon.com.