SPX Monitoring purposes; Sold SPX 5/5/17 at 2399.29 = gain 1.06%; Long SPX on 4/24/17 & 2374.15.
Monitoring purposes GOLD: Neutral
Long Term Trend monitor purposes: Neutral.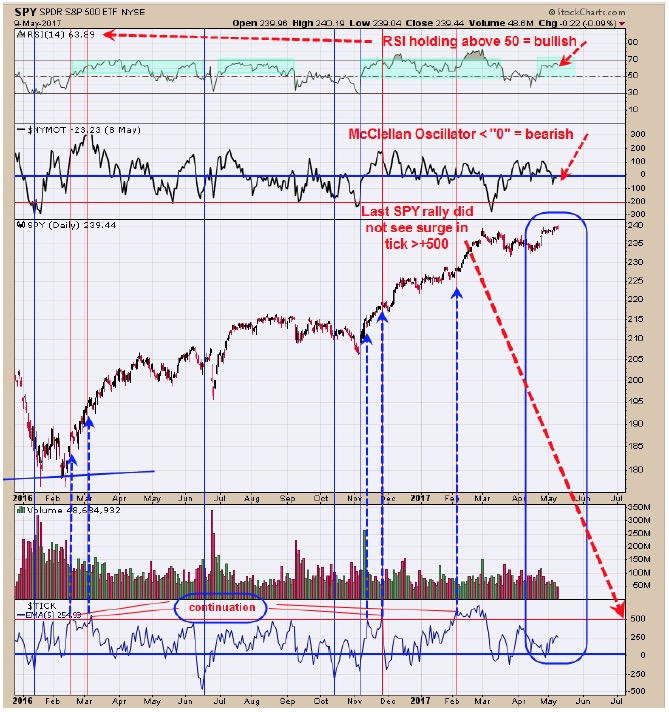 ---
Coming off a bottom in the market, you like to see the 5 day average of the Tick jump to >+500 to suggests an impulse wave up has begun (noted on the chart above). The last low in mid April did not produce a +500 tick surge and put into question the lasting power on the current rally. In general the market looks OK. The RSI (top window) is staying above 50 which are what happens in up-trends. However the NYSE McClellan Oscillator is below "0" which is a bearish sign. We don't see a save trade at the moment. Back on the sidelines for now. Sold Long SPX on 5/5/17 = gain 1.06%.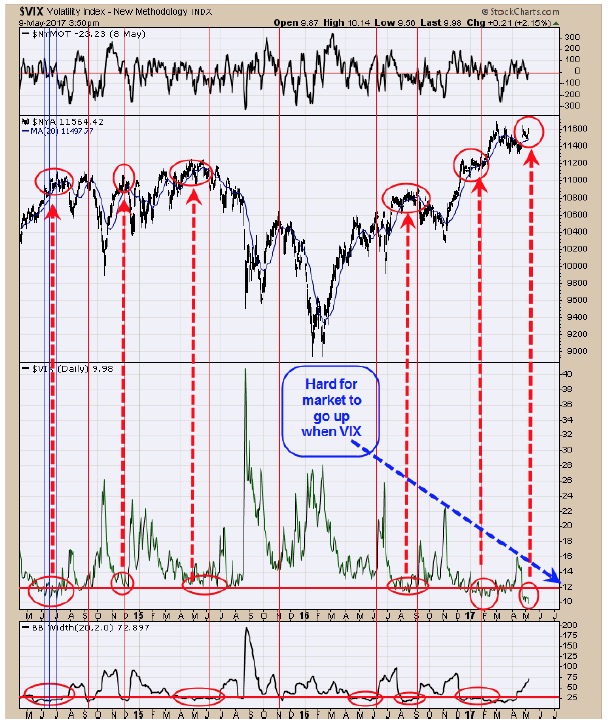 The chart above goes back over three years. The second window up from the bottom is the VIX. Over the last three years the market has a hard time going higher when the VIX is below 12 (current reading is 9.98). The up down volume and the Advance/decline are not showing excessive deterioration suggesting market is still stable. Most likely a consolidation has started that could last several weeks.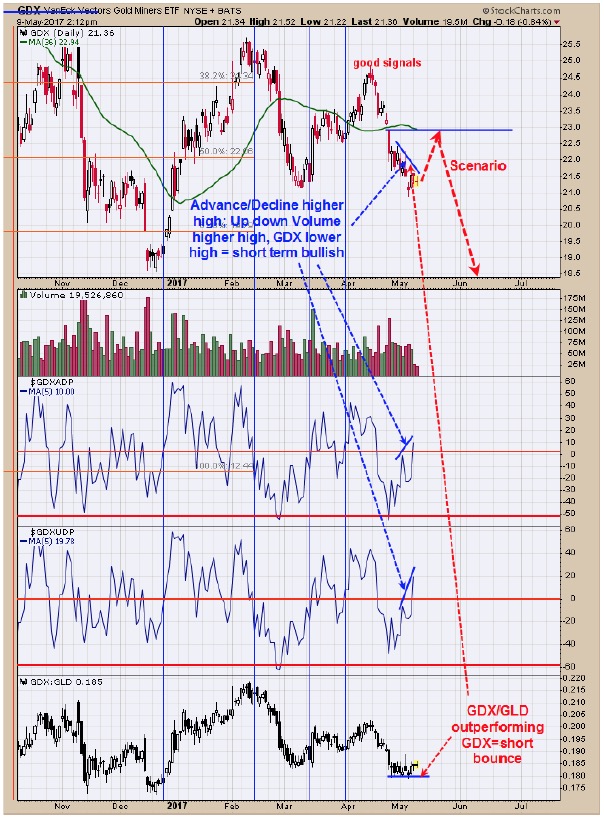 Yesterday we pointed out short term positive divergences for GDX; today's report we have found a couple more. Bottom window is the GDX/GLD ratio which is outperforming GDX and suggests GDX should start a short term bounce. Next window up is the UP down Volume with a 5 period moving average and the window above that is the Advance/Decline with a 5 period moving average both of which are geared for the short term moves. Over the past week both of these indicators made higher highs suggesting GDX may start to bounce. First upside resistance is the gap level of April 25 near 23.00 range. After this potential bounce, market may reverse and head lower to new recent lows. Time cycle for next low may come in late July to early August. Still on the side lines for now.
Tim Ord,
Editor
For examples in how "Ord-Volume" works, visit www.ord-oracle.com. New Book release "The Secret Science of Price and Volume" by Timothy Ord, buy on www.Amazon.com.