Today I answer your question, has Oil bottomed? Let's review the $WTIC chart I designed for an interview in early June.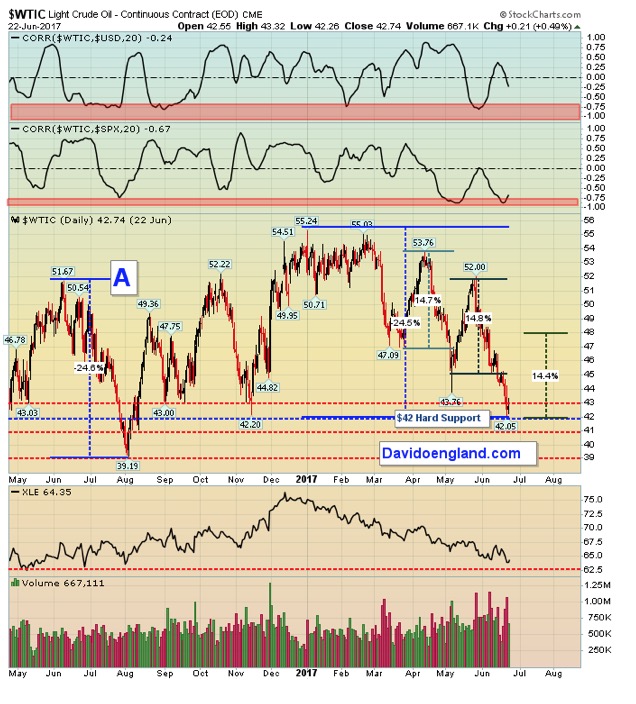 ---
Key Points...
1. Top Box-WTIC is NOT trading opposite of the US Dollar-see red box
2. Second Box-WTIC is trading with an inverse .77 correlation to the SPX
3. Main Box-see (A) last June the price dropped 24%. A 24% drop from the most recent high in January would take the price down to $42
4. Fourth Box-XLE hard support ($63.37) is highlighted-red slotted line
5. Bottom Box-although volume has been high-I do not see capitulation
To sign up for my FREE newsletter, click here.
Action Points…
1. A 24% drop from the most recent high in January is around $42
2. Next levels of WTIC support are $41 then $39.19
3. Previous rallies off support were 14%, see March and May 2017. A 14% run from $42 support takes the price to $48
4. Go to your Playbook (file E A4) for Energy fund plays and (file H HA 1&2) for leveraged plays. Click here for information on my Playbook 2016/17
5. Identify candidates and set alerts on all candidates
6. Develop patience and wait for Simple Simon Signals before entering
7. If trading leverage, tight stops are a must
My answer to your question, has Oil has bottomed is NO. After a possible bump (short covering) at these levels, I see a re-test to $40 and below.
Send your questions to thetraderseye@gmail.com. If your question is selected, you will receive a FREE month of my daily posts!
Enjoy your weekend!
David O. England
Plan your work, work your plan, and share your harvest! 1 Timothy 2:1-2
This information is for Educational purposes only. It shall in no event be construed or interpreted as an offer or recommendation to buy or sell securities of any kind.
DAVID O. ENGLAND is the founder of the Eye on the Market-Training Academy and Associate Professor Emeritus of Finance. This column is presented for educational purposes only and not intended as financial advice.