SPX Monitoring purposes; Short SPX 6/19/17 at 2453.46.
Monitoring purposes GOLD: neutral.
Long Term Trend monitor purposes: Neutral.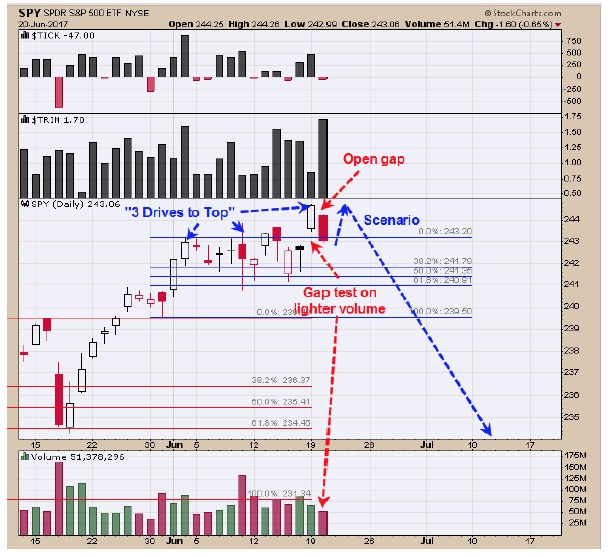 ---
Today the SPY gap down and left an open gap. Today's decline tested yesterday's gap up. Yesterday's gap test came on lighter volume suggesting support. Therefore there is a possibility with today's light volume test of yesterday's gap the market may bounce and test the down gap that formed today. If the market does bounce and tests today's down gap and the test comes on lighter volume will suggests the gap has resistance (which is expected) and market turns back down. Topping pattern has completed or is about to be completed and still expect a pull back in the coming days. Another interesting statistics is that the week after June Option expiration week (this week) is down 74% for the time. Short SPX on 6/19/17 at 2453.46.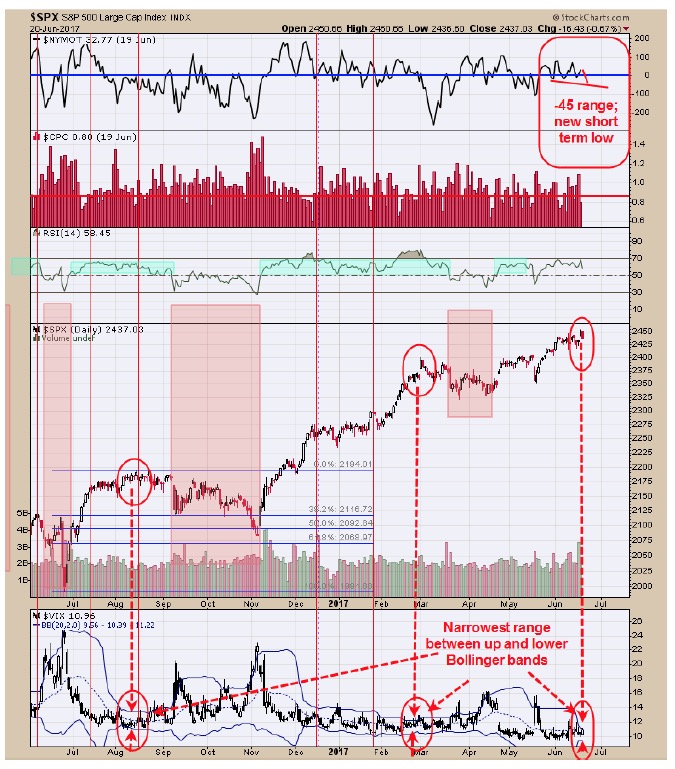 The bottom window is the VIX along with its Bollinger band. When the VIX Bollinger band is at its narrowest the market is usually near a high. The previous two narrowest Bollinger band produced intermediate term tops and there is a chance the current narrow range Bollinger band could also. The Narrow VIX Bollinger band suggests volatility will be picking up; meaning the VIX will be raising and the SPX declining. The top window is the NYSE McClellan Oscillator which hit -45 range today and the lowest reading in three weeks. The low McClellan Oscillator reading is showing the market is getting weaker.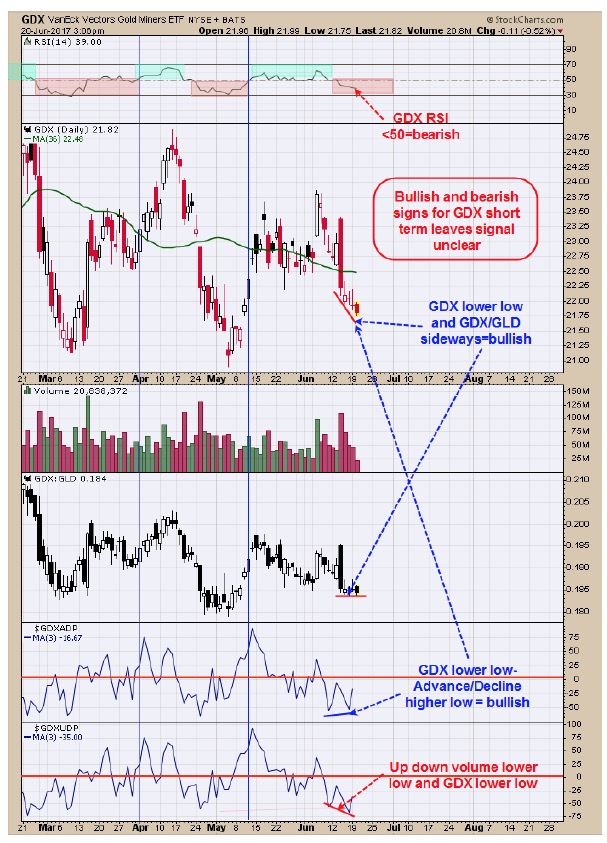 The bottom window is the Up down Volume percent indicator which is below "0" and has made lower lows and a bearish sign. Next window up is the Advance/Decline percent which has made higher lows (bullish) but still below "0" which is bearish. What is showing a bullish divergence is the GDX/GLD ratio. GDX has made lower lows and the GDX/GLD ratio is marching sideways showing that GDX/GLD ratio is stronger than GDX and normally GDX/GLD ratio leads the way for GDX. To help the bullish case; a close above "0" on both the Up Down volume percent and Advance/Decline Percent would be needed. Market appears to be near a low, but signal is incomplete. Will keep our powder dry for now.
Tim Ord,
Editor
For examples in how "Ord-Volume" works, visit www.ord-oracle.com. New Book release "The Secret Science of Price and Volume" by Timothy Ord, buy on www.Amazon.com