In our last submission, we said that we had what we call a Borderline "Secret Hedge Fund" Buy and that any weakness at all would confirm a good buy. I admitted it was a bit of bottom picking, but barring anything serious on the horizon, buying dips is what you should do in a Bull Market. I didn't see much trouble at least in the financial sector and while the technicals looked undeniably sick, the most reliable tool we have--one that has made hundreds of millions of dollars over the years was saying Buy. I said that I was looking more long, not less so and that we would buy just after the open. The low was 5/18.
---
(You can read our last contribution here: http://stockcharts.com/articles/tac/2017/05/mark-s-young-wall-street-sentiment---the-end-of-the-world-as-we-know-it.html)
So, now that we've basked in generous accolades, what's the current prognosis?
In a nutshell, everything looks great! The trend is up. The market is making new highs. Growth is starting to look better. And Market Breadth is very strong. The Cumulative A/D line is looking very Bullish.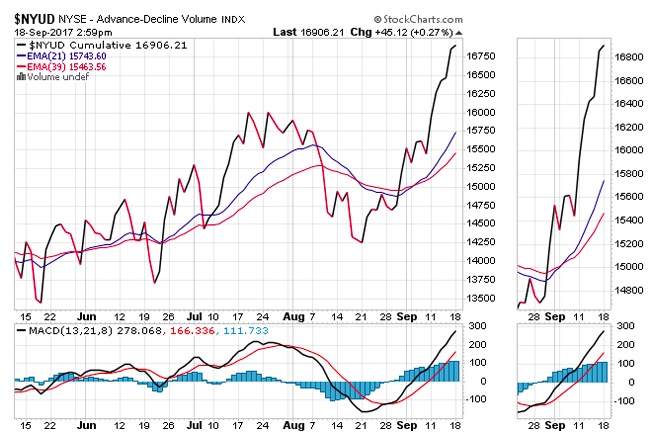 Moreover, those who lend money to companies in the financial industry are commanding exactly ZERO extra risk premium on money loaned over non-financial companies. This means that there's very little chance of something going wrong behind the scenes in the financial industry.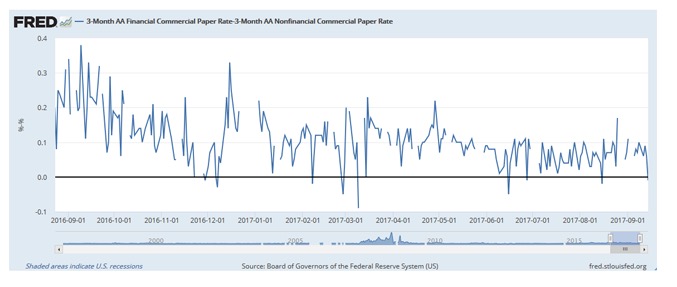 For comparison, look at where things were prior to the last Bear Market.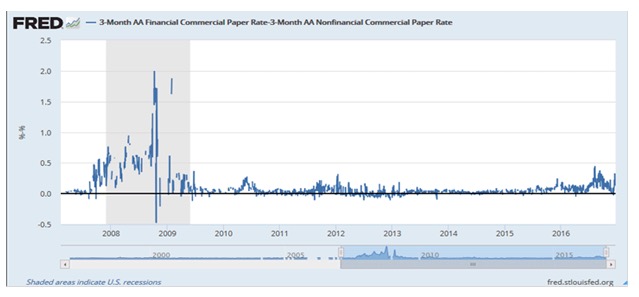 So, things look good. We're rallying to the Moon, right?
Well, not so fast. There are yet a few flies in the ointment.
Firstly, this time of year is historically tough for the stock market. The end of September is seasonally weak and we know what October can bring. Secondly, we're rather overbought. It's hard to really get an overextended market to run much higher without working off the overbought condition (it can happen though). Not to be forgotten, our "Secret Hedge Fund" Indicator is on a Sell--though we never use these Sells as a precision timing tool.
Also of concern is the market sentiment. Firstly, the SH has seen $142MM in net short covering over the past 7 days. This is starting to get down into the danger zone. When there's net short covering, it means that folks aren't very Bearish on the market.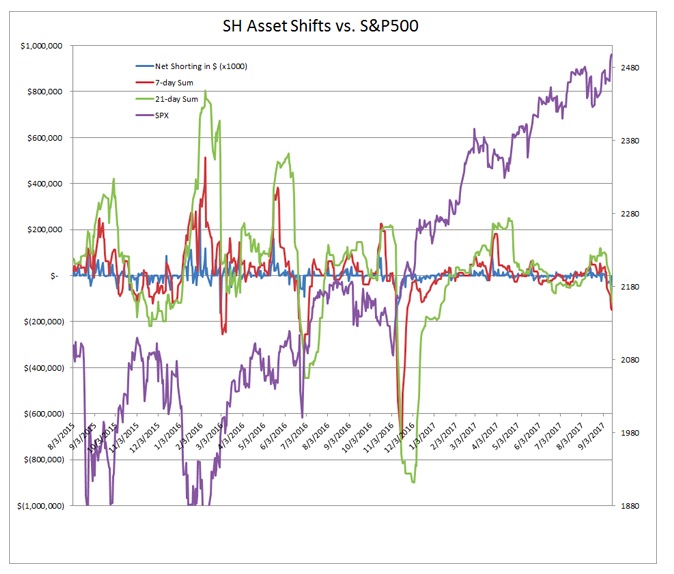 The SH speculators aren't the only ones turning more Bullish. AAII saw a remarkable Bullish shift in sentiment last week, going from nearly a Buy to nearly a Sell in a week. In general, I don't like to use AAII raw sentiment as a surgical timing too, but when there are large, fast shifts, these are often a fade.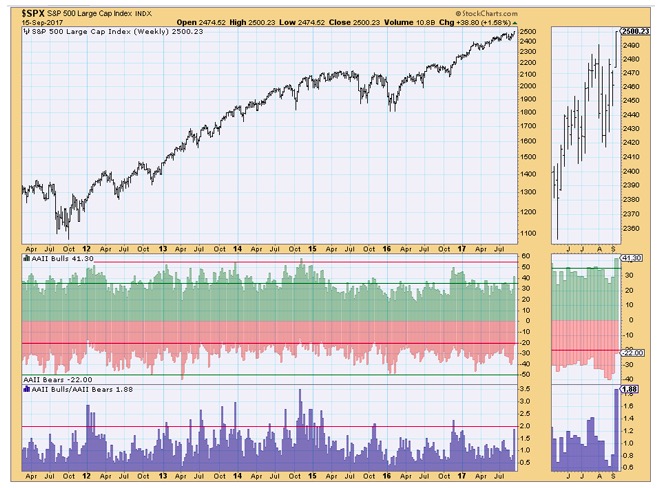 So, basically, we've got something of a proper set up for a little correction. Breadth and commercial paper don't have me worried at the moment, but the market is due a healthy bit of profit taking. I think we'll get it, though I'm waiting until the last possible moment to let go of longs. Bigger picture, we're still in a Bull market and there's still no place else to put our money. Frankly, I think it possible that once we get into the more positive seasonality, the market could take off in a way that leaves many scratching their heads. It's OK to be a bit defensive, but I think we need to be quick to buy on weakness.
Mark S. Young