SPX Monitoring purposes; Sold 10/25/17 at 2557.15=breakeven; long SPX 10/16/17 at 2557.64.
Monitoring purposes GOLD: Covered short GDX at 23.23 on 10/20/17 =gain 2.56%; Short GDX on 10/13/17 at 23.84.
Long Term Trend monitor purposes: Neutral.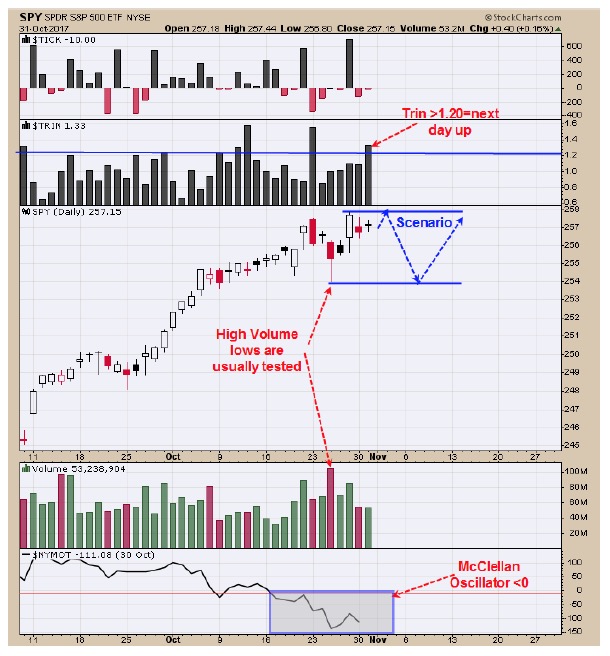 ---
Today the TRIN closed at 1.33; readings above 1.20 usually produce an up day the next day. There was a relative high volume day on Friday and if market does rally at test Friday's high on lighter volume would suggests that high as resistance. A high volume low formed on 10/25/17 and most high volume lows are tested and if tested on lighter volume would suggest support. If panic form on the test (identified with the tick and trin readings) a bullish short term signal could materialize near last Wednesday's low in the 254 range on the SPY. Patience is needed for now.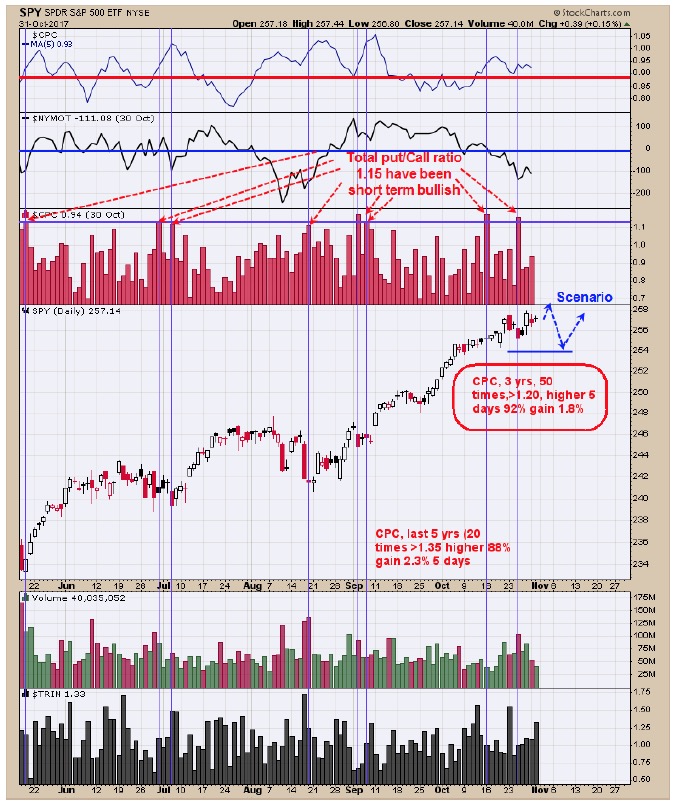 With the McClellan oscillator below "0" a consolidation is the likely scenario for the market short term (see last night's report). The third window down from the top is the Total Put/Call ratio (CPC). Readings near 1.15 and above have been a bullish sign for the market (identified with blue vertical lines). The CPC reached 1.17 on October 25 and suggests a bounce over the next five days averaging 1.8% and day Five will be tomorrow. Today the TRIN closed at 1.33 and in most cases the market bounce the next day and could bounce to Friday's high which may turn into resistance if tested on lighter volume. October 25 was a high volume day and most high volume days low is tested and could be an area where a bullish setup could occur. Flat for now.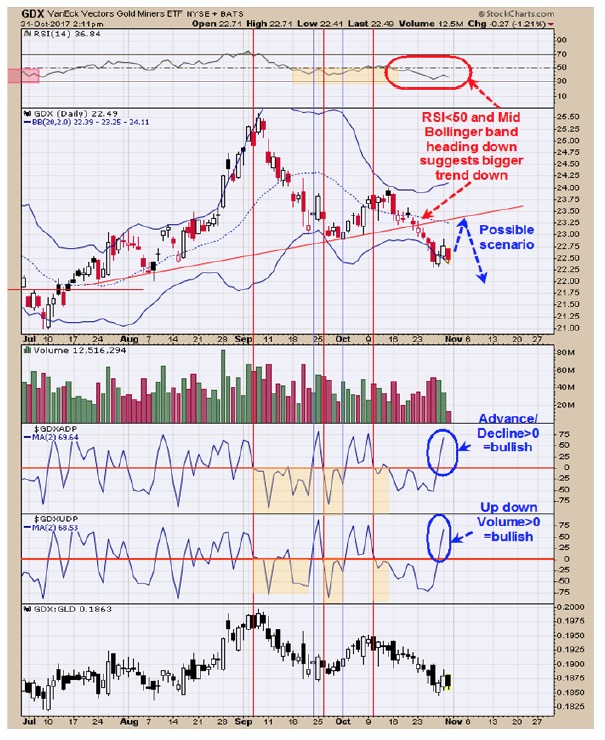 There is a cycle low due around December (+ or – a month). For very short term both Advance/Decline and Up down volume indicators are showing strength, suggesting a short term bounce is possible even though GDX was down today. The potential bounce may find resistance at the Mid Bollinger band and Trend line near the 23.25 range. With the Mid Bollinger Band trending down and the RSI below 50, suggests the larger trend is still down. At the next resistance level (possible near 23.25) we should see weakness in the Advance/Decline and Up down Volume indicators and something we will be watching for. The COT Commercials are short at 211K and still in the bearish camp. Covered short GDX on 10/20/17 at 23.23 = gain 2.56%; Short GDX 10/13/17 at 23.84.
Tim Ord,
Editor
Visit www.ord-oracle.com. New Book release "The Secret Science of Price and Volume" by Timothy Ord, buy on www.Amazon.com.