SPX Monitoring purposes; Sold SPX on 11/17/17 at 2578.85 = gain of .55%; long 11/15/17 at 2564.62
Monitoring purposes GOLD: Short GDX on 11/13/17 at 22.56
Long Term Trend monitor purposes: Neutral.
---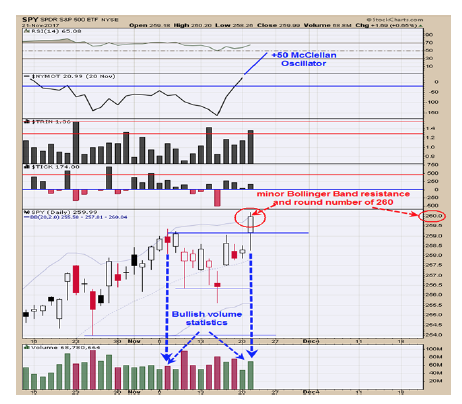 We where thinking that the large gap that formed last Thursday's was going to get filled sooner rather than later; Turns out that was not the case. Today's rally did break above the recent highs and volume did confirm the breakout. Today's close did run into the upper Bollinger Band and is running into a round number both of which are resistance. Volume most likely will be light tomorrow (day before Thanksgiving) and therefore a better entry could present itself at a bit later. In any case the rally is expected to continue into year end with an average gain of 4% according to statistics. Sold SPX on 11/17/17 at 2578.85 = gain of .55%; long 11/15/17 at 2564.62.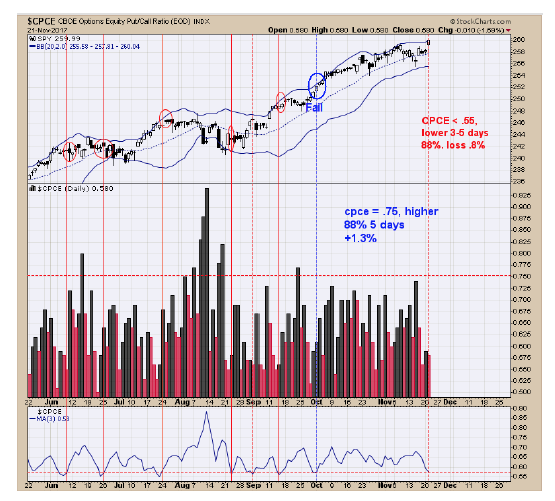 The bottom window is the three day average of the Equity Put/Call ratio. Readings near .58 and lower usually stalled the market short term, so we don't believe a run away rally will start here. There could be backing and filling short term, but the trend is up into year end.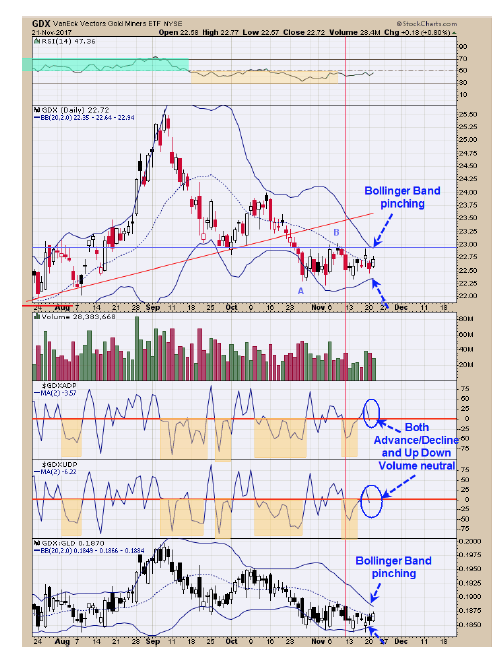 Both the GDX and GDX/GLD ratio Bollinger Bands are pinching suggesting a large move in both are not far off. With the RSI trending below 50 since mid September, it would suggest the large move will be down. Markets can do "head fakes" right when a large move is about to begin so we will be watching closing, but as it sets right now, this market has a bearish slant. The next down move in GDX could setup and even larger move up as the Monthly chart remain on a buy signal. To help identify the next low, GDX/GLD ratio should lead GDX in performance and something we will be watching for. Short GDX on 11/13/17 at 22.56.
Tim Ord,
Editor
Visit www.ord-oracle.com. New Book release "The Secret Science of Price and Volume" by Timothy Ord, buy on www.Amazon.com.