SPX Monitoring purposes; Neutral
Monitoring purposes GOLD: Short GDX on 11/13/17 at 22.56
Long Term Trend monitor purposes: Neutral.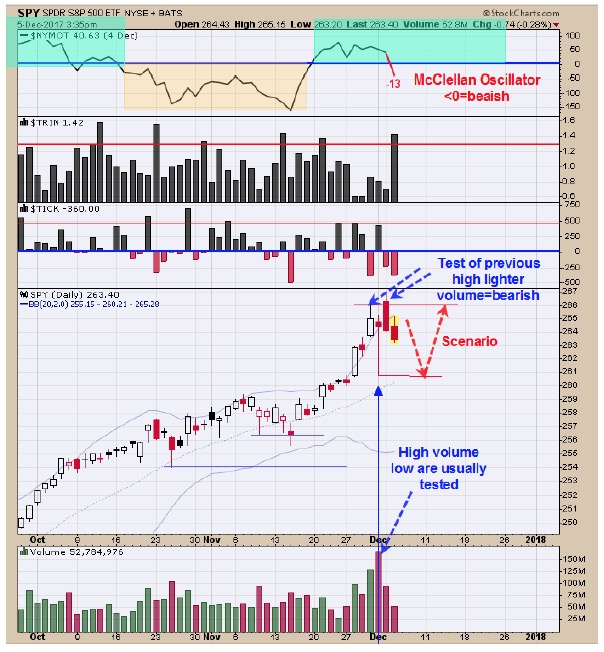 ---
Last Friday had a big jump in Volume suggesting "Selling Climax". Most "Selling Climax" lows are tested and if tested on lighter Volume would suggest support and could mark the next low. This is the week before Option Expiration which whipsaws are common. Today the McClellan Oscillator closed below "0" suggesting the short term trend has turned down. There is a cycle low due around December 13 (next Wednesday) plus or minus a day or so. A bullish setup may occur on a test of Last Friday's low (near 260 on the SPY) on lighter volume and panic readings in the Tick and Trin. December is still expected to be up, but a correction short term is possible before a bullish setup.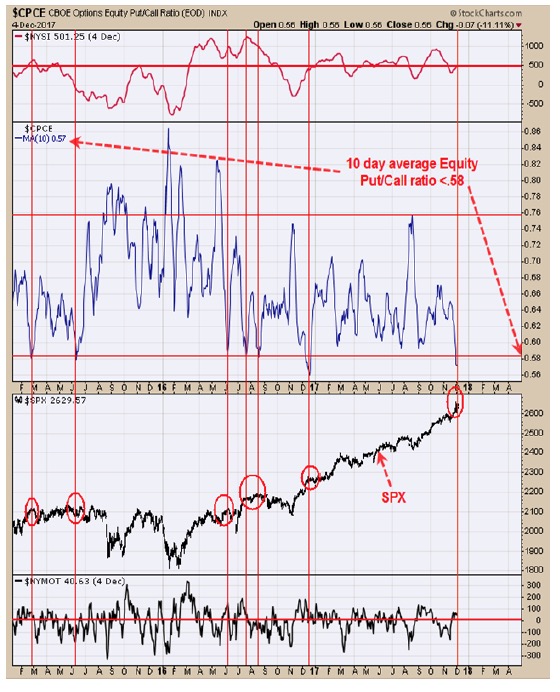 Above is the 10 day average of the Equity Put/Call ratio. Readings below .58 (current reading is .57) have stall the market over the last three years and we would expect that to happen here. We noticed that the TRIN and Tick did close in panic levels today suggesting a bottom is not far off. The Tick and TRIN panic readings can arrive two days before a low is seen in the market. Also notice that when the 10 day Equity Put/Call reaches .58 the upside has been minimal.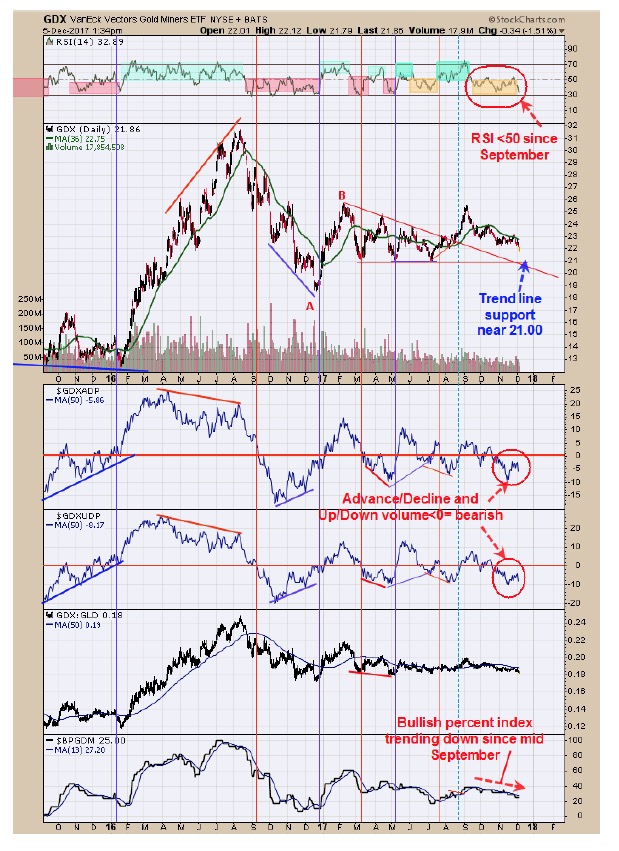 The COT Commercials bumped their short position again last week to 247K up from 225K the week before and remain bearish. The bottom window is the Bullish Percent index for the Gold Miners index which as been trending down since September, standing now at 25% on point and Figure buy signals. It a bullish sign when the Bullish percent index rises back above 60%. The third and forth windows up from the bottom are the Up/Down Volume and Advance/Decline indicators which remain below "0" and bearish: a rise above "0" will be a bullish sign. Next window up GDX, a trend that started back in March near 21.00 could be where the next low may be found. The longer in time the trend line the stronger the support, so the 21.00 support may hold on the current decline. For now the picture remains bearish for GDX. Short GDX on 11/13/17 at 22.56.
Tim Ord,
Editor
Visit www.ord-oracle.com. New Book release "The Secret Science of Price and Volume" by Timothy Ord, buy on www.Amazon.com.