In our last submission, we expressed our belief that the low was very likely in, even though we were still in a "Bear Market Condition" (which was going to take a bit, mathematically, to get out of). The excessive shorting via the SH, as well as the very high readings from our favorite "Bottom Spotter," the Relative VIX, as well as the obvious health in the financial system, all had us feeling fairly confident of the low. Still, we advised folks to watch for popular Buy (and even Sell) signals to start working out again, and, if they did this, it would be an early warning that we are heading back into a Bull Market condition.
So, now, we are nearly 800 points higher and looking a lot better. Now what?
Well, I'm thinking that it's about time for a correction--and only a correction. First of all, we should contextualize the market. We're in a Bull Market Condition and have been for some 5 weeks now, and we predicted as much weeks prior to that based upon price action and the utility of Buy signals. In a Bull Market, one needs to be careful getting Bearish. Breadth is quite good and the Cumulative A/D Volume is making new highs for this rally.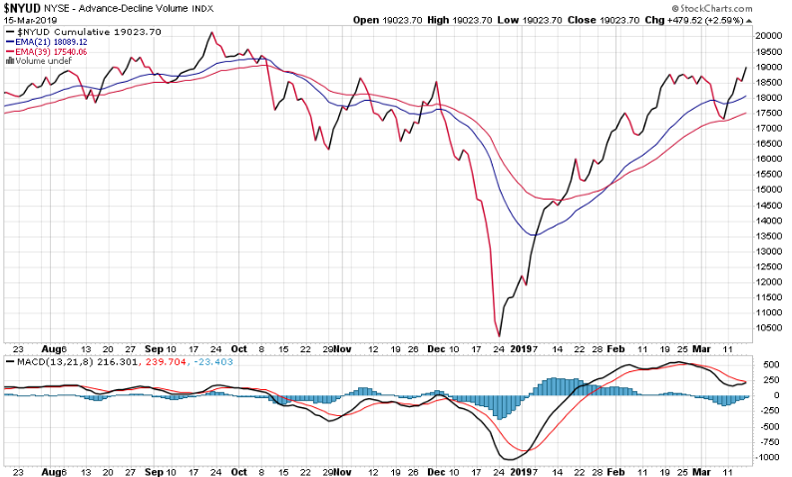 Not only that, but AAII is reporting 68% out of the market. There are a lot of investors who don't believe or trust the current market.
Something we always ask ourselves is, "Could something else in the Financial System be looming on the horizon?" Obviously, a major Financial meltdown would put a crimp in this Bull Market. So, if we look at those who lend money to companies in the financial industry, we can see that they are commanding NO risk premium on money loaned vs. non-financial companies. This, again, means that the insiders who lend are not worried about the Financial sector AT ALL. In fact, they are commanding lower rates than the non-Financial sector, which is very Bullish, in our experience.

So, things look pretty good on the big picture and on the intermediate-term. Near term, however, we are overbought on all our stochastics, we're bumping up against the upper Bollinger band, we're just about to get one of our famous "Best Fade" Sell signals and TSP Talk's poll is showing 57% Bulls and just 25% Bears. That's generally Bearish for the week to come.
Now, I don't yet have confirmation from my very reliable Actual Position Poll saying the top is in or will be in, so it's premature to take any Bearish action, but soon I expect some short-term weakness. Just don't be too quick to pull the trigger on any shorts and, if you do try a short trade, it's probably not the time to be patient or aggressive. It's far too early to pull out the Bear suit.
Have a prosperous week!

Mark Steward Young
Wall St. Sentiment
http://www.wallstreetsentiment.com/trial.htm