SPX Monitoring purposes; Sold SPX 3/28/19 & 2815.44= gain .61%; Long 2798.36 & 3/25/19.
Monitoring purposes GOLD: Long GDX on 1/29/19 at 21.96.
Long Term Trend SPX monitor purposes; Long SPX on 10-19-18 at 2767.78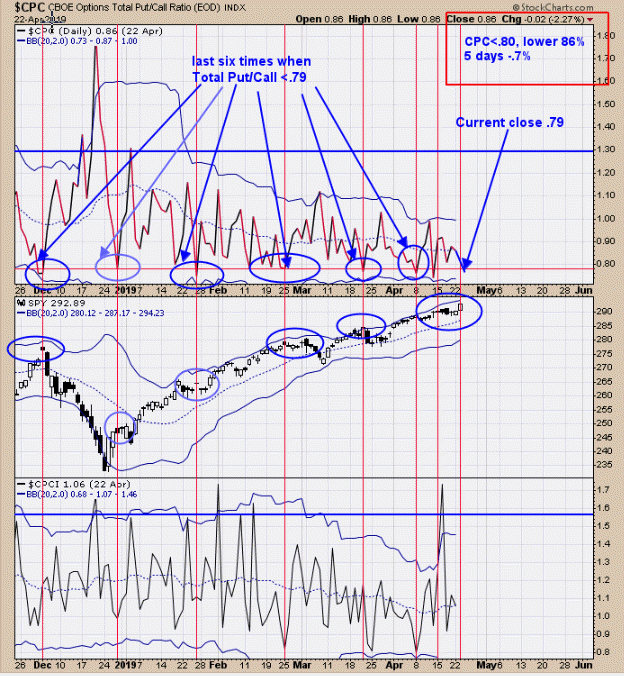 Not expecting a runaway market here. SPX tested last September high today. Above is the "Total Put/Call Ratio" (CPC), which closed today at .79. We have marked the previous times when CPC reached .79 with red vertical lines. In all cases, the market either declined or flipped sideways. April is usually an up month in pre-election years, so the market may back and fill into next week. When the uptrend does top out, the first area of support comes in the gap level between March and April near the 2850 range. If the April gap is tested on higher volume, the market may head to the next support, the 2800 level, which marks the November-December 2018 highs.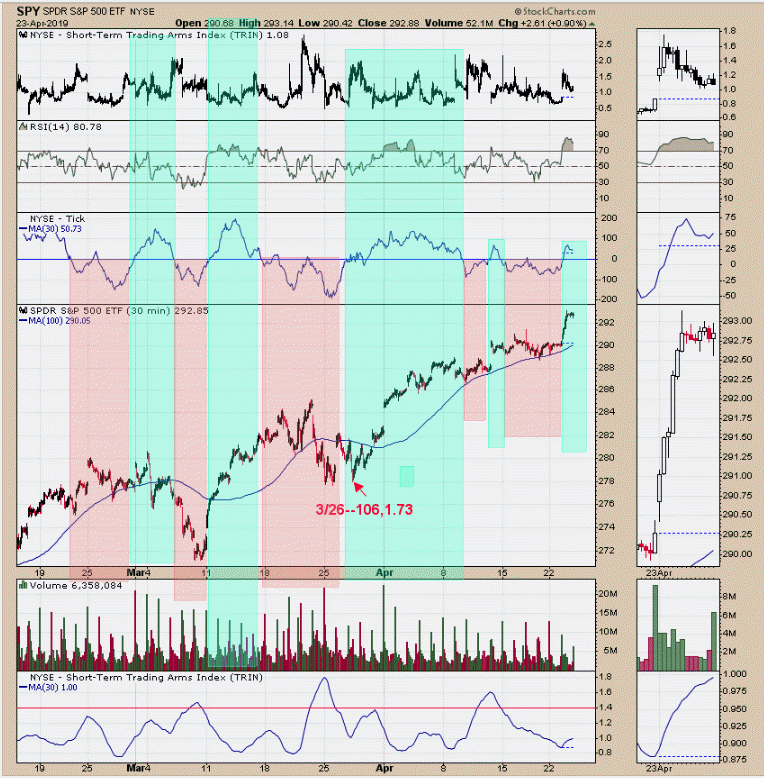 We have noticed that positive Tick readings suggest an uptrend in the market and negative Ticks suggest a downtrend. We have been working on several different tick methods; all show promise. Above is the 30-minute Tick with a 30-period moving average just above the SPY window. The Ticks have been running negative up to today, but have now flipped positive. There are indicators suggesting that this move up is not the one to ride (though that could be wrong), but the next time ticks fall below "0" and SPY falls below the moving average on the SPY, a bearish sign could develop. In pre-election years, April is usually an up month. If Seasonality holds true this April, then the market could hold steady into next week. We have been posting this phrase on the last several reports: "A fun statistic is that, with VIX under +16 and SPX up +10% over the last 3 months, April is higher 90% of the time, averaging a 2.75% gain."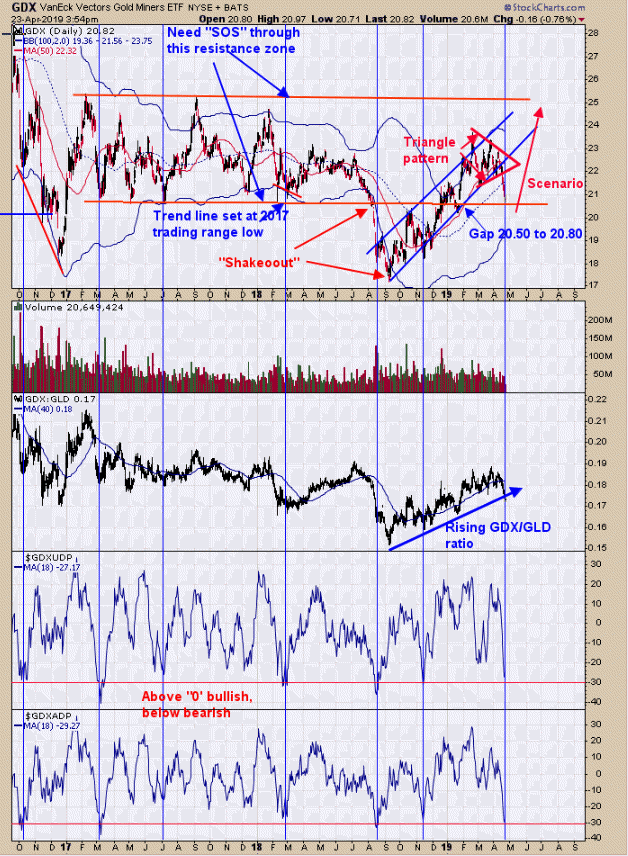 Above is the daily GDX chart going back 2 years and 7 months. Yesterday, we said "GDX trading range developed in 2017 between 21.00 and 25.00. GDX fell below the 21.00 level in late 2018 and closed above it in early 2019, creating a bullish 'shakeout.' A shakeout is a false break to the downside; these normally reverse and rally back to breakout to the upside, which in this case would mean a break above the resistance level of 25.00. From late January to mid-April, a 'triangle' pattern formed. It's common for the first breakout of a triangle pattern to be a false break, which may have developed here. There is strong support near the bottom of the 2017 trading range near 21.00; also, there is an open gap that formed on January 25 in the 20.50 to 20.80 range, which is also support. A cycle low is due between mid-April and early May and we are in that time zone now. It's common for triangle patterns to form at the half way point of the move and, if that is true this time around, an upside target near the 28.00 range is possible." Adding to that, the bottom window is Advance/Decline with an 18-period moving average indicator, while the next window up is the Up Down Volume with 18-period moving average indicator. When both indicators reach -30, GDX is near a low (designated with blue vertical lines). GDX is near support and it's common to overshoot support before it reverses higher, which commonly happens on a Friday. Long GDX on 1/29/19 at 21.97.
Tim Ord,
Editor
www.ord-oracle.com. New Book release "The Secret Science of Price and Volume" by Timothy Ord, buy at www.Amazon.com.