SPX Monitoring purposes; Sold SPX 3/28/19 & 2815.44= gain .61%; Long 2798.36 & 3/25/19.
Monitoring purposes GOLD: Long GDX on 1/29/19 at 21.96.
Long Term Trend SPX monitor purposes; Long SPX on 10-19-18 at 2767.78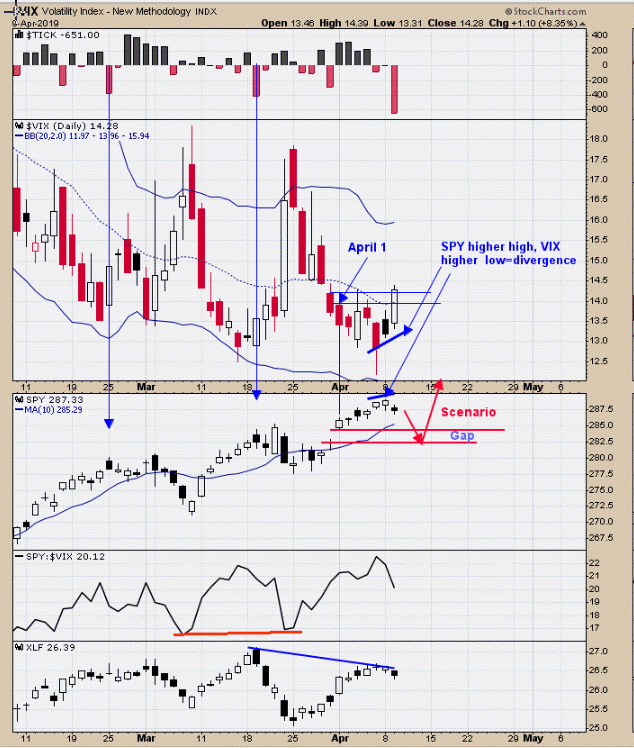 Next week is options expiration week and the week before (i.e. this week) is where whipsaws are common in the market. VIX trades opposite of the SPY and, when there is a divergence, a pullback in the SPY is possible. Sometimes the VIX leads in price (opposite direction) to where SPY is heading. Today the VIX reached it April 1 high, suggesting the SPY will reach its April 1 low near the 282.50 SPY range (2825 SPX). The VIX remains below +16 and intermediate-term bullish for the SPY. Fun fact - that April option expiration week is up 65.71% of the time.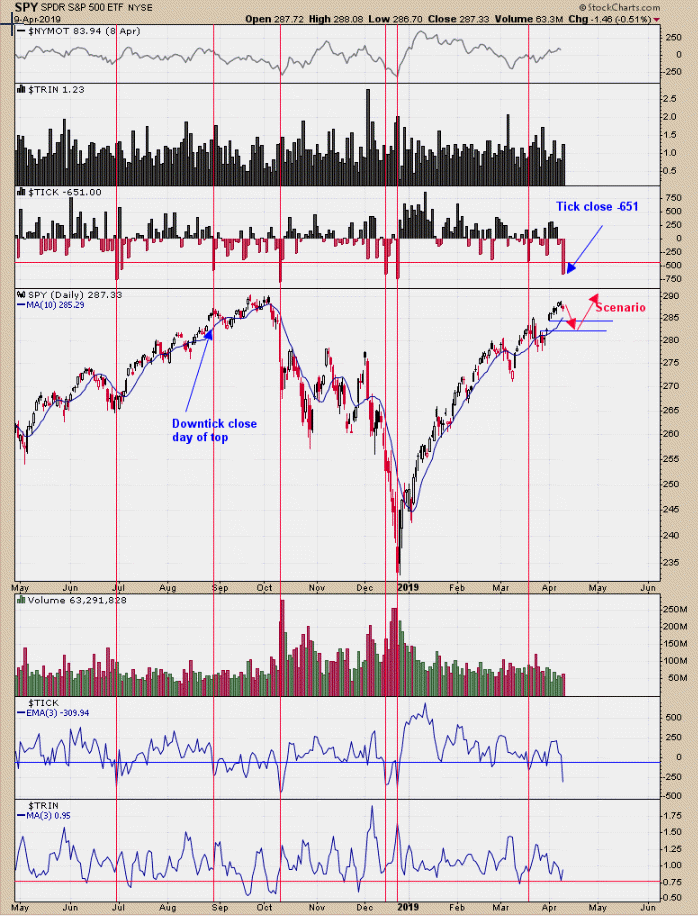 Today the TRIN closed at 1.23 and the Tick at -651. If the market was down for several days, these readings would have indicated a short-term low is nearby. Coming the day after a high can be a little tricky, as sometimes these types of readings confirm a downtrend while other times it mean a low is near. So which is it? Most likely, we will a move lower short-term as this is the week before options expiration week and has a bearish lean; also, yesterday's Total Put/Call reading of .76 suggests a short-term bearish edge. As said before, the Tick closed at -651; going back and checking, we found that when Ticks close this negative, the market is up a modest amount the next day over 80% of the time (identified with red vertical lines). Look for a minor bounce tomorrow, then down into Thursday or Friday or both, where a signal could develop. A possible target for a low is the April 1 gap near 2825 SPX. A fun statistic is that, with VIX under +16 and SPX up +10% last 3 months, April is higher 90% of the time, averaging a 2.75% gain.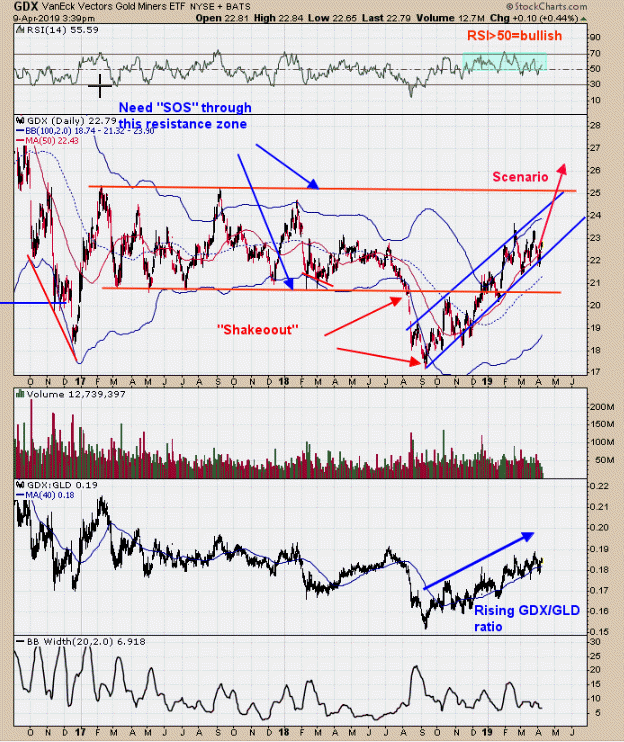 Above is the daily GDX chart with its channel lines. Back last August, GDX fell through support near 21.00 and then rallied back above 21.00 in January, creating a bullish "Shakeout." It is said, "if a market can't hold below its previous lows, it will reverse and attempt to takeout the previous highs." The previous highs in this case is the 25.00 range and that appears to be where GDX is heading. GDX has been trading in an up-trending set of parallel "Channel lines." GDX found support at the lower channel line in early April and it appears it may now head to the upper channel line, which could be reached in early May near the 25.00 range. The second window up from the bottom is the GDX/GLD ratio, which has been rising since last September and shows that gold stocks is outperforming gold, a bullish condition for both gold and gold stocks. Trend is up for now and a possible resistance zone may be reached in early May near the 25.00 area. Long GDX on 1/29/19 at 21.97.
Tim Ord,
Editor
www.ord-oracle.com. New Book release "The Secret Science of Price and Volume" by Timothy Ord, buy at www.Amazon.com.