SPX Monitoring purposes: Neutral
Monitoring purposes GOLD: Long GDX on 1/29/19 at 21.96.
Long Term Trend SPX monitor purposes: Sold long SPX on 5/6/19 at 2932.61= gain 5.96%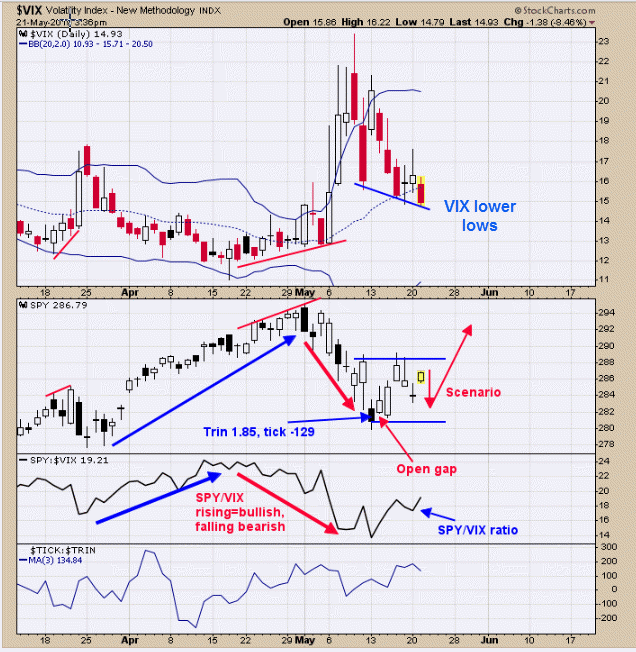 Tomorrow, the Fed will release the minutes from the last FOMC meeting and market is up 68% of the time on the release. The next trading day (Thursday) market is up only 48% of the time. It does appear a worthwhile low formed on May 13 ( the day of the TRIN 1.85 and Tick -129 readings). A minor pullback could form on Thursday and/or Friday and test Monday's low near the 2830 SPX range. The VIX leads the SPX (SPY) in the opposite direction and has been making lower lows, suggesting at some point the SPX will be making higher highs. In general, a bullish picture is being drawn, but we may see minor pullback later this week first.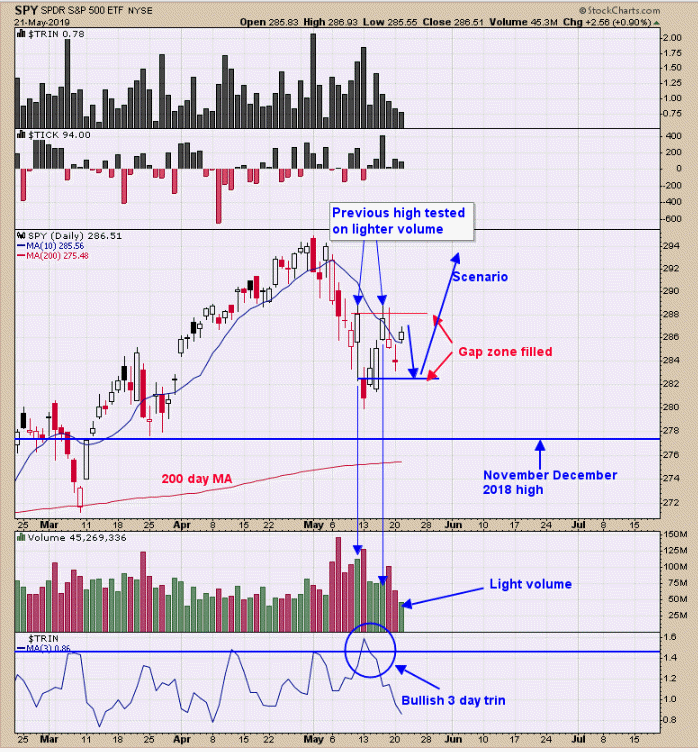 Today's bounce came on reduced volume, suggesting the bounce may not last. This light volume bounce may be due to the FOMC minutes release tomorrow. The SPY has been trading in the gap range that formed from the Friday, May 10 close to the Monday, May 13 open and may stay in this gap range all this week. Another pullback may form before the week is out and test yesterday's low near the 283 SPY range. A bullish setup could form on a test of yesterday's low.
The second window down from the top is the Bullish Percent index for the Gold Miners index. The bullish percent index measures the percentage of stocks in the index that are on Point & Figure buy signals (currently at 26.92%). It has been a bullish sign for the Gold Miners index when the RSI for this index falls below 10% (current reading is 5.40%). We have marked these instances with vertical lines. The chart above goes back over 11 years and eight instances where recorded; of those eight, seven marked intermediate-term lows, meaning they were marked 87.5% of the time. It would seem that a fast-falling bullish percent index would be a bearish event, but it appears to be the opposite. Long GDX on 1/29/19 at 21.97.
Tim Ord,
Editor
www.ord-oracle.com. New Book release "The Secret Science of Price and Volume" by Timothy Ord, buy at www.Amazon.com.