SPX Monitoring purposes: Sold SPX on 8/27/19 at 2869.16= gain .77%; long 8/23/19 at 2847.60.
Monitor purposes GOLD: Long GDX on 1/29/19 at 21.96.
Long Term Trend SPX monitor purposes: Sold SPX 7/5/19 & 2990.41= gain 2.63%.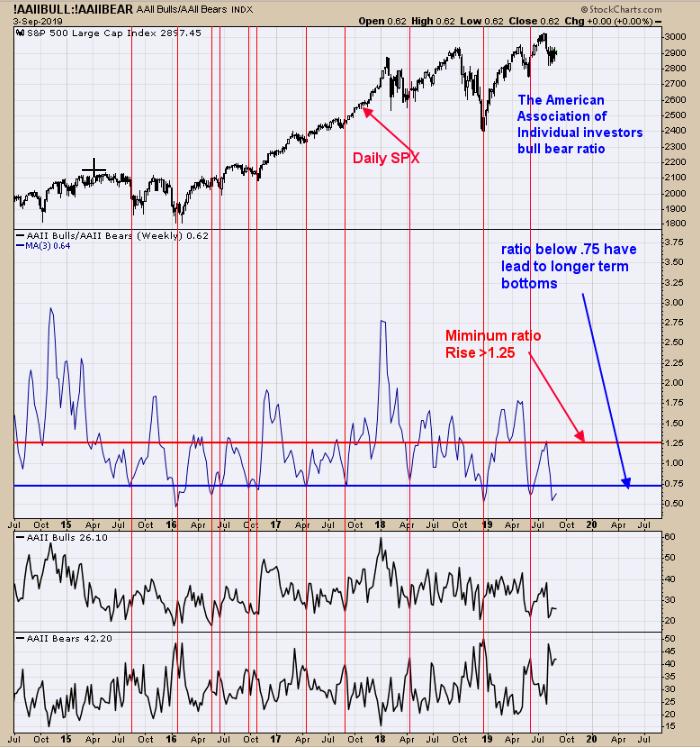 The market appears to be basing according to this chart above. Above is the weekly "The American Association of Individual Investors Bull/Bear ratio" (AAII) with a three-period moving average. The chart goes back to mid-2014. Readings below .75 have led to intermediate-term lows. The current reading is .64, up a tad from last week's reading of .62 but still in bullish intermediate-term territory. The Put/Call ratios for the Index and Totals are also bullish. The FOMC meeting is 9/17 to 9/18 and a market bounce into that timeframe is possible. Lots of crosscurrents now, but a bullish setup may be close. We do at some point expect the SPX low of August 5 (2822.12) to be tested, but that test could hold off until October. Sold SPX on 8/27/19 at 2869.16= gain .77%; long 8/23/19 at 2847.60.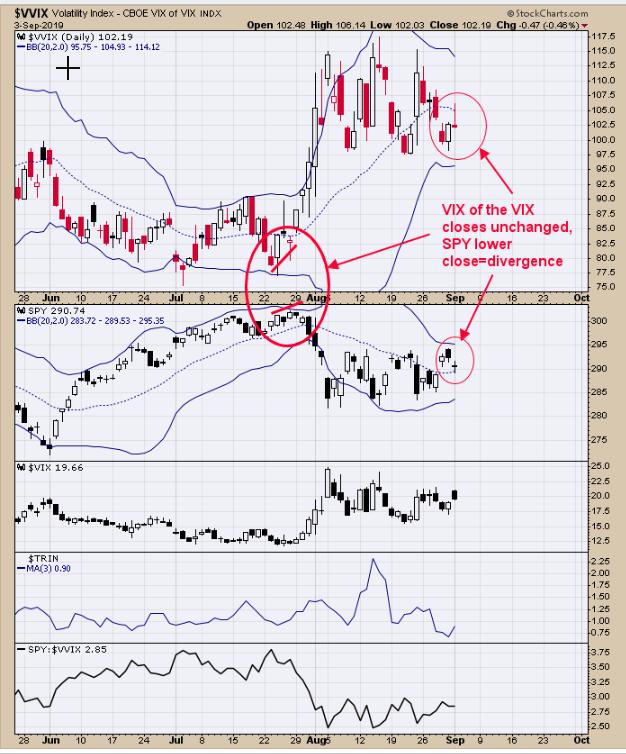 The top window is the VIX of the VIX, a.k.a. the VVIX. As with the VIX, VVIX trades opposite of SPY and, when there is a divergence, a market reversal may be nearby. Today the SPY fell .69% and the VVIX closed almost unchanged, suggesting the SPY may be nearing a reversal. The FOMC meeting is two weeks away and looks like, at the moment, the SPY could rally into that timeframe. Today's decline did test the up gap form 8/29 on increased volume, suggesting no gap support and suggesting the market could fall further. The next low should produce panic in the TICK and TRIN and a bullish setup. Being patient for now.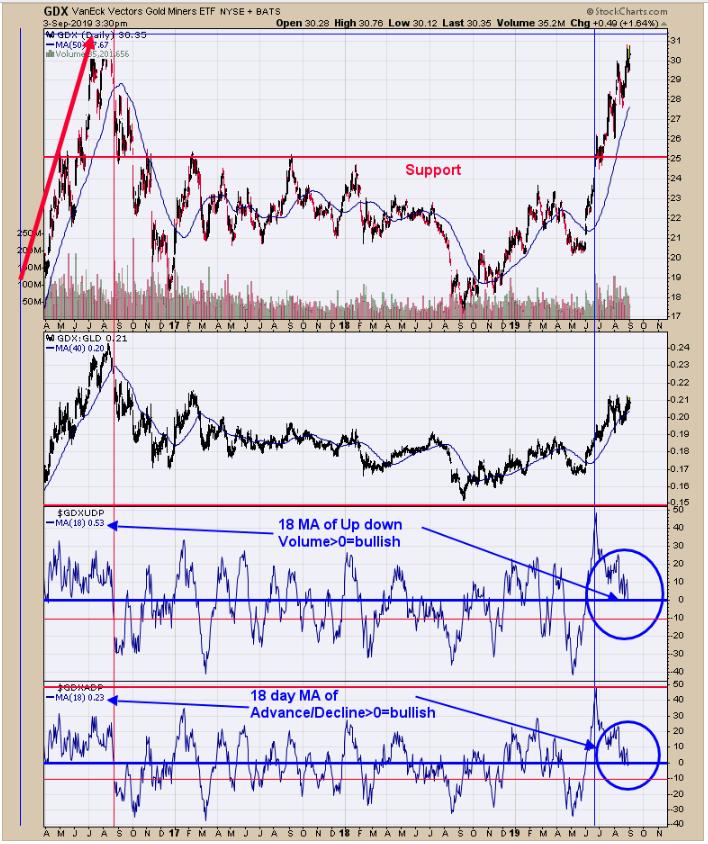 We are watching this chart closely, as it is at an area where a signal could be triggered. The 18-day moving averages of the UP Down Volume (second window up from bottom) and 18-DMAs of the Advance/Decline (bottom window) are above "0", but not by much. A close near the minus 10 level on both indicators would suggest GDX is starting a larger consolidation phase. Both indicators remain above "0" and bullish for now. GDX's next upside resistance is the 2016 high near the 31.00 level. The longer-term trend remains up and the intermediate-term trend remains up for now. Long GDX on 1/29/19 at 21.97.
Tim Ord,
Editor
www.ord-oracle.com. New Book release "The Secret Science of Price and Volume" by Timothy Ord, buy at www.Amazon.com.