SPX Monitoring purposes: Flat.
Monitor purposes GOLD: Long GDX on 1/29/19 at 21.96.
Long Term Trend SPX monitor purposes: Sold SPX 7/5/19 & 2990.41= gain 2.63%.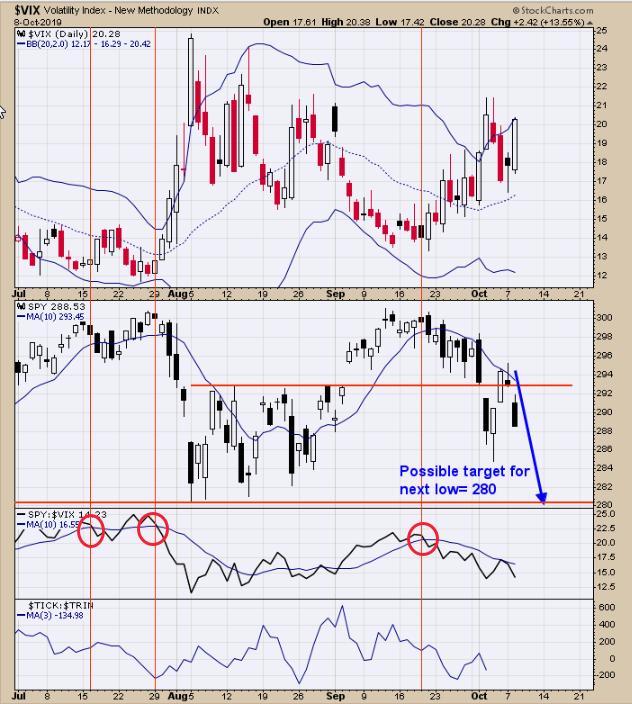 The second window up from the bottom is the SPY/VIX ratio with a 10-period moving average. In uptrends, the SPY outperforms the VIX, which happens when this ratio is rising. In downtrends, the VIX outperforms, and in turn this ratio is declining. This ratio started its decline in mid-September and remains below its moving average (red circle). The TICK did close today at -176, which is usually not high enough to signal a low. A target to the 280 SPY level is possible this week or next and then higher.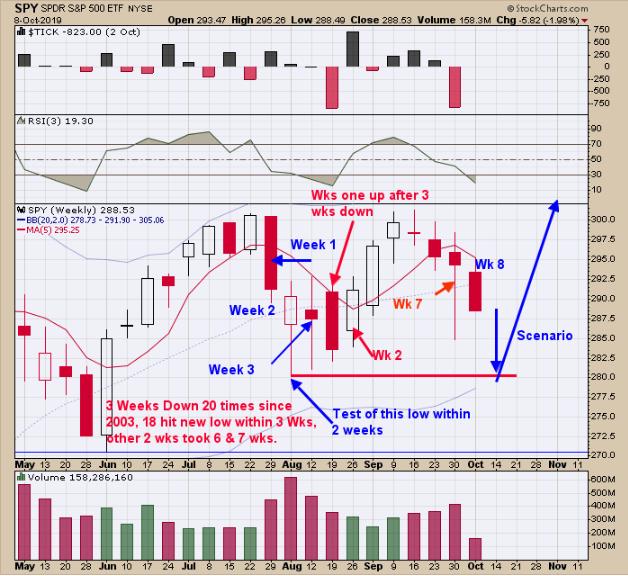 We updated this chart from yesterday's. Above is the weekly SPY chart. We previous mentioned on our reports about a quant method that said, "Three weeks down in row on the SPX happen 20 times since 2003, 18 hit new lows within 3 weeks and the other two hit new lows on week 6 and 7." Last week was week 7, which failed to hit below the August 5 low of 280 SPY (2800 SPX). This week is week 8 and also the week before options expiration week, during which whipsaws are common. If the market is going to test the 280 SPY level, it would make sense that it will do so this week.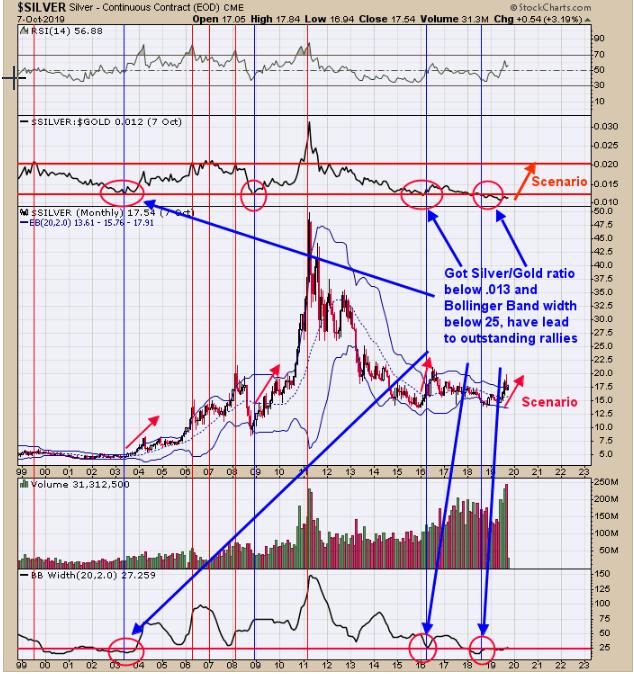 Above is the monthly Silver chart going back to 1999. The bottom window is the monthly Bollinger BandWidth for Silver. Longer-term lows have been found in Silver, when the monthly Bollinger Band width traded below .013 (which it did in mid-2018 and again in June/July 2019). The second window down from the top is the monthly Silver/Gold ratio. In bull markets, Silver outperforms Gold; that happens when the Silver/Gold ratio is rising. When this ratio is very low (below .013), it shows that Silver is cheap compared to Gold and usually a good area to buy Silver. The ratio stands at .012 right now. The top window is the monthly RSI for Silver. RSI readings above 50 suggests Silver is in an uptrend (the current reading is 56.88). Though silver has rallied the last couple of months, both the Silver/Gold ratio and Bollinger BandWidth suggests this rally has much further to go. Long GDX on 1/29/19 at 21.97.
Tim Ord,
Editor
www.ord-oracle.com. New Book release "The Secret Science of Price and Volume" by Timothy Ord, buy at www.Amazon.com.