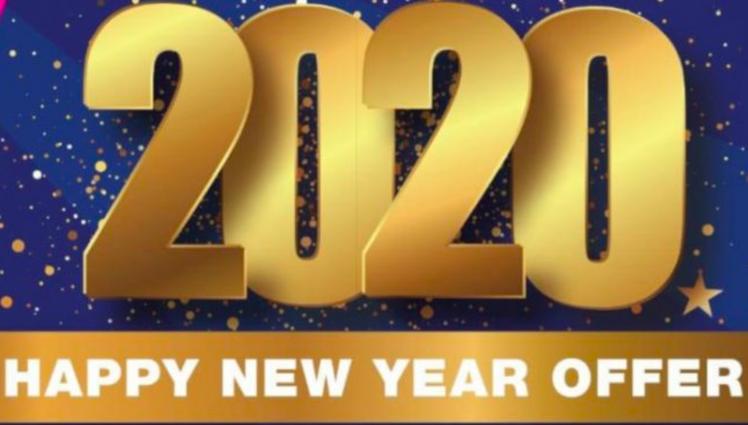 The Great Gatsby era may be history, but with "our" Roaring 20's set to start, many ponder how exciting the new decade is going to be.
We humbly had a rather spectacular 2019. Aside from the hottest NASDAQ stock (AMD) and best total return investment issue (AT&T), to me, the most important strategy of the year was not to short the market and to recognize occasional shakeouts used for buying. Optimism was based on seeing a friendly Fed, but there was also my technical analysis of the forecast late 2018 drop being a "cycle low," hence believing we were not in the same long-term pattern implied by a cursory look at the S&P leaders.

I delved into that a bit more just ahead of Christmas and I'll share the full report below. Also, I graciously let a number of you read my work at no charge, and we're at that annual point where our distributor (Constant Contact) throws us into a higher tier, so it's even less fair to ask that we pay for you to read our work. Hence, I'll make you a generous offer.
What we'll do is an offer similar to Las Vegas TraderExpo a few weeks ago: subscribe to the "Daily Briefing" (at regular $159 rates) and the first quarter will include the intraday "MarketCast" at no extra charge (normally $390/quarter). If you wish to continue the intraday service after that time as well, just let me know personally and I'll fix you up.
This offer won't show on our website and is valid through January 5 for new members only. We don't do "specials" regularly, so this is it, aside seminar presentations that I may consider. Just subscribe to the Daily at $159 and be assured I will add you to the MarketCast list as well.
Meanwhile enjoy your Holidays and Have a Happy Decade!
Gene
P.S. To a few folks seeing my work as personal friends or a professional courtesy: if you contribute views or technical information of value, refer or quote my work to help us grow, you'll continue to receive the Daily.
Otherwise, rumor has it this small business without advertising would appreciate your support by actually subscribing. If not (aside from very close friends and family), expect service to end as we do our annual audit of actual subscribers and guests. If you subscribe, no worries; we'll see your support for continuing my daily analysis and fix you up too.
Kindly know I appreciate all our readers' and visitors' encouragement and am pleased to provide good guidance in 2017, 2018 and 2019, which required not succumbing to divisive trends in society or efforts to twist progress towards economic normalization. Here's to 2020 (at least it's a lot easier to say than 2019 :). Cheers!
~
Gene Inger's Daily Briefing - for Thursday December 26, 2019
The holidays are time for humility - and hence we humbly reflect and give thanks not just for health and perhaps a bit more wealth this year, for most Americans, but also for realizing that "don't fight the Fed" was a clarion call to be heeded whenever one is tempted to fade the market, more than for a reasonable shakeout or correction.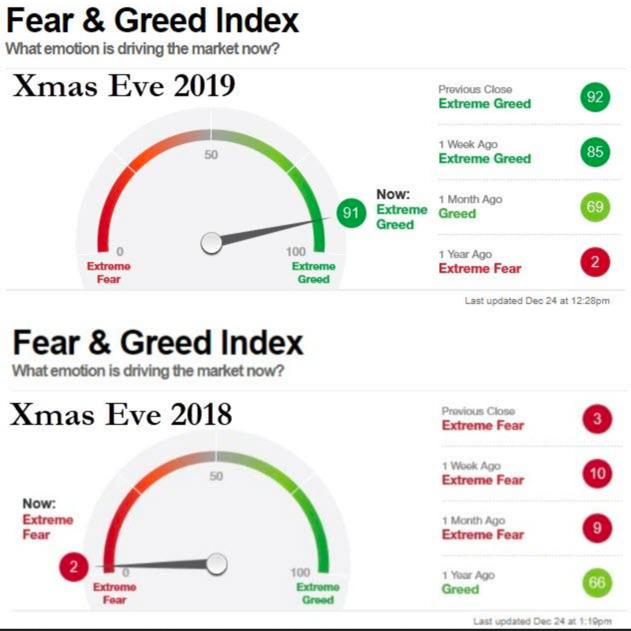 Many of those took place in 2018 and continued the "Rinse & Repeat," as I called it then (the "Maytag" market), with 2019 viewed as transition year for technology primarily, but also for the economy. We humbly spotted a series of "green shoots" over the past year, expecting that those pundits constantly bearing the market or looking for catastrophe didn't get it. In a pre-election year like this, with a friendly Fed, disaster was not likely as prosperity (or at least a promise of that) was the handwriting on the wall for the country (and ultimately for the world) as "trade" was sorted to a more stable arrangement (ongoing and nearly completed for now).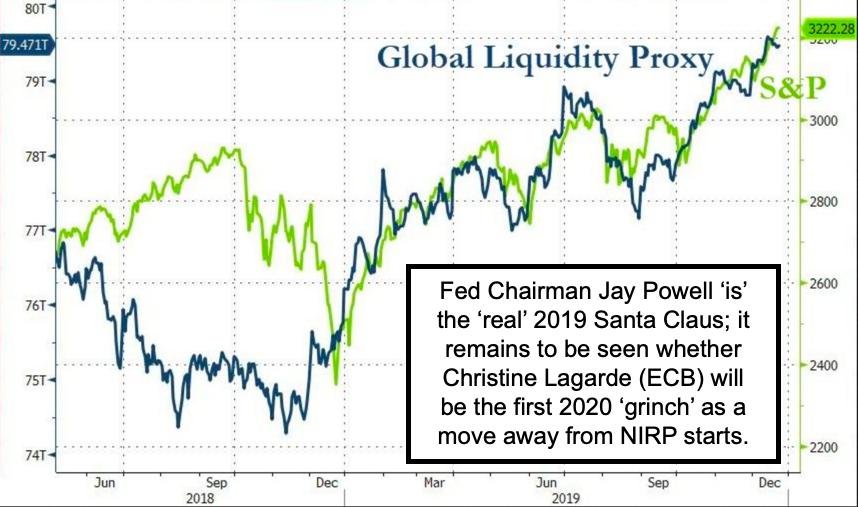 It is with humility that we appreciate having recommended basically the two best stocks in both the "speculative" and "investment" categories (of reasonable capitalization size, of course) for 2019 back in late 2018, a time when we also had predicted a "crash" of sorts; and with the famous call by Secretary Mnuchin from vacation a year ago, called "capitulation at last," and an opportunity to enter. Later, I gradually embraced that call as very key and likely a cycle low within the context of a secular bull. That is a good part of why we called only for pullbacks during the year.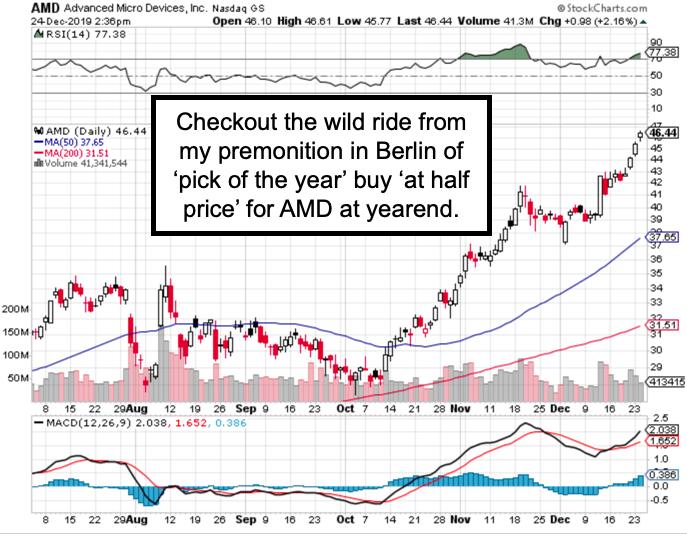 The first of the two stocks that were embraced was Advanced Micro Devices (AMD), at the 16-17 price zone. This week, it is now recognized by most media as the number 1 gainer of the NDX (Nasdaq's 100 largest-cap stocks) and, for us, is nearly a 300% gainer from the entry point (a hold, as often mentioned; not particularly a sell, and expected to continue to thrive in the post-trade deal environment as well as with next-gen chips as I saw at IFA and you'll hear more of at CES soon). Ironically, I didn't like AMD at 32 when I met with their Product Manager in Berlin at IFAin 2018; so I told him (and you) I'd love it but at half-price. We got exactly that, embracing it wholeheartedly 3 months later. The rest is history.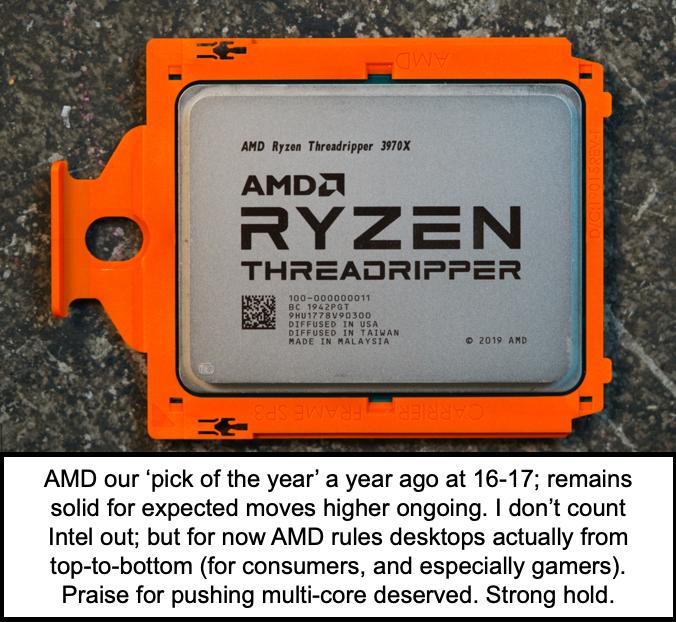 The other was AT&T (T), which also, ironically, I initially warned as high, near 40, ahead of the Time-Warner merger. I believed arbitrage (and a lot of nonsense about AT&T not being able to service debt) would take it ideally to a 29-31 buy zone, also outlined months in advance. So, as it plunged post-merger (and as pundits hated it; they generally love it now) the decision here was to make it "pick of the year" for investors' "total return," given that, at 29 +/-, it yielded a 6.5%-or-so dividend viewed as "rock solid." (In fact, they have slightly increased the dividend just recently).
Hence, at the end of 2019, we have AT&T with near a 40% capital gain and a yield of over 6.5% (on cost-basis at our buy-zone not for buyers at these higher levels, though still quite good) for optimal total return for a lot of more conservative investors. AT&T has lots to sort out (streaming, as well as "real" 5G, is just starting, but rolling-out mostly a year from now) and will even pop more if they divest DirecTV (their big mistake), as they for sure maximize AT&T TV Now and/or integrating the new HBO Max product in a few months. We envision it as a stable portfolio hold.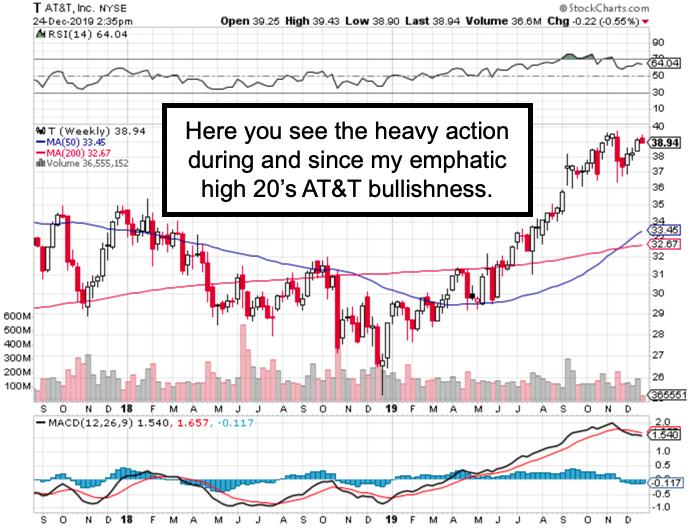 Bits & Bytes: This touches on questions about a possible bid (if any exist of course, or may be forthcoming) regarding Amarin. While Vascepa and Amarin should do quite well "going it alone," there has been chatter for a while now as to whether big-pharmas like Gilead or Pfizer might be accumulating shares (such as in Goldman's Secondary) or a suitor.
Amarin remains choppy, but is consistently absorbed by "some buyer(s)" in the current range and, of course, we do not know the ultimate potential as relates to a takeover, although we see some analysts underestimating the revenue potential of Vascepa (or even broader possible indications as other "Trials" move forward); possibly in efforts to restrain the shares pending a buyout offer, but we don't know their motivations.
*If* there is a buyout looming in 2020 (regardless of any profit-taking that long-side holders might take as we move into a new tax year), there's a few points to keep in mind. A firm won't disclose any talks, lest they be accused of creating trading flurries artificially boosting price. Typically, if an offer is proposed, the parties will sign a non-disclosure prohibiting all disclosure during due-diligence. Also, investment banks involved in any deal must stay silent; hence, analysts for those institutions tracking the stocks of both buyer and seller are not permitted to write anything about the deal or the stocks.
Now a target company can disclose receipt of a buy-out (or partnering offers) to raise broader interest; likewise, a potential buyer may disclose an offer, hoping to increase pressure on a target's management to sell. But that also risks igniting a "bidding war." So, while I do *not* have any idea if any of this is coming; some of the "quiet" we do notice from large institutions involved in the Secondary (Goldman, JP Morgan, Cantor or others) may just be holiday calm; or, who knows; they may be dealing in the background and, hence, required to remain "quiet."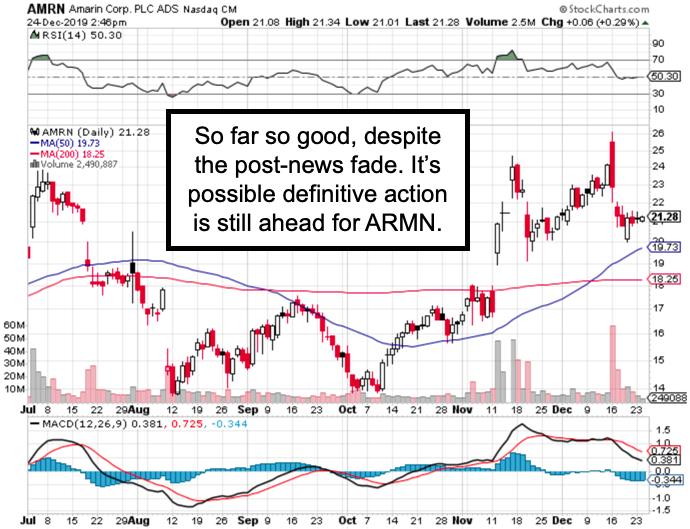 We solidly hold Amarin, recognizing it's a different "ballgame" now than when speculators came in over a year ago, or even for us at a 14-15 area (after being skeptical of it in the mid-20s months earlier). No idea if it will do anything like the prior "pick-of-the-year," but we're optimistic. All of the hot biotechs swing, and it's known as a not-for-the-faint-of-heart sector (no pun intended). Just today, doctors are receiving a new issue of the Journal Of Clinical Lipidology, with strong guidance to use Vascepa. I'm unsure if that helped the shares on Christmas Eve, but they firmed, and the close was a single 50,000 share trade (over 2 million); that is part of why I am pretty sure recent churning has been institutional absorption.
In-sum: it's been an excellent year and we avoided short-selling while at the same time identifying a couple of the year's key pullbacks. The most important was of course calling the "capitulation" a year ago as a "cycle low" as 2019 unfolded and viewing the economy as ending the period of rotating corrections.
Yes, we may have newer challenges in the coming year (credit markets come to mind), but stay tuned and we'll soon evaluate that as everything evolves. We'll leave Christmas Eve with the morning video and a more thorough final video from last night. Meanwhile, enjoy the holidays and I'll be here Thursday.
(Special comments and review of 2019's S&P chart in Monday's final video retained.)
Daily action - Was calm but firm on Christmas Eve; that's the inverse of last year, when, on this very day, I emphasized the need to "get back in," not out of, the market during the panic that we'd projected for that Fall.
As we go forward, you know my outlook (and I expanded on that a lot last night, as well as in the main video that looked at the annual S&P chart). So let's abbreviate text now, as I call your attention to last night's full report. In the coming week, I'll look at longer-term charts for stocks too, as well as more previews of CES, which mostly follows 5G, chips, and many of the other developments I highlighted earlier at IFA Berlin in September. Since it was IFA 2018 that peeked by interest in AMD (and the palpable enthusiasm they expressed then), I am very appreciative of IFA.
In the past, CES was very helpful to picking stocks (early-on, Hughes before it was briefly hot as DirecTV; Texas Instruments at $12 bargain levels; Intel, which I already was keen on since meeting Andy Grove earlier or even the first introduction to Checkpoint Software back then). CES is likely to focus more on tech this year due to 5G, although autonomous driving and "autos" overwhelmed it in recent years (and prematurely).
That does it on Christmas Eve and Hanukkah; be safe; Happy New Decade as well!
Prior highlights follow:
(Christmas Eve topic: preview of a "free" digital TV revolution and video review of the year following a phone-call heard globally.)
We're on the eve of "the" aftermath - following a transition year I had looked for in technology, in rotational stock behavior and in key global shifts in trade and the nuances of transitions in monetary policy. And, if you want to know a bit of a secret speculated out there, guess why I'd anticipate "Phase One" of the China deal to be "greater" than generally anticipated. It's because of who has been quietly (incredible at his age) said to be shuttling to-and-fro with determination to get this right.. after all, he started it. Henry Kissinger.
Now, 2020 will be the year in which many of these transitions advance, as part of the transition, into palpable changes in the real world. For the global situation, we begin with "real" trade advances, such as USMCA, of course (and it matters the most); a dubious initial (but welcomed) "Phase One" China trade deal; and, perhaps the least focused on by the gnomes of Wall Street, but very crucial... the implementation of Brexit.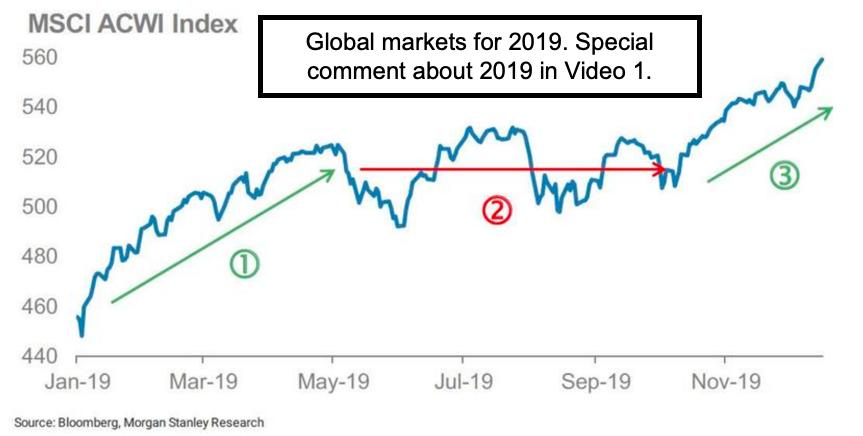 On Wall Street, we may well begin with the transition (or rotation) of the most downtrodden (especially those likely benefiting from normalization of trade, which doesn't mean bringing it to how it once was, but to at least more or less concrete outlines of how it will be, so they can do logical planning) as those do some of the market's lifting, even if the former leaders do advance a bit more, and/or then begin some consolidation.
Along the way there's something we sniffed out in these last months as being still not appreciated widely on Wall Street, nor perhaps in Brussels. It relates to our view (which she embraced word-for-word; I'm unsure where I heard it for that matter, but uttered the term before new ECB's head Christine Lagarde used the term) of her being not a dove, a hawk but an owl (wiser) when it come to reviewing and modifying policy.
Later, there were signs, starting from the Swedish central bank, that the NIRP (negative interest rate policies) are going to transition in ways the Europeans appreciate, but Americans may not react quite the same to.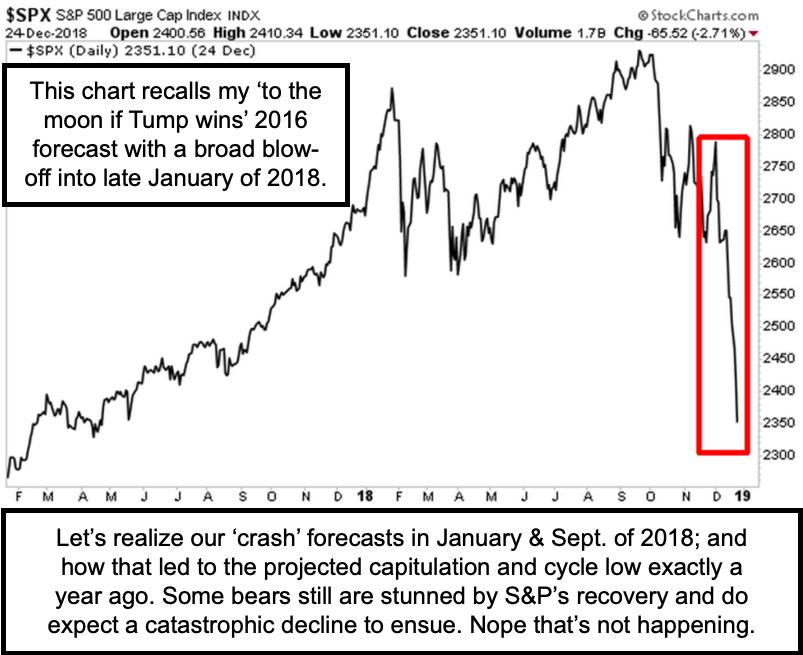 Signs, for example, have been the repo crisis in New York, which we'd expected the Fed to respond to with enormous liquidity injections (and they did), while the ECB is recognizing mounting problems in Eurozone banks. That doesn't assure that periodic credit crisis always follows the periods of credit expansion; but, whether imminent or not, that's history.
What could expedite some of this unfolding in 2020, despite being a US Election Year? (We tend to be myopic in this country and not look abroad at influences, which may be why analysts and media generally dismiss a possibility of some exogenous interruption to a Goldilocks environment that, for the moment, sort of prevails.)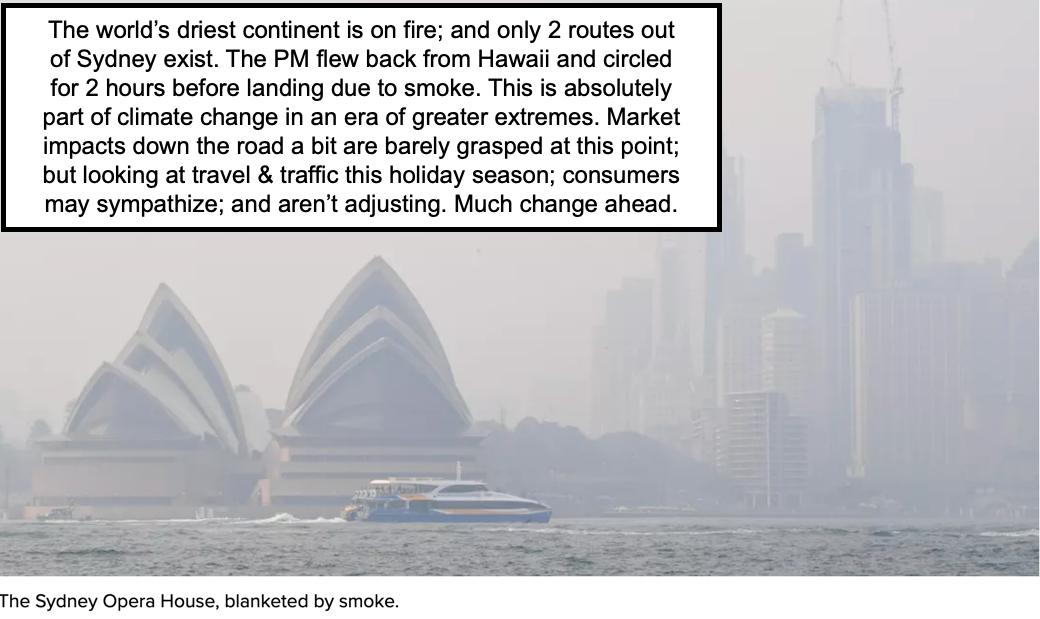 That exogenous interruption is Brexit. If liquidity panic were to break out before the 31 January departure, the UK's government will undoubtedly face pressure to put Brexit on hold. That doesn't mean they'd capitulate to that; they might view it as a contrived effort to undermine the biggest of all "transitions" facing Europe and the UK during 2020.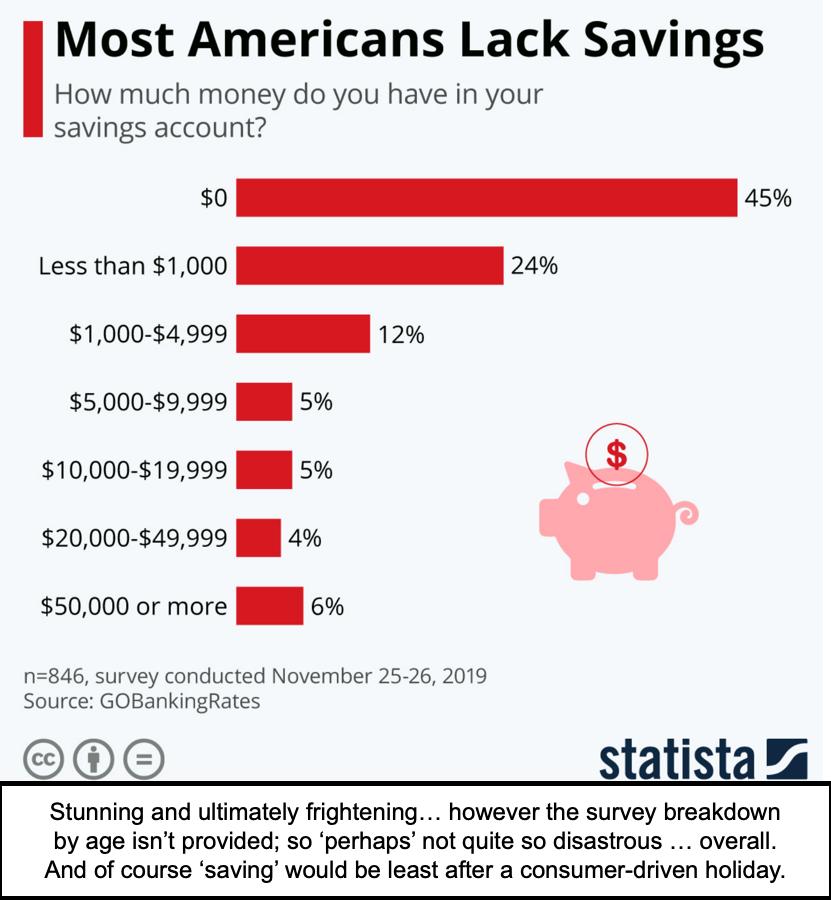 For instance, The Bank of England, as well as civil servants in their Treasury, might try to persuade the government to extend the Brexit implementation's period, or even reverse Brexit (not going to happen). With Johnson and Cummings being the guys in charge of implementing Brexit, it's unlikely to be delayed. However, Britain still faces contractual obligations to the EU in the event of an EU banking crisis during the negotiating period following Brexit. "Fisheries rights" for EU in UK waters is one example; testy talks with Spain and especially France will come into play on that. Sure, that could be an enormous mess, threatening to undermine the course of planned UK government spending and the pace of Brexit itself, so we would presume this could be avoided by proactive quiet negotiations that are of course not discussed (at least so far) in the financial press.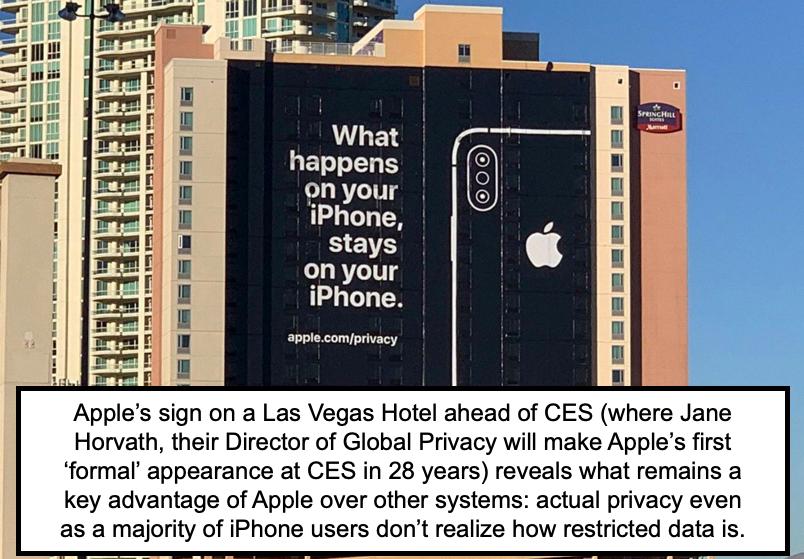 The foregoing is just one example of something that could derail market action and be reported as some sort of surprise that could not be at all foreseen. Just in case it happens, you now see how it can be foreseen and is just one example (there are dozens between the EU and UK).
CES Preview... there's a broadcasting revolution coming (surprise for a lot of consumers that jumped the shark at the bargain TV offerings this season; now, aside from cheap Chinese LED/LCD panels; they'll see the *real* reason manufacturers cut prices to move product very swiftly). The entirety of "basic" television broadcasting standards are shifting in 2020. It's a part of our technology transition, and it's not essentially tied to 5G by the way; although, in small towns, high-rise buildings with old wiring or rural areas, 5G connectivity will at some point also assist with all this. I know it's been approved already; but now it's about to hit "prime time."
What am I talking about? Read the inserts in my graphics carefully for a more detailed explanation; but basically the 3rd generation in the saga of over-the-air signal transmission is starting. It's called ATSC 3.0 and it just might shake up everything from entertainment and broadcasting to advertising. It has huge economic, market and consumer ramifications, and will be part of a technology economic boom very few are expecting outside of constant droning about 5G (a part of it too). And I hope we're not inundated by things like 5G iRobots and 5G Samsung refrigerator models at CES and the like (hah).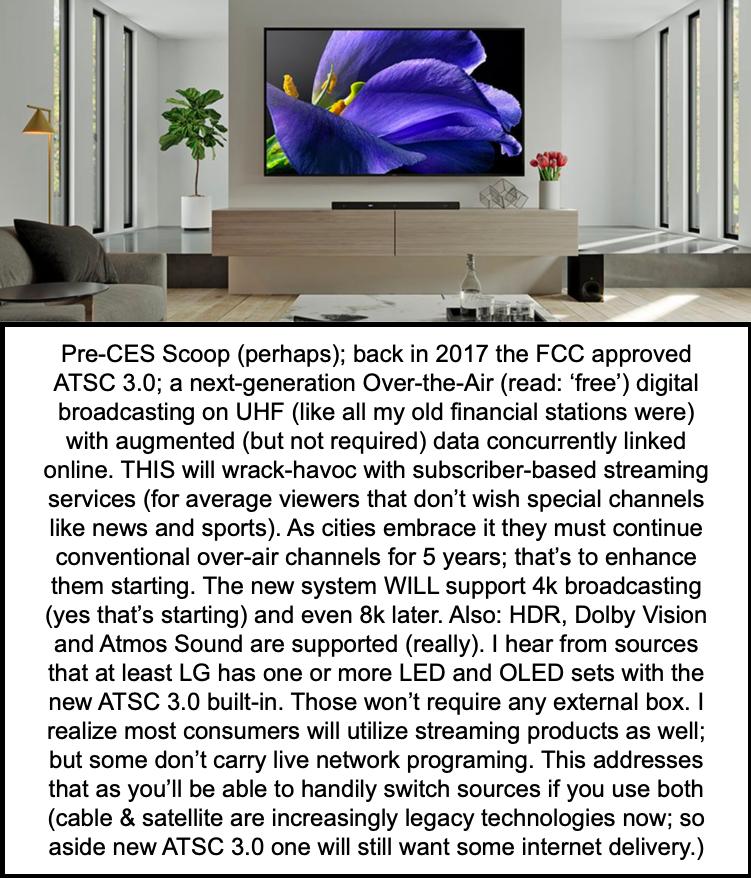 So, on this Christmas Eve (where some of us are glad we hung-onto our already solid 4k TV's... which will work with ATSC 3.0, by the way, using an external tuner) a whole new group of devices will pop up, in my view, starting in less than two weeks at CES in Las Vegas. We'll just jump the shark on this and let members living in the following cities know that (no assurance but this is what we've garnered) you'll be among the very first groups to find local stations initiating broadcast 4k (ATSC 3.0) in 2020; gradually following nationwide (a couple are up now):
Dallas-Ft. Worth, Houston, San Francisco-Oakland-San Jose, Phoenix & Scottsdale, Seattle-Tacoma, Detroit, Orlando-Daytona Beach, Cocoa Beach & Melbourne (Fla.), Portland, Ore. Pittsburgh, Raleigh-Durham,
Baltimore, Nashville, Salt Lake City, San Antonio, Kansas City (Ks/Mo), Columbus, West Palm Beach-Ft. Pierce, Las Vegas and Austin, Texas.
There are smaller, but not larger, towns that will be included in roll-outs in 2020. So yes that means Miami, Atlanta, New York, Los Angeles, the Virginia or Washington DC, San Diego or all other areas will come later in 2020 or certainly by 2021. There may be pressure to speed that up, of course, but for now this is the early information I've gleaned (and while I have all I need with my streaming service and 1000-speed fiber internet thru-put; I'm definitely going to evaluate this as it shows up here).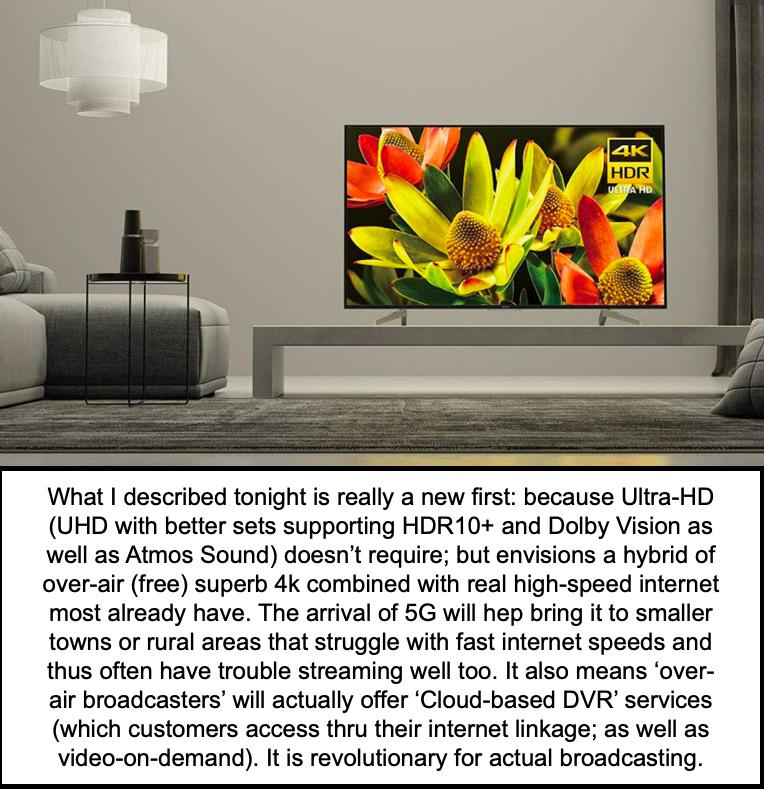 And, before you ask: existing over-the-air antennas you may have (and not even used for years) will work if they are UHF or have UHF and not just the old VHF. Still have an old UHF "loop" antenna from the 1950's? If it's not rusted-out, that would actually work, hah. So... if you're buying new TVs in 2020, here is what to ask for (very little available yet): ATSC 3.0; HDMI 2.1 (has more than ample bandwidth; HDMI 2.0b does not, so all previous HDMI connections and cables will struggle); sure, HDCP 2.2 support (most have that); and, if you use an external device, be sure you have both HDMI 2.1 cables only (online a fraction of retail store prices), and, again, the TV set itself MUST have HDMI 2.1 inputs if you want the best sound, ideally supporting Dolby Atmos sound as well. Older sets will play ATSC 3.0 programs; of course, at lower resolutions since none until 2020 models support ATSC 3.0, while only a handful of high-end LGs and Sonys support HDMI 2.1 now (no Samsungs). All this shifts into high gear in two weeks at CES; we'll update topical news.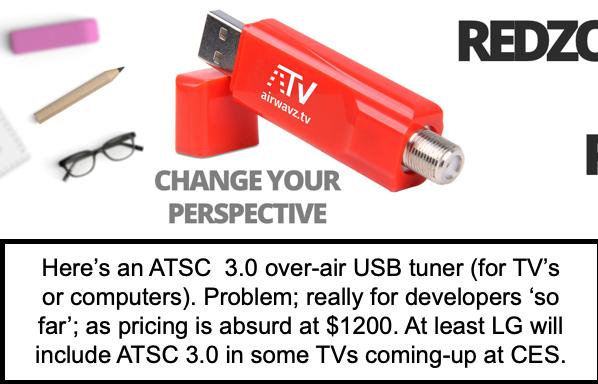 So that's fine; except many pass-thru HDMI devices are a choke-point, as none are HDMI 2.1, but at best 2.0b and, worse yet, only two TVs this year have eARC (which stands for enhanced audio return channel). So to my list of "must haves" if you're planning to upgrade (with ATSC 3 or not) next year; be sure any set has HDMI 2.1 and eARC. Both aren't well known and most manufacturers and salesmen focus on HDR or on Atmos, but won't mention that, because the lack of HDMI 2.1 and eARC is the problem in moving what's called "lossless" Atmos audio and is the main cause of lag or audio-video sync (voice comes a tad before video; that's precisely because of earlier HDMI and ARC specifications).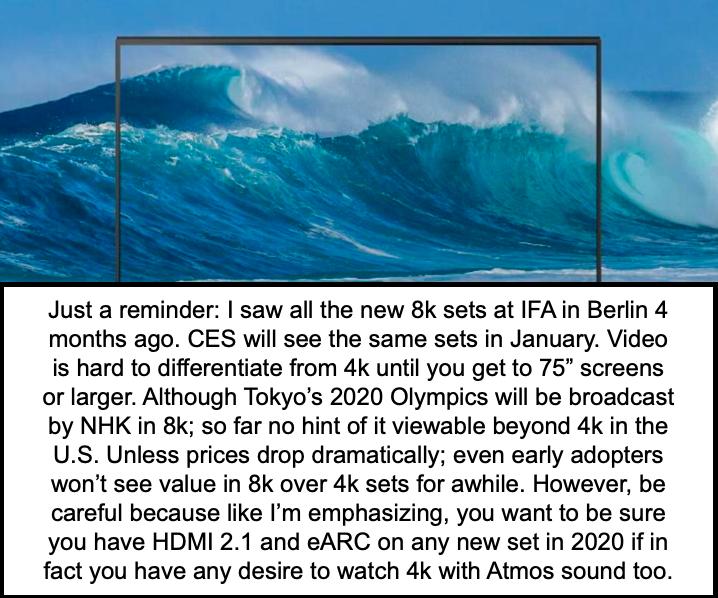 Summary: If your future devices *all* (and cables too) are HDMI 2.1 and both ends (audio & video) have eARC, you'll have more than doubled bandwidth for data between devices and they should do "handshakes" very well. Also look for devices like Apple TV 4k to move to HDMI 2.1; at the moment, the latest 5th generation doesn't have it, hence sync issues that any of you encountering it (as have I while viewing 4k films) may try to narrow-down to then find you can't completely compensate until devices, and cables, are all updated to eARC and HDMI 2.1. So I have take awhile to sort this out and review it for you; hopefully it's of use.
In-sum: This was a special hint of the TV aspect (more news-worthy, I'll bet, than more 5G and autonomous vehicle progress) upcoming at this year's 2020 CES. I'll touch on more previews of CES in future reports. I will review the market action below and overviews in both videos; with a look at longer-term S&P chart perspectives in the main video.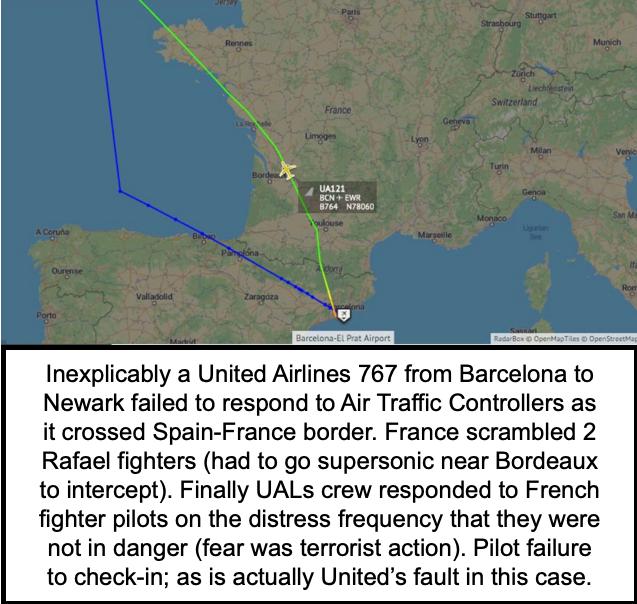 (I should note that the UAL intercept was 2 days ago.)
On Tuesday (Christmas Eve), the markets close early and I'll have just brief comments barring some significant events.
(Macro) action - continued a grind higher, helped of course by Boeing, with board and CEO moves that we believed were long overdue. I talk about that and lots more in the video (on-top of this all year).
In-conclusion: On the advent of 4k digital broadcasting ATSC 3.0; any member here that has no need for over-the-air can dismiss most of all these products, with one exception: a lot of folks have bought new(er) TVs and / or audio systems, and sought to hook up their streaming or cable device (Apple TV, Roku or others) directly or through devices such as Soundbars that are *said* to pass 4k (HDMI into the soundbar and then out to the TV's only ARC HDMI [audio return channel]).
That video also highlights the trend action of the year now ending and sets-up a solid beginning for the "new decade." Lots of buyers here are of course are those who ignored our interpretation of a likely cycle low a year ago tonight (our having anticipated a capitulation).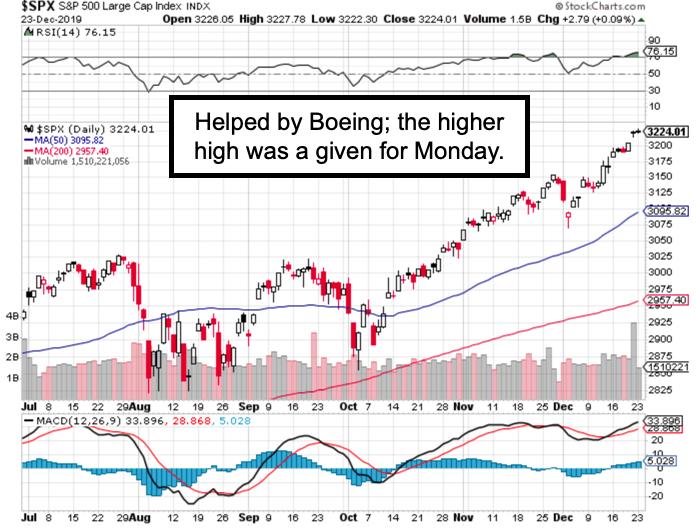 It is why I refer to them as "catching-up" in an expensive market; but they don't care because they feel they must be represented (it's peer-relationships and so on, and many will not get out-performance bonuses).
To us, the most important factor, other than having a speculative as well as investment pick that strongly outperformed the market (AMD and AT&T), was *not* shorting the S&P or going long the VIX, even when we (often correctly) saw short-term vulnerability.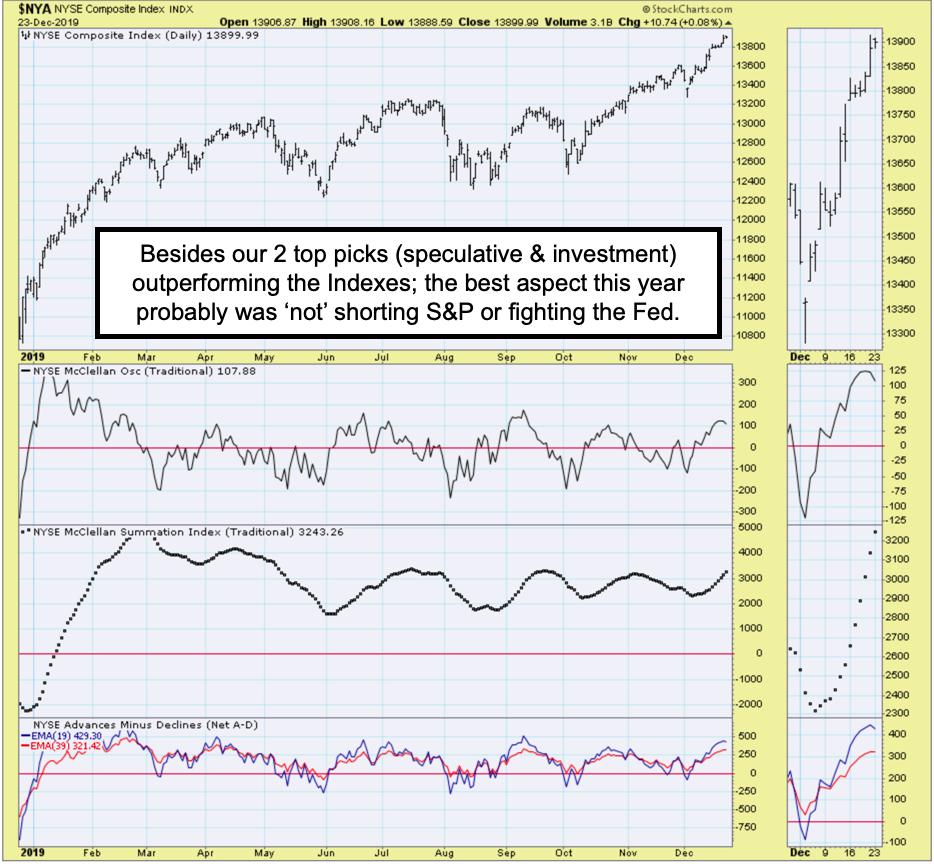 In the back of my mind (and shared often) was trade, the "friendly" Fed and the realization that "green shoots" were appearing so that all the forecasts of "recession" would be wrong-headed either since it would be over by the time they proclaimed it or, better yet, was what we thought the nuances suggested ongoing since Spring of 2018; and thus ending during the course of this "transition year."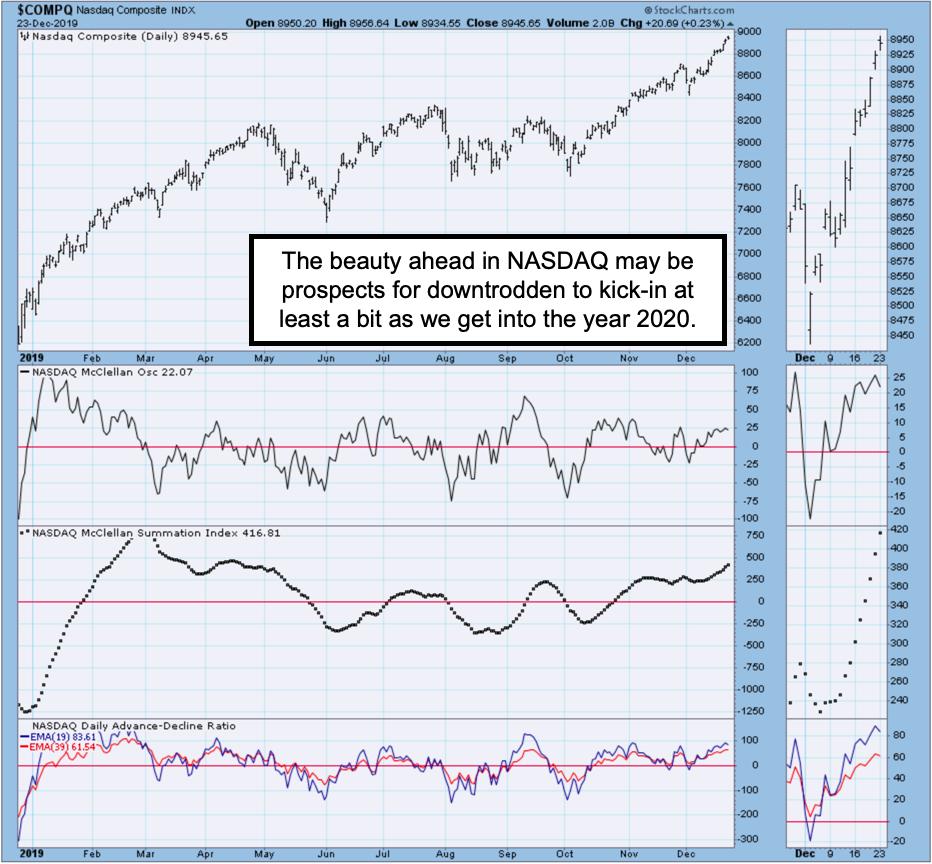 On Tuesday, the markets close early and we'll have just a brief remark as market news or events may require. The videos tonight I think quite reasonably address where the market is and why it's pricey but not yet over; though, of course risk will expand as we move into the new year.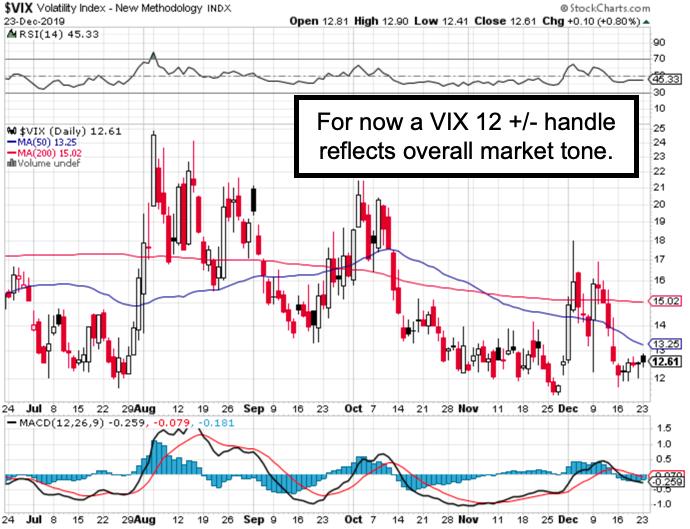 I want to thank all our members for their contributions, reflections from time-to-time and encouragement to keep doing my daily reports. Let's all have a great holiday time and look forward to being here through a New Year; as we welcome an important "New Decade," we expect to assess as it evolves.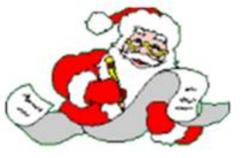 Conclusion is similar: There's no catalyst to warrant committing new funds as yet; although I expected *some* extensions and leaned very clearly towards a China Deal coming; initially higher S&P records. If anything, we've been conservatively optimistic through 2019 and reiterate the old sayings, "don't fight the tape," and "don't fight the Fed," all while on-top of capturing the entire gain on the number 1 stock: AMD.
We remain circumspect while market stresses are notably alleviated by making a "Phase One" deal with China (superficial or not), ideally (especially if Henry Kissinger really was involved in shuttle-finalizing it sufficiently to hold markets together for now).
Enjoy your holidays!
Gene
Gene Inger