Hello fellow StockCharts users. China is returning to work and the economy slowly getting back to normal. Is China potentially the best place to park your money while the rest of the world still battles with this horrific virus? I thought I would take a look at a few charts highlighting the relative performance of Chinese names against the S&P and the Vanguard Total World Stock Index Fund ETF. Let's get to the charts!
KWEB is an ETF that holds Chinese technology and internet stocks. There is a rangebound setup, with resistance being at $50 and support at around $38. With this recent rally in price, we have broken above the relative performance trendline (red trendline) and moved above the 50-day moving average highlighted in blue. Even though we are still in a rangebound setup, the relative performance is very encouraging.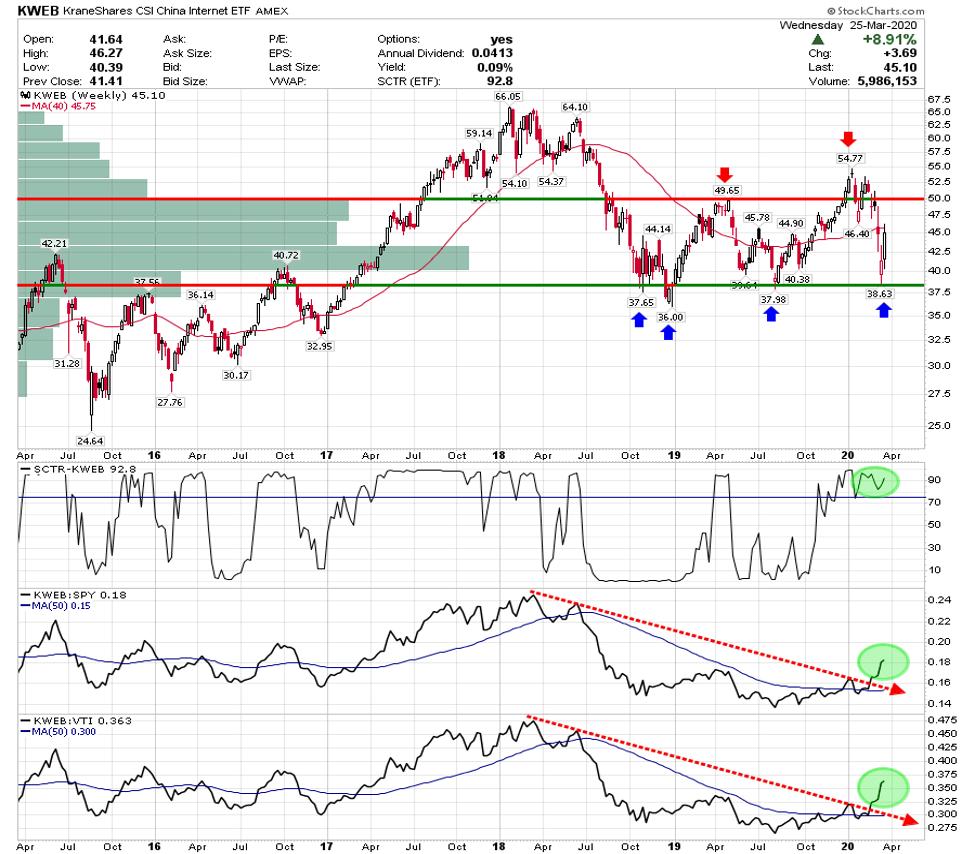 TAL Education Group (TAL), according to MarketWatch, operates as a holding company, which, through its subsidiaries, engages in the provision of after-school tutoring programs for primary and secondary school students. Its services are delivered through small classes and personalized premium services, such as one-on-one tutoring. TAL is the sixth-largest holding in KWEB with a weight of 4.96%. TAL broke out in late December and has held up terrific relative to the rest of the markets staying above its 40-week moving average. The most important thing to note here is the relative performance to the $SPY & $VTI are hitting new all-time highs.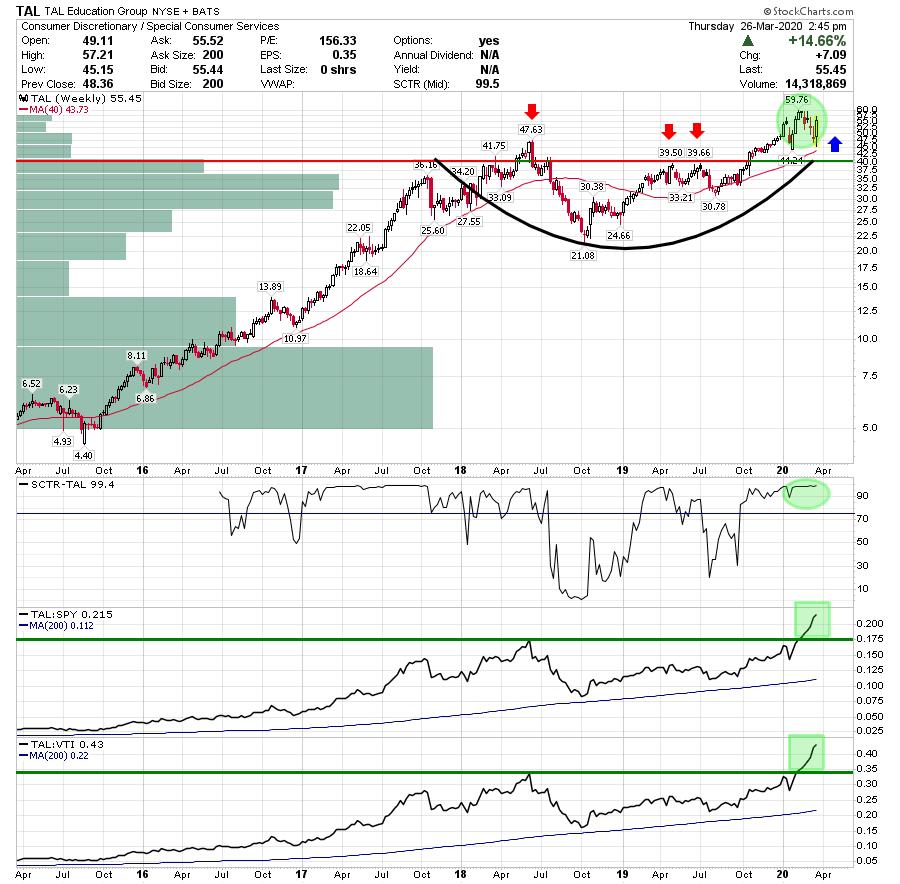 Tencent Holdings LTD (TCTZF), according to MarketWatch, is an investment company which engages in the provision of value-added services and online advertising services. It operates through the following segments: Value-Added Services, Online Advertising, and Others. The Value-Added Services segment involves online and mobile games. Tencent is also the top holding in KWEB at a weight of 9.88%. Tencent broke out of a downtrend back in January and then pulled back to support at $40. It seems to have successfully bounced off support and is headed back to $54, where it topped out in January. What's impressive, like in TAL, is the relative performance to the $SPY & $VTI both showing signs of strength in the recent months.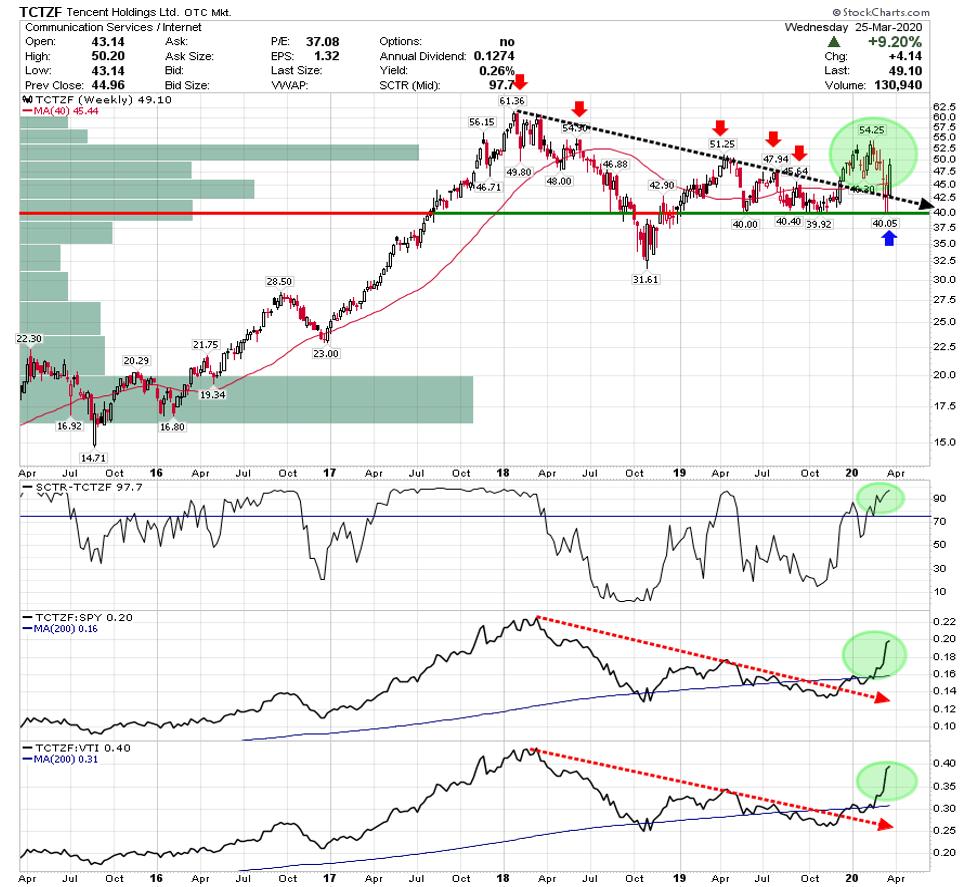 Keep an eye on these Chinese stocks in the coming months, as they seem very interesting. If you have any Chinese stocks that I missed, please don't hesitate to share with via email at abozic@valuetrend.ca.
- Aleksandar Bozic
Technical Analyst, ValueTrend Wealth Management
LIMIT YOUR RISK, KEEP YOUR MONEY
---
Interested in ValueTrend's Investment Process?
Call us Toll Free at 1-888-721-8736
Email Aleksandar Bozic at abozic@valuetrend.ca
It is our strong conviction that the investors who profit over the next 3-5 years will be those who are willing to adapt to the ongoing cycles and trends that occur during the final stages of a growth cycle. Our Wealth Management services will ensure that your portfolio is well-positioned in light of these cycles. If your current advisor(s) are not providing you with the level of service and investment management that is necessary to deal with today's realities, perhaps it's time to take a look at ValueTrend. Here, you can choose an approach to wealth management that is far different to that provided by traditional brokerages and money managers. You'll welcome our friendly, personal alternative to the cold, detached traditional investment houses or big-bank firms.
If you are interested in learning more about Breakouts and how ValueTrend incorporates them into their investment process, you can watch this recording of the webinar we recently did here.
Disclaimer: Aleksandar Bozic is a Technical Analysis Associate at ValueTrend Wealth Management. He can be contacted at abozic@valuetrend.ca. He may hold positions in the securities mentioned. The information provided is general in nature and does not represent investment advice. It is subject to change without notice and is based on the perspectives and opinions of the writer only. It may also contain projections or other "forward-looking statements." There is significant risk that forward-looking statements will not prove to be accurate and actual results, performance or achievements could differ materially from any future results, performance or achievements that may be expressed or implied by such forward-looking statements and you will not unduly rely on such forward-looking statements. Every effort has been made to compile this material from reliable sources; however, no warranty can be made as to its accuracy or completeness. Before acting on any of the above, please consult an appropriate professional regarding your particular circumstances. Full Disclosure here.