SPX Monitoring Purposes: Sold long SPX 8/3/20 = gain 1.49%; Long SPX on 7/30/20 at 3246.22.
Monitoring Purposes GOLD: Long GDX on 7/8/20 at 38.62.
Long Term Trend SPX Monitor Purposes: Short SPX 5/13/20 at 2820.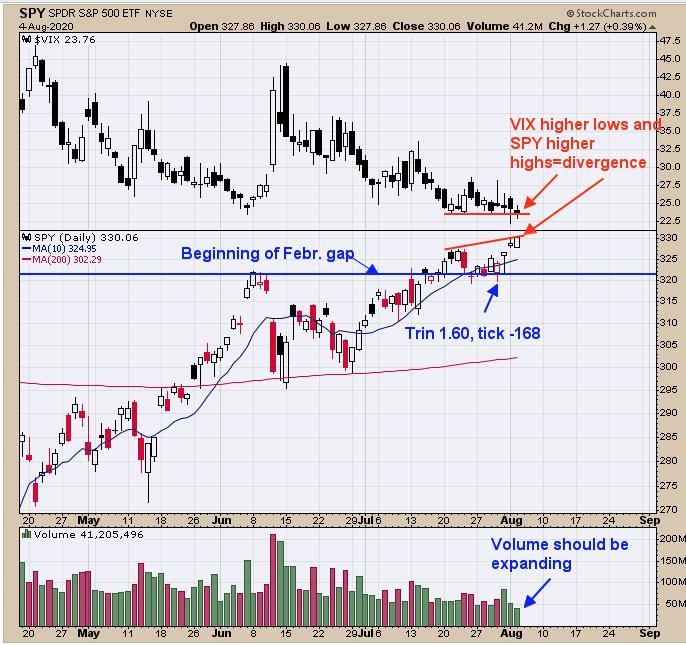 Yesterday's volume was light and today's volume is even lighter. Today's close above yesterday's high on lighter volume suggests tomorrow could be a down day. Again, seasonality is bearish for the next two months and the equity Put/Call ratio is way into the bearish levels. Having said that, momentum is still up and momentum rules everything. Being careful for now and back on the sidelines. Sold long SPX 8/3/20 = gain 1.49%; Long SPX on 7/30/20 at 3246.22.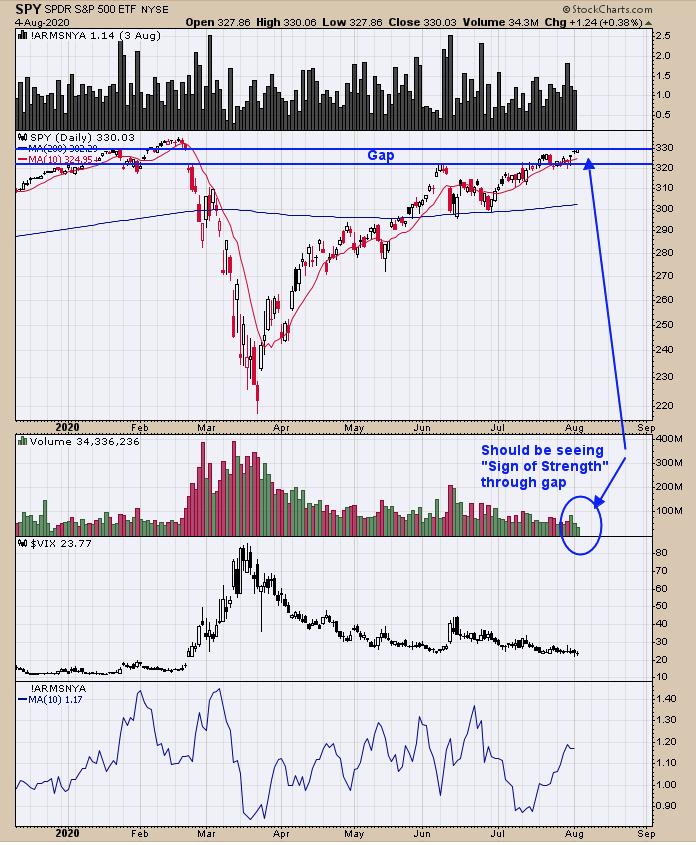 The SPY is testing the February gap and doing so on light volume. To get through a gap level, the market is supposed to produce a "Sign of Strength" (strong move with strong volume). In the current example, light volume is present along with a narrow trading range, which is not a "Sign of Strength." The gap is a resistance level and we are watching closely if the February gap will turn back the market or if the market will push through the gap. The lack of a "Sign of Strength" suggests gap has resistance.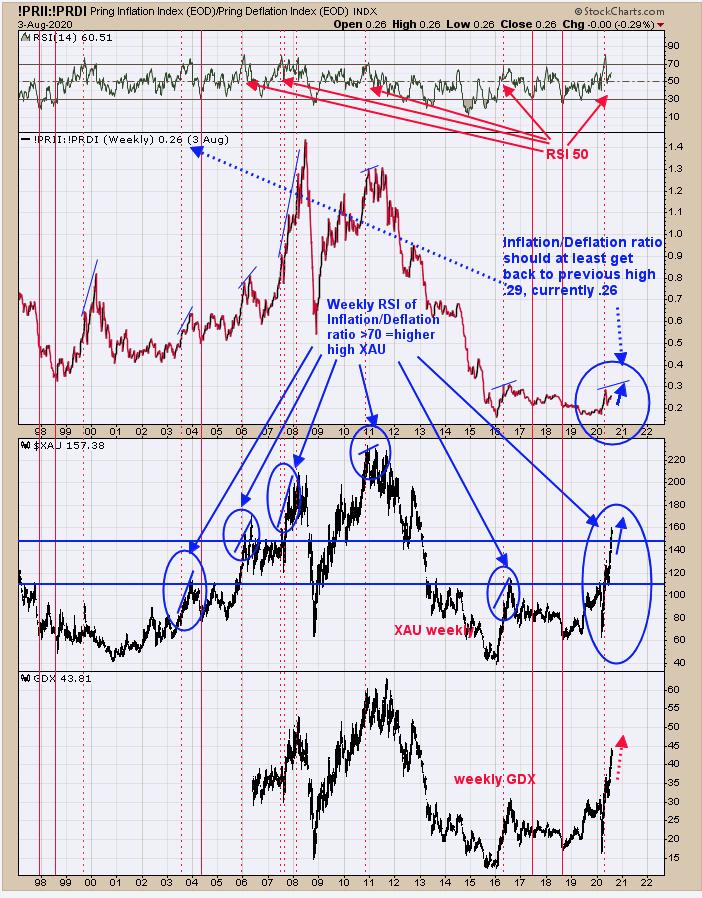 We updated this chart from yesterday. We said yesterday, "A higher high is possible short term. The middle window is the weekly Inflation/Deflation ratio and the top window is the weekly RSI for this ratio. When the Weekly RSI reaches above 70 (which it did on April 27), it suggests strong momentum and at least one more higher high above the high of the April 27 RSI high (dotted vertical lines on chart above). The Inflation/Deflation ratio high on 4/27 was .29 and the current high so far has been .26. When the weekly Inflation/Deflation ratio >.29, that will suggest a high in the market is near." Yesterday's Inflation/Deflation ratio closed at .26, which suggests rally has further to go. Long GDX on 7/8/20 at 38.62.
Tim Ord,
Editor
www.ord-oracle.com. New Book release "The Secret Science of Price and Volume" by Timothy Ord, buy at www.Amazon.com.