SPX Monitoring Purposes: Sold long SPX on 12/21/20 at 3694.90 = gain 1.3%; long 12/14/20 at 3647.49.
Monitoring Purposes GOLD: Long GDX on 10/9/20 at 40.78.
Long Term SPX Monitor Purposes: Long SPX on 10/26/20 at 3400.97.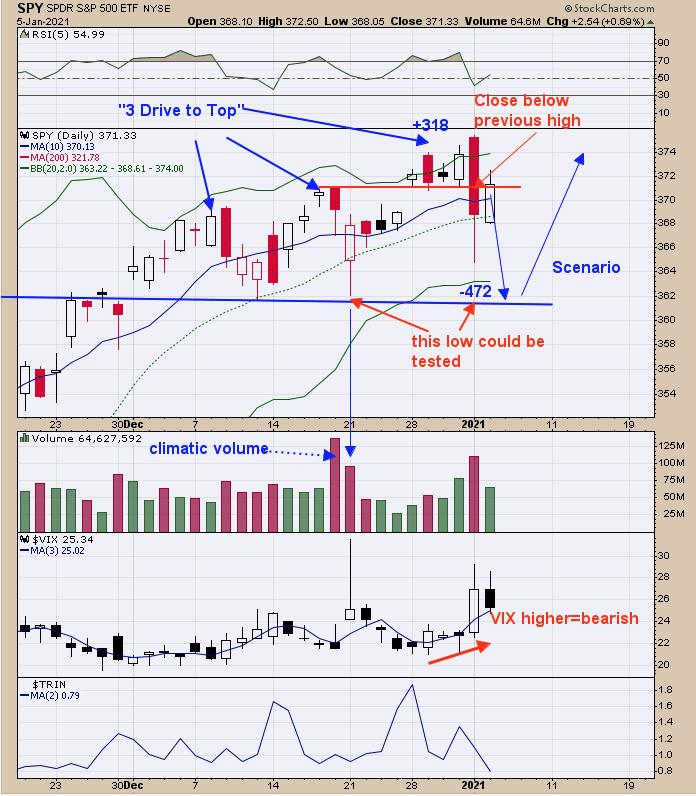 The pattern forming on SPY appears to be "Three drives to Top." This pattern has a downside target to where the pattern began, which is near the 362 range. Today, SPY closed at the previous high of 12/18/20 on reduced volume and a bearish sign. Yesterday we said, "The TICK closed at -472 and in panic level, suggesting a bottom is not far off. TRIN closed at .87, which is neutral. With tick reading in panic level, could see bounce tomorrow but should find resistance near previous high of 372 on the SPY." (Which is the 12/18/20 high). A bullish setup could form near the 362 SPY in the coming days. Will remains neutral short term and bullish intermediate term for the SPX.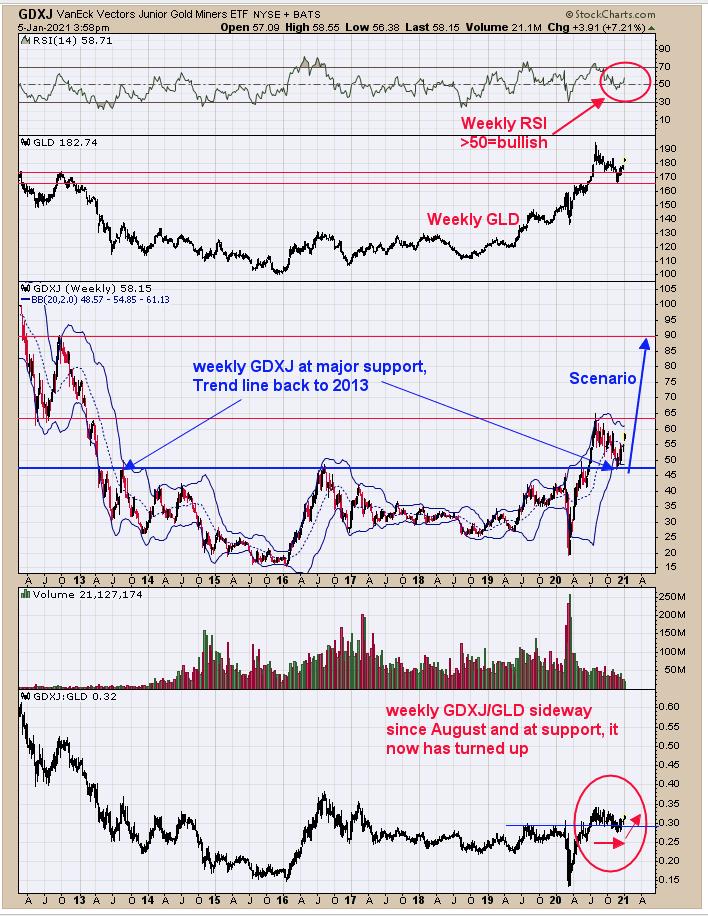 We have updated this chart that was shown in the past, which is the weekly GDXJ. We pointed out earlier that GDXJ was on strong support near the 50.00, which is where a trend line that dates back to 2013 sits. GDXJ has since bounced off support and rallied. The weekly RSI is back above 50 and bullish. The bottom window is the GDXJ/GLD ratio, which did find support near .30 and has turned up, which is another bullish sign. A possible upside target for GDXJ is the late 2012 high near 90.00 range. In this Bull Run for gold, Gold stocks should outperform gold, Silver stocks should outperform silver and, one step further, Silver stocks should outperform gold stocks. Therefore, for the potential maximum performance, silver stocks may be the place to be.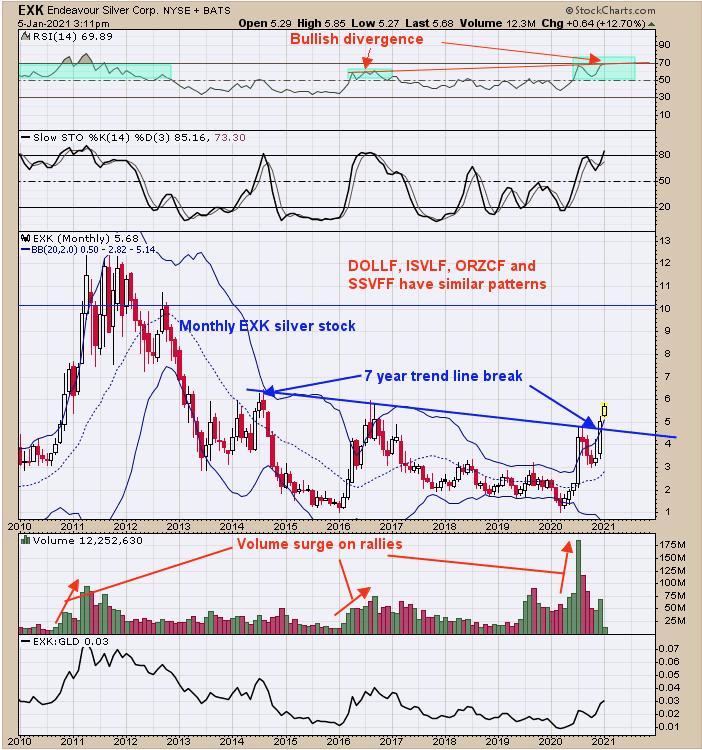 Above is the monthly chart of Endeavour Silver Corp. (EXK) going back to 2010. This chart broke above a 7-year trend line in December and closed above that trend line, suggesting a valid breakout. Notice that the monthly RSI is higher now than back in 2016 even though EXK is lower now than 2016, which is a bullish divergence. Volume increases also help to confirm the breakout. The point below the breakout was 4 and, adding that to the breakout, gives a target near 9.00, which is close to the swing high of 2012 of 10.00. There are similar patterns forming on DOLLF, ISVLF, ORZXF and SSVFF, which are also silver stocks. The SILJ is outperforming GDXJ, showing junior silver stocks are outperforming junior gold stocks. Long GDX on 10/9/20 at 40.78.
Tim Ord,
Editor
www.ord-oracle.com. New Book release "The Secret Science of Price and Volume" by Timothy Ord, buy at www.Amazon.com.