SPX Monitoring Purposes: Sold 6/1/21 SPX at 4202.04 gain 2.1%; Long 5/19/21 at 4115.68.
Monitoring Purposes GOLD: Long GDX on 10/9/20 at 40.78.
Long Term SPX Monitor Purposes: Sold long SPX on 1/15/21 at 3768.25= gain 10.80%; Long SPX on 10/26/20 at 3400.97.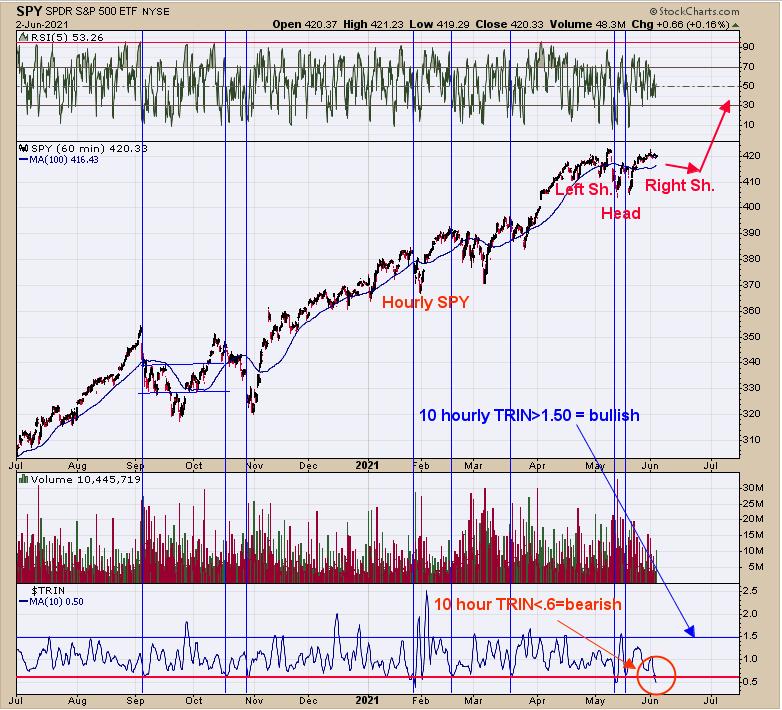 The bottom window is the 10 hourly average of the TRIN. Readings above 1.50 have been a bullish short-term sign for the SPY and below .60 have been a short-term bearish sign. The current reading is .50. There is an open gap from the May 25 open near 415 on the SPY and could be a short term target. The pattern forming could be a head-and-shoulders bottom where the "head" is the mid-May low. The "right Shoulder" could be forming now and take the rest of the month to complete. Not seeing anything to suggest a large decline is beginning here, but things can change quickly. Sold 6/1/21 SPX at 4202.04; gain 2.1%.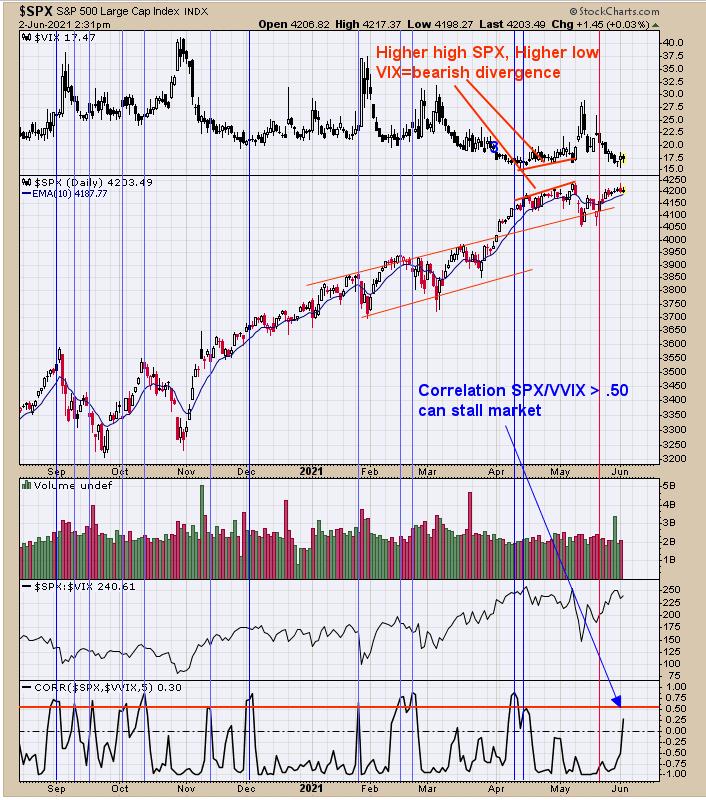 The bottom window is the correlation for the SPX, VVIX. When this indicator reaches near .50 (current reading is .30), the market is either at a short-term top or start of a consolidation phase. At one point, we were looking for a breakout to the upside and another impulse wave higher. With the current readings of different indicators like the TICK and TRIN, it appears a consolidation pattern may be starting or, in this case, a continuation of the current consolidation. There is an open gap on the SPY near the 415 range and could be an area of support. Sold SPX yesterday for a gain of 2.1%.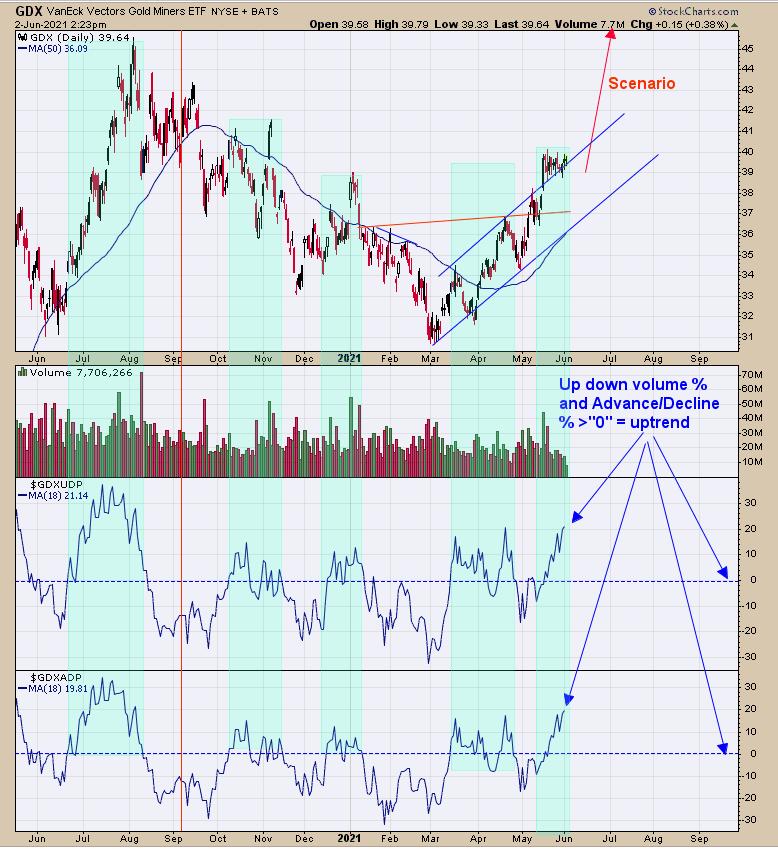 This chart is updated to today's trading. The bottom window is the Advance/Decline percent with an 18-day average, and the next window up is the Up Down Volume percent with an 18 day average. When both indicators are above "0" (noted in light blue) the market is in an uptrend. GDX has been trending sideways over the last couple of weeks near the 40.00 range and, at that same time, both indicators have gained ground and today both hit new short term highs. This condition suggests that, when the consolidation ends and the next impulse wave starts, the impulse will be up. Long GDX (10/9/20 at 40.78).
Tim Ord,
Editor
www.ord-oracle.com. New Book release "The Secret Science of Price and Volume" by Timothy Ord, buy at www.Amazon.com.