SPX Monitoring Purposes: Long 7/23/21 SPX 4411.79
Monitoring Purposes GOLD: Long GDX on 10/9/20 at 40.78.
Long Term SPX Monitor Purposes: Neutral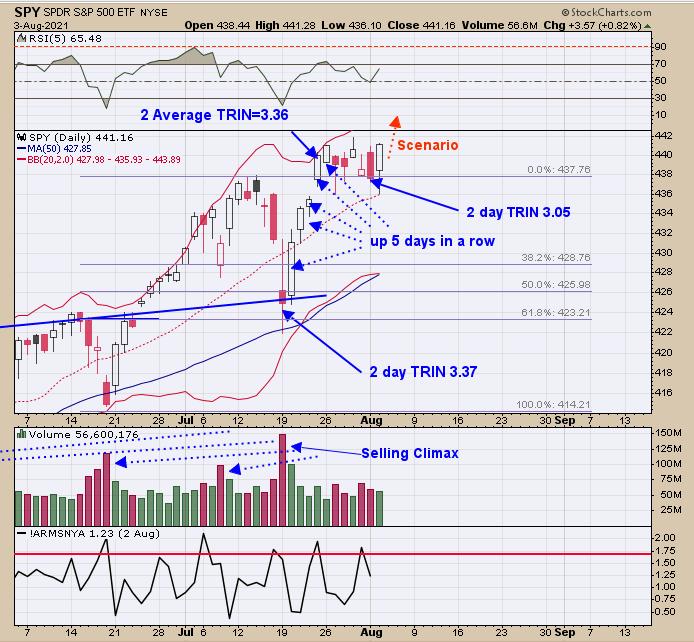 A week ago last Friday, the 2-day TRIN closed at 3.36, which is a bullish sign short-term. Yesterday, the two day TRIN closed at 3.05 and another bullish short term sign. The SPY was up five days in a row going into last Monday and the market is higher within five days 84% of the time. Yesterday marks the fifth day, but sometimes it can take up to seven market days to make a higher high and this appears to be one of those times. The CNN Fear & Greed Index today closed at 30 and suggests high fear and a bullish sign. Seasonality-wise, going into a new month usually leans bullish. Seasonality for August month leans bearish, so when the current rally ends, the market may flip sideways. It's still likely a new high in the market coming before the week is out.
The second window up from the bottom is the "2-day average of the TRIN." We marked with red vertical lines the times when the "2-day TRIN" was above 1.50 (yesterday's reading was 1.53) going back about a year. Of the last 15 chases where the "2-day TRIN" was at or above 1.50, in 13 (87%) cases, the rally started or continued at that point. In the two cases where the rally did not start immediately (circled in red), a brief pull occurred after which the rally started.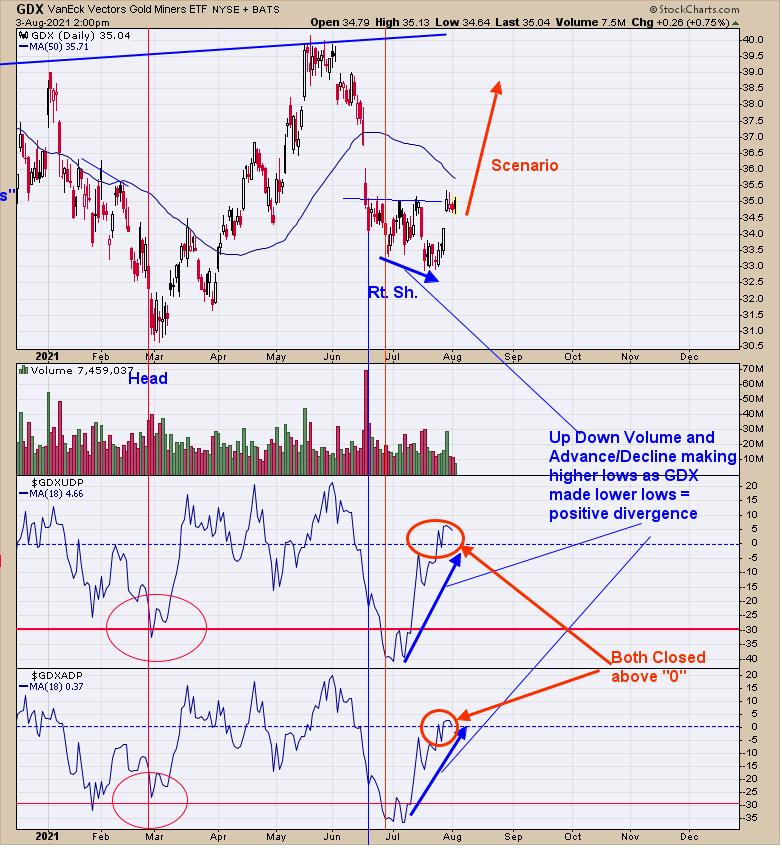 Above is a shorter-term view of yesterday's chart. The bottom window is an 18-day average of the Advance/Decline percent and the next window up is the 18-day average of the Up Down volume percent; both indicators are for the GDX ETF. Both indicators reached below -30 in late June and, in previous instances when this happened, the market was near a significant low. We notice in the past, when both indicators remain above "0" (both currently are), the uptrend usually continues. Looks good so far.
Tim Ord,
Editor
www.ord-oracle.com. New Book release "The Secret Science of Price and Volume" by Timothy Ord, buy at www.Amazon.com.