SPX Monitoring Purposes: Sold 10/4/21 at 4300.46=near breakeven; Long SPX 9/30/21 at 4307.54.
Monitoring Purposes GOLD: Long GDX on 10/9/20 at 40.78.
Long Term SPX Monitor Purposes: Neutral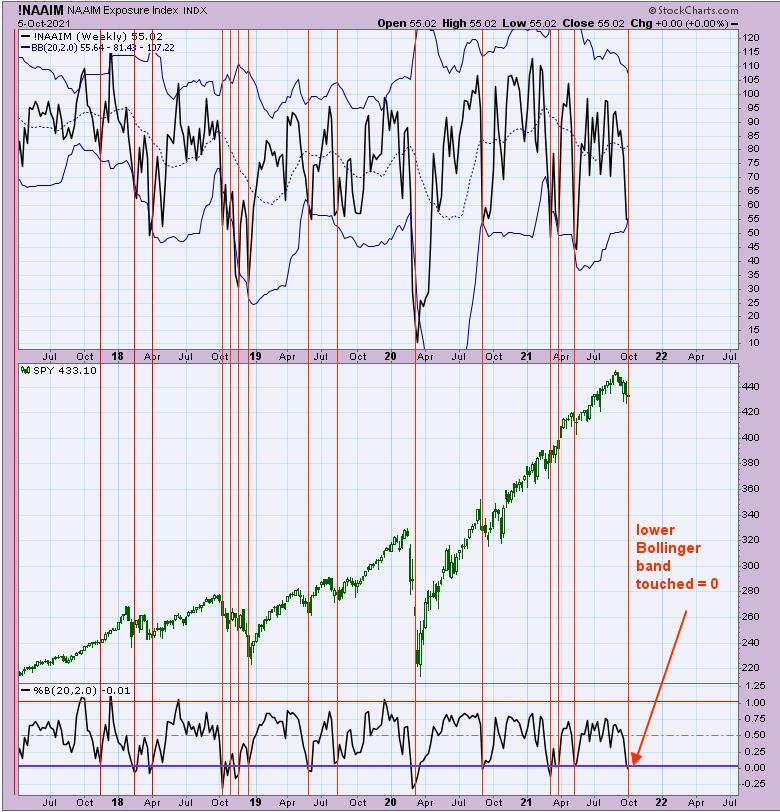 More evidence that a bottom is forming in the SPX; above is the weekly "National Association of Active Investment Managers" Exposure Index (NAAMI). When the NAAMI lower Bollinger band is touched (noted with a "0" or lower reading; bottom window), the market has been near an intermediate-term low. Current reading is -.01 and at bullish levels. Panic readings in the TICK and TRIN may develop late this week or early next week to potentially set up the next bullish signal. Intermediate-term bullish signals are present. In a neutral position for now.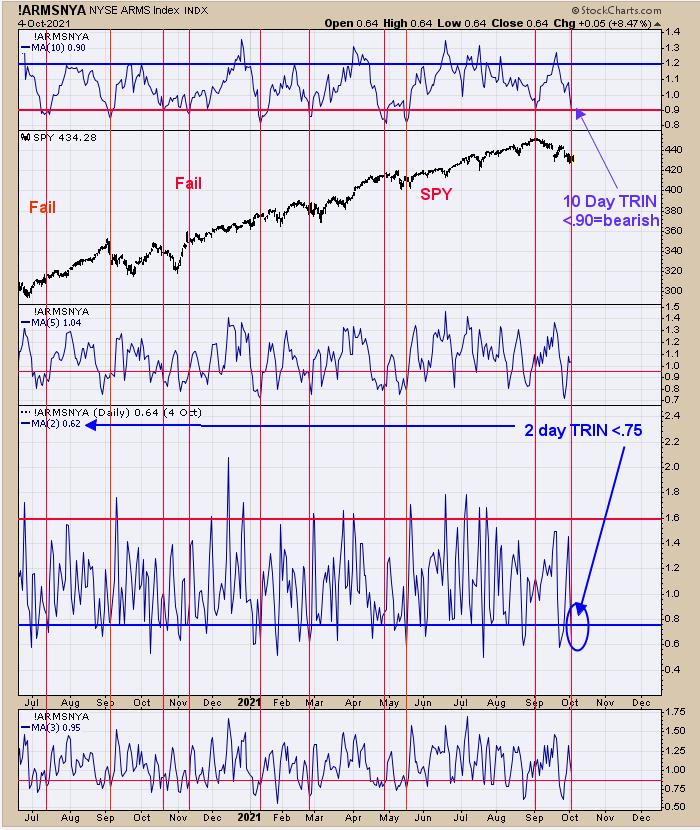 This is the week before option expiration week, where whipsaws are common. The top window in the chart above is the 10-day average of the TRIN. Readings near .90 and lower can produce short-term highs in the market and today's reading came in at .90. If market does rally when a 10-day TRIN <.90, the rally is usually weak and short-lived. The two-day TRIN is also in bearish territory with a reading of .62; below .75 is bearish. An intermediate-term low appears to be forming here (noted on page two of yesterday's report) but bottom process appears incomplete. Next week is option expiration week, which should be up. We are looking for a bullish setup not far from current levels.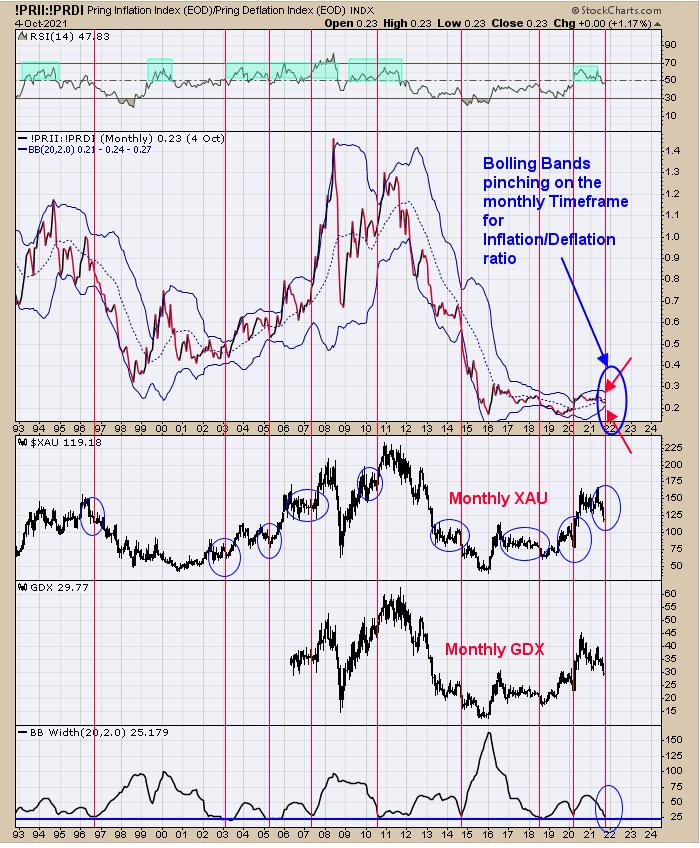 We should see movement in GDX as soon as the Inflation/Deflation ratio Bollinger bands are pinching. Yesterday, we said. "The bottom window is the Bollinger Bandwidth for the Inflation/Deflation ratio. When the Bollinger Bandwidth for the Inflation/Deflation ratio reaches near 25 (current reading is 25.55), the market is due for a impulse wave to start. The chart above goes back over 20 years and the red vertical lines show when the Bollinger Band width reached near 25. Some of the impulse waves were up and some were down. We have shown in our report over the last several days that the next impulse wave should be up. Don't know what the catalyst will be to start the next impulse wave for gold but it should be fairly soon."
Tim Ord,
Editor
www.ord-oracle.com. New Book release "The Secret Science of Price and Volume" by Timothy Ord, buy at www.Amazon.com.