SPX Monitoring Purposes: Long SPX on 11/1/21 at 4610.62.
Monitoring Purposes GOLD: Long GDX on 10/9/20 at 40.78.
Long Term SPX Monitor Purposes: Neutral.
The SPY was up 8 days in a row going into last Monday, which predicts the market will be higher within 5 days 93% of the time. Today marks the sixth day and the market did close at a new high. Yesterday, we said "[the] top window is the RSI (5) for the daily SPY. When the RSI (5) reaches 90 and above, it shows the market has strong momentum and usually not the final high. RSI (5) reached above 90 last Friday. The chart above goes back about eight months and shows the times the RSI (5) for the SPY reached above 90. The previous two times marked brief pauses in the market before heading higher. Our short-term view is that market may stall here into next week, which is Thanksgiving week, and from there head higher. We remain long the SPX." Added to the above, today marks four days up in a row; if up tomorrow, that will mark five days up, which predicts market will be higher within five days 97% of the time. Lots and lots of momentum, which is bullish.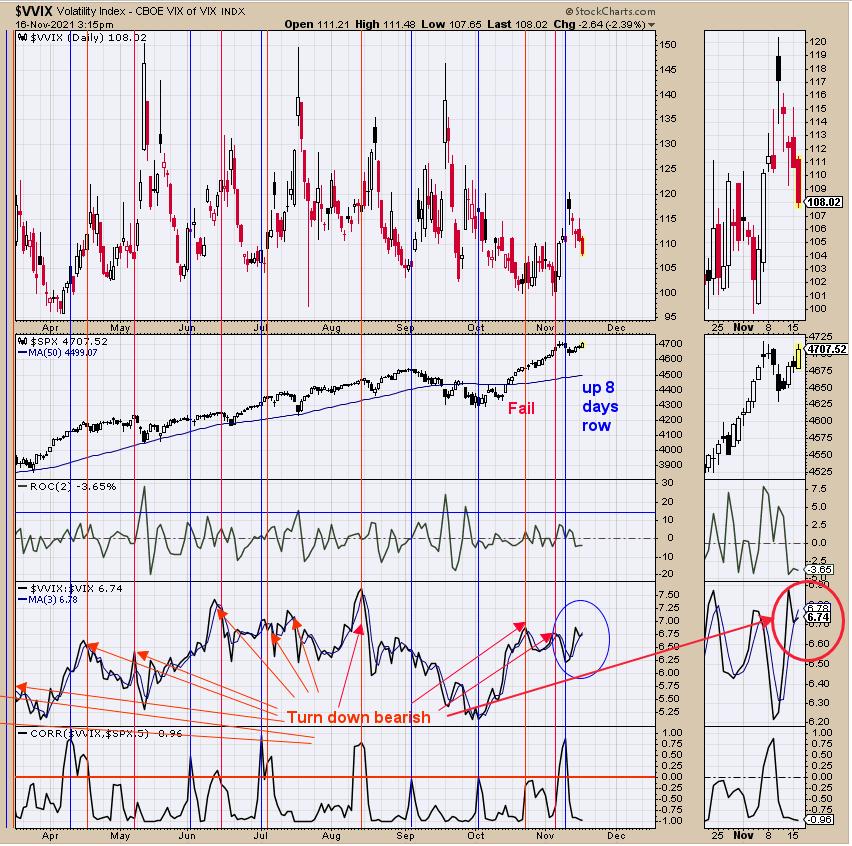 The consolidation could continue short-term. The second window up from the bottom is the VVIX/VIX patio with a 3-day average. When this ratio has a bearish crossover, the market can have a short-term pullback. The red vertical lines show the past bearish crossovers. Notice that there is a bearish crossover now even though the market rallied today. There can be a minor pull back here, but, in general, this market should work higher into year-end.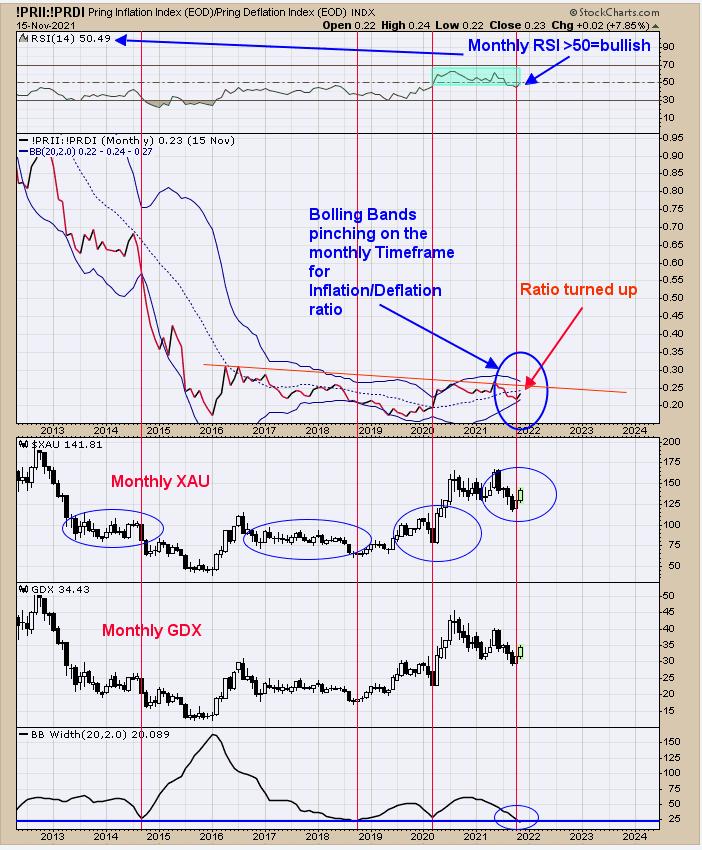 Above is the monthly Inflation/Deflation ratio. This ratio is bullish for gold when rising and bearish when declining. The ratio has been basing since 2016 and the Bollinger Bands have starting to "pinch" the last couple of months, suggesting the basing period is near an end and an impulse wave is about to start. Notice that this ratio just turned up, suggesting the impulse wave may be starting. The bottom window is the Bollinger Bandwidth, which has reached levels where other impulse waves has started. The top window is the monthly RSI for this ratio, which has closed above 50, another bullish sign. With a five-year base in this ratio, the impulse wave could last at least five years.
Tim Ord,
Editor
www.ord-oracle.com. New Book release "The Secret Science of Price and Volume" by Timothy Ord, buy at www.Amazon.com.