I'm providing this special Saturday edition of Trading Places as a result of a very significant breakout in the home construction index ($DJUSHB). One way to participate in this breakout is to buy an ETF that tracks home construction stocks. One example is the ITB. The latest disclosure of holdings of the ITB include the following:
---
DR Horton (DHI): 12.82%
Lennar Corp (LEN): 11.37%
NVR Inc. (NVR): 8.27%
Pulte Group (PHM): 7.96%
Toll Brothers (TOL): 6.23%
Home Depot (HD): 4.58%
These six companies represent more than 50% of the ITB so one advantage of the ITB is that you spread your resources across many home construction-related stocks with one investment. It is narrowly focused in the home construction area, however, so the downside is if the recent breakout in the DJUSHB fails, so too will this ETF.
Before I get into the details of this home construction breakout and look at individual stocks that could benefit, I want to remind you to please subscribe to my blog at the bottom of this article. I write an article every morning before the stock market opens, providing a recap of the prior day's action and delving into what to look for in the current day. It's more focused towards shorter-term trading, but I do take a big picture look frequently for those seeking market direction. Simply provide your email address in the space provided and click the "Notify Me" button and my blog articles will be sent directly to your email as soon as it's published. Thanks!
So let's get into a few charts. First, I wrote my ChartWatchers article this weekend on the 10 year treasury yield ($TNX) and its relationship to home construction, so I've provided a few charts there worth looking at. For an overview, you can check out that article this weekend.
In this article, I'll concentrate on a few individual stocks. Let's start with the ITB's top holding - DR Horton (DHI):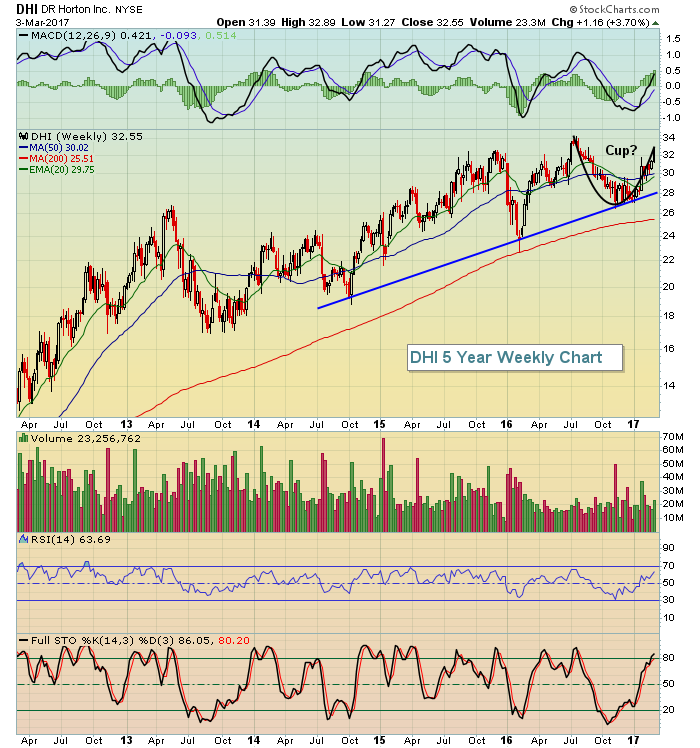 DHI remains in a very bullish formation, holding its multi-year uptrend line and potentially forming a bullish cup. This one remains quite strong technically in my view.
Next up is Lennar Corp (LEN):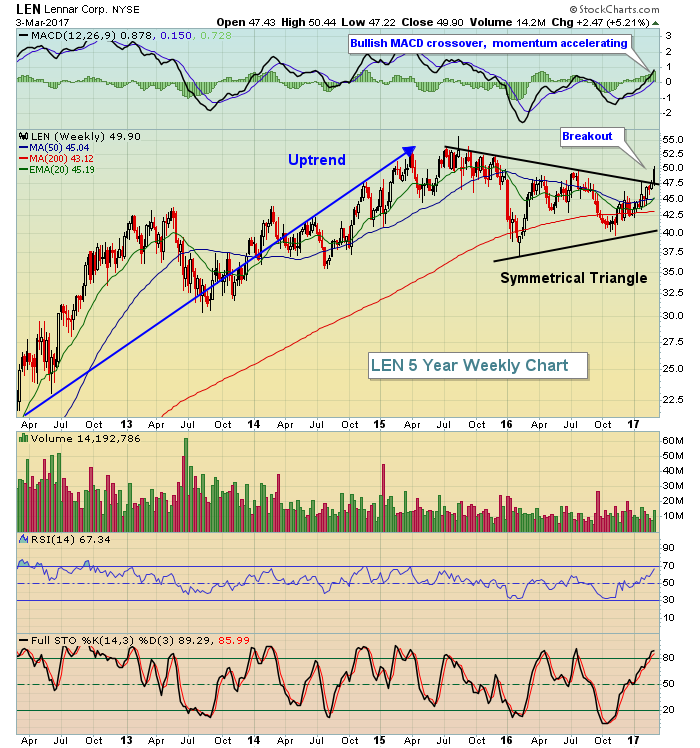 LEN is another home construction stock in a very bullish formation that last week just broke to the upside, following the lead of the DJUSHB. That symmetrical triangle served as a much-needed consolidation period after a three year uptrend saw LEN climb approximately 150%. I'm expecting to see another strong advance in LEN shares given this breakout.
As a final stock to check out, let's look at a small cap stock, MDC Holdings (MDC):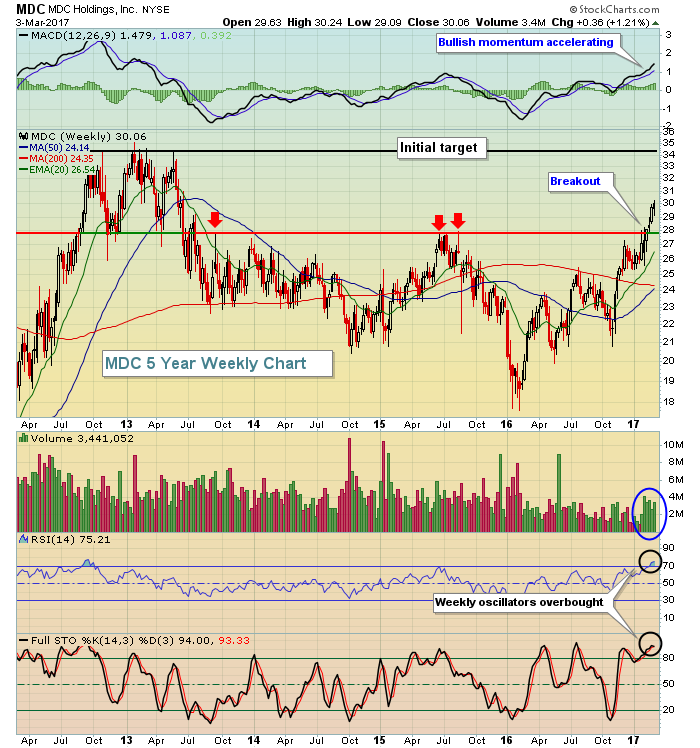 Currently, MDC has the highest SCTR ranking of any home construction stock (80) and volume has been picking up, a sign of accumulation just as it makes its multi-year breakout. I'd look for MDC to eventually reach the 34.50 area to test price resistance from early 2013. In the meantime, however, it's overbought so a pullback anywhere near 28.00-29.00 would represent a solid reward to risk accumulation zone.
Happy trading!
Tom