What a week!
First, on Wednesday the Fed made its interest rate announcement, making it clear they are going to leave all options open, including the pace at which rates are changed in the future. This gives them the maximum flexibility to make changes relative to current economic conditions without backing themselves into the corner. This announcement calmed the market, saw bond yields retreat, and by the next day there was a nice rally.
The nice rally on Thursday was followed by some profit taking on Friday but history was made as well when the NASDAQ made another all time high. That new milestone is really something to behold considering no one really thought the NASDAQ would fully recover after the pounding it took as a result of the infamous tech bubble starting in the year 2000.
Now that the Fed is out of the way the next major event will be the monthly jobs report two weeks from now and then, sneaking up right on the heels of the jobs report, earnings season will begin again the following week.
If you stop and think about it all of the key economic reports, world events and Fed Speak that hits the news wire every day are important but what it almost always boils down to is the bottom line; are you making any money? And if you are making money, are you missing, meeting or exceeding market expectations?
I draw your attention to the chart below because it's a great example of how attracted traders are to companies who beat earnings expectations. In this case Sigma Designs (SIGM) beat both revenues and earnings per share handily drawing a powerful market response on very heavy volume. And it's also why this stock made our Candidate Tracker list; we like to keep an eye on stocks that beat earnings plus have strong charts as they seem to hold up quite nicely no matter the market condition.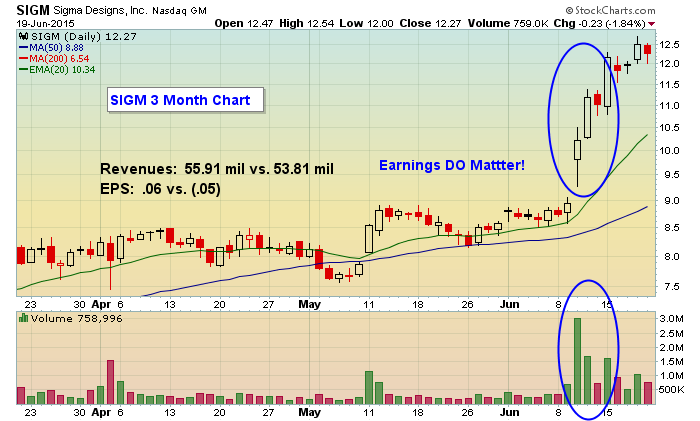 This fascination with the combination of strong earnings and strong technical charts has led us at Invested Central to some changes in our core business. In fact, I will be hosting an online event this Tuesday, June 23 at 7:30 PM eastern to show more examples of the power of identifying these types of trading candidates and how they get presented to our members. To join me just click here to register for this free event.
At your service,
John Hopkins
President
Invested Central/Earnings Beats