The much weaker than expected jobs report this past Friday put a kibosh on any intention the Fed might have had to raise interest rates during the month of October. In fact, barring a major improvement in the economic outlook, it's doubtful the Fed will be raising rates anytime during 2015.
You can see in the following chart that government bond yields began to fall immediately after the Fed's most recent rate decision where they decided to stand pat. And that continued on Friday when the market absorbed the weak jobs numbers with the yield on the ten year Treasury Note matching the low seen during the most recent August 24 flash crash: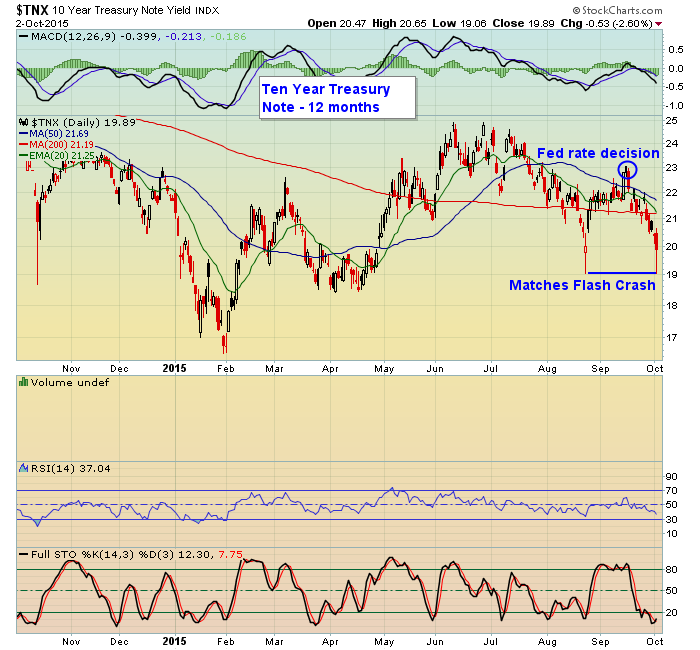 The plunge in bond yields that began almost immediately after the Fed announcement saw a corresponding move lower in stocks with the S&P matching the flash crash low earlier last week. But once the jobs numbers were released on Friday, the market rallied once traders realized the Fed's next decision had suddenly been made easier.
So the S&P managed to hold in spite of (or because of) the realization that rates will remain low for the foreseeable future. And now traders can turn their attention away from the Fed and focus on earnings, with Alcoa getting ready to "officially" kick off earnings season when they report their numbers after the bell on Thursday.
Speaking of earnings, I am going to be conducting a FREE Webinar this Tuesday, October 6 at 4:30 PM eastern. During this Webinar I will discuss the overall market and how it is setting up as earnings season gets ready to begin. It will include a brief tour of EarningsBeats.com and how we focus specifically on stocks that beat earnings plus have strong charts, a powerful combo. You can attend the webinar by clicking here.
At your service,
John Hopkins
President
Invested Central/EarningsBeats.com