Exactly how bizarre has the market action been over the last six trading days? Let me count the ways.
First, the British voted to leave the European Union which put the market in a tailspin with the S&P losing almost 6% in just two days. But by Friday's close virtually all of the losses were recovered as though nothing had happened.
Next, the VIX spiked almost 35% in just one day as fear engulfed the market. By Friday's close the VIX had fallen almost 45% from Monday's high. Fear practically turned to elation.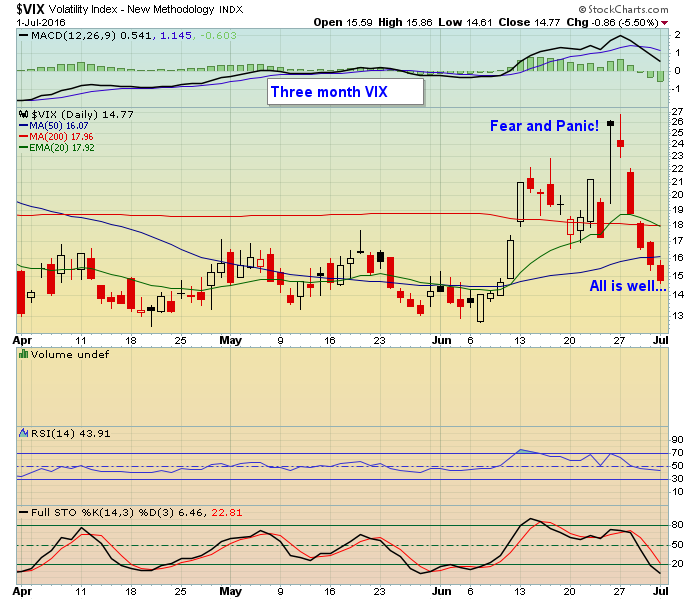 Next, the equity only put/call ratio climbed 40% in one day then fell 40% within two trading days.
While all of this was going on, the yield on the ten year US Treasury Note fell by over 16%, closing at 1.45%, a level not seen since July, 2012. And the US dollar spiked as well, going from $93.53 the day before the British vote to as high as $96.86 two days later before settling down some by Friday.
Then there was gold rising almost 7% over the course of the six trading days. And I should toss in European officials saying they will take whatever monetary easing steps are necessary to keep things from falling apart.
What makes all of this so fascinating is seeing a flight to safety (treasury bonds, gold) while at the same time seeing traders piling into riskier assets; stocks. It certainly has me scratching my head and wondering what might be next? Some experts feel the US has become a safe haven with bonds producing positive yields while stocks provide for possible appreciation. But seeing all of this going on over a week's time was something to behold and makes me extremely skeptical.
I forgot to mention that just about everyone has now come to the conclusion that there's no way the Fed will be able to raise rates this year, not with all of the economic turmoil around the world. So money is going to stay cheap for a long time and that seems to be of more interest to traders than the fact that economic troubles abound.
All of this coming a week before the monthly jobs report and with Alcoa set to report its numbers on July 11 as another earnings season gets underway. So you can be sure the market will remain extremely volatile with the bulls aiming for an all time high on the S&P while the bears will do their best to squash any attempts to take the market higher.
As part of my daily update to EarningsBeats members I include a market analysis to help guide them through the daily land mines. It includes key support and resistance levels on the major indexes as well as where I see the market heading in the very short term. If you are interested in getting my analysis for free just click here and you will be added to the list.
At your service,
John Hopkins
EarningsBeats.com