The market has been in non-stop higher mode ever since the election. The NASDAQ is up over 6%. The Dow rose 1000 points in four trading days. The small cap Russell 2000 rose over 13%. At the same time, bond yields have soared with the ten year US Treasury Note up 60 basis points from its recent low. The US Dollar index climbed over 100, hitting its highest level in 13 years. What do all of these have in common? They are extremely stretched.
Let's take a look at the Russell 2000.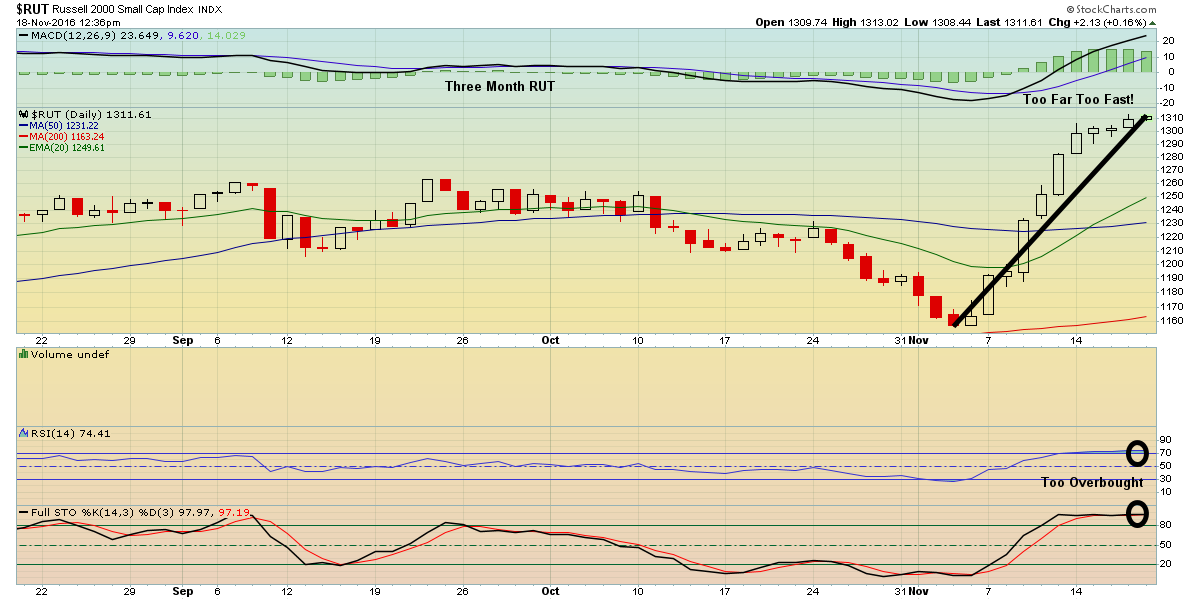 Just look at what small cap stocks have done since the November 3 bottom. The Russell 2000 has risen 13.5%. On top of that stochastics are now close to 100 with a RSI at 74. These are levels that almost always indicate a near term top is near.
Of course we all know the market, sectors and individual stocks can remain extended for a long period of time. But what happens is it gets harder to advance in any meaningful way and the reward to risk shifts to the downside.
Think about it. A 13.5% move in an index would be considered a great year, let alone two weeks. Tack on massively overbought technical indicators and it gets harder and harder to justify going long.
Interestingly, I studied 50 stocks in our "Candidate Tracker" which includes stocks on companies that beat earnings and have strong charts. In the vast majority of cases the stocks have performed very well since they reported their earnings and most of them are stretched, making them too tough to chase. On the other hand, if we remain patient I'm fairly confident many of them will pullback on any market correction, making them strong trading candidates.
That's where the patience comes in. If the market is stretched, bond yields are stretched and the US Dollar is stretched, it makes total sense to sit on your hands and wait for better opportunities. If you end up missing some upside, so what?
You might be interested in checking out some of the stocks in our Candidate Tracker so you can see for yourself how stocks with strong earnings have performed. Just click here.
One final thing. Just prior to the election fear had escalated big time with the Volatility Index (VIX) touching 23. Since then fear has evaporated, with the VIX close to 13. What does this tell me? That traders wanted nothing to do with the market when it had pulled back sharply prior to the election and now they can't get enough of stocks just when it might be primed for a breather. Classic!
At your service,
John Hopkins
EarningsBeats