Everyone likes a good meal, especially an all you can eat buffet. And if you are a trader, you've just been served up an earnings smorgasboard.
So far, per Thomson Reuters, over 400 companies in the S&P have reported for Q2, 2017, with almost 73% beating earnings expectations. This is good news for traders since there could be some great reward to risk opportunities, especially for those who are patient.
One stock that rose sharply after its recent report was Netflix when they released their numbers after the bell on July 17. In fact the stock rose almost 16% the day after the report, and a few percent higher over the next few days, not too shabby.
However, unless you owned the stock into its earnings report, you would have missed the bulk of the move higher, and it's awfully risky to chase a stock that has gapped up like NFLX did on July 18. That's where patience comes in because you can see from the chart below that NFLX has settled down, pulling back almost 6.5% from its peak, creating the possibility of a high reward to risk opportunity for those who missed out the first time around.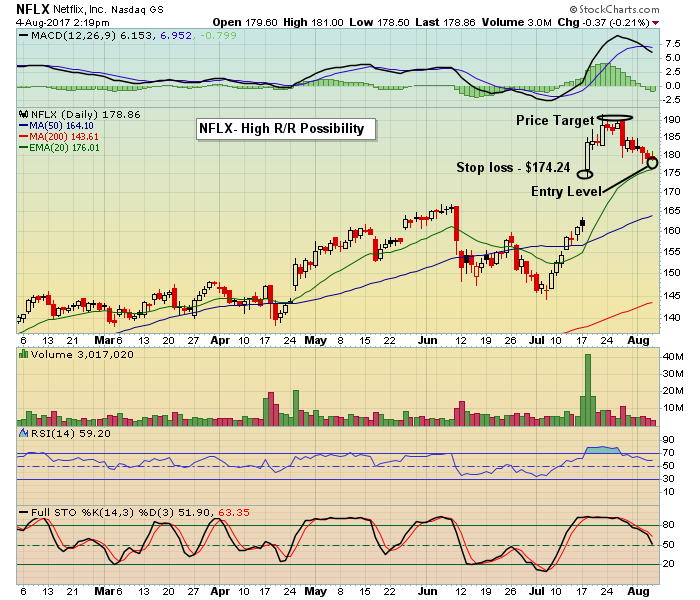 For example, in this case NFLX is closing in on both gap and technical support, a level that could be worth considering, with a very tight stop in case the stock continues to go lower. Perhaps an entry as close to the 20 day moving average as possible with a stop at the bottom of the gap on July 18, and a price target up near the recent high of $190. So very little downside to upside risk.
At EarningsBeats we scan for those companies that beat both top and bottom line expectations. Some of these become trading candidates where we provide entry, stop loss and price target levels to our members. I've decided to have a webinar this upcoming Monday to go over a number of companies that reported recently and beat earnings expectations. I will be joined by Tom Bowley, Senior Technical Analyst at StockCharts.com, who will give his thoughts on specific charts. If you would like to joins us for this FREE webinar, just click here.
Earnings Season brings with it winners and losers with traders particularly attracted to those stocks that beat earnings expectations and have strong charts.The key is to zero in on the "best of the best" to help increase the odds of making a successful trade.
At your service,
John Hopkins
EarningsBeats