The market has been in stall mode for quite some time now. Even though the S&P perked up some on Friday it's still hanging out near levels seen in early January, going nowhere fast.
At the same time the market has had all kinds of reasons to totally collapse; tariff wars, Fed tightening, rising US dollar, to name a few. Yet the S&P is back above all key technical levels, waiting for any bit of good news to move it into high gear. And where might that good news come from? Earnings.
For sure there's actually no way of telling if the huge blast of earnings reports that start coming out this week and will last for a solid month will jolt the market higher. But expectations have been tempered some so any meaningful, positive surprises could do the trick starting with the Financial Sector which has been one big disappointment all year long. For example, take a look at the chart below on $XLF which represents the financial sector which is right near its bottom for the year.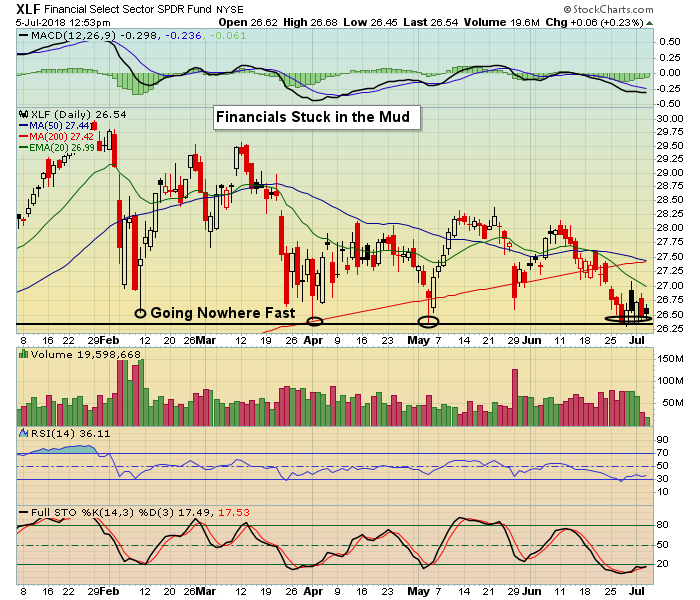 This chart pretty much sums up why the Dow and S&P have gone nowhere fast all year long; the banks, which were expected to benefit nicely from the Fed's rate raising policy, have not lived up to the promise. In fact, the opposite has occurred. So ANY positive surprises, starting with Citigroup, JP Morgan, PNC and Wells Fargo that report earnings this Friday, could help to turn the tide.
At EarningsBeats we're very mindful of how market sentiment can change quickly if there's a slew of strong or weak earnings. But the formula to profiting from earnings season comes from knowing which companies beat/miss expectations and identifying the proper entry and exit points to maximize profits while minimizing losses while achieving superior Risk Adjusted Returns. Accordingly, we are conducting our
Quarterly Earnings Webinar
this upcoming Monday, July 9, which will feature Tom Bowley, Senior Technical Analyst at
StockCharts.com
, who will demonstrate how to set up a Chart List of companies that Beat and Miss earnings expectations. And you will see first hand how we've managed to substantially achieve Risk Adjusted Returns that beat the S&P by a mile. You DON'T want to miss this event! Just click here (
https://www.earningsbeats.com/public/Preparing-for-Quarterly-Earnings-Season.cfm
) to save a seat at this important FREE event.
The market has challenged even the most experienced and successful traders all year long. You've got to learn how to spot those companies that both Beat and Miss earnings expectations and deploy your capital wisely in order to separate yourself from the pack.
At your service,
John Hopkins
EarningsBeats