We're now deep into earnings season, with hundreds of companies reporting last week alone. The reaction to earnings so far has been mostly positive - witness the nice move higher in the market. But we've also seen some earnings misses, with those companies taking it on the chin.
The very good news for traders is that, at some point, those companies that beat or missed expectations will become high reward-to-risk trading opportunities, both on the long and short side - especially for those traders who exhibit extreme patience. As an example, take a look at the chart below on Facebook, which easily beat earnings expectations when they reported their numbers last Wednesday.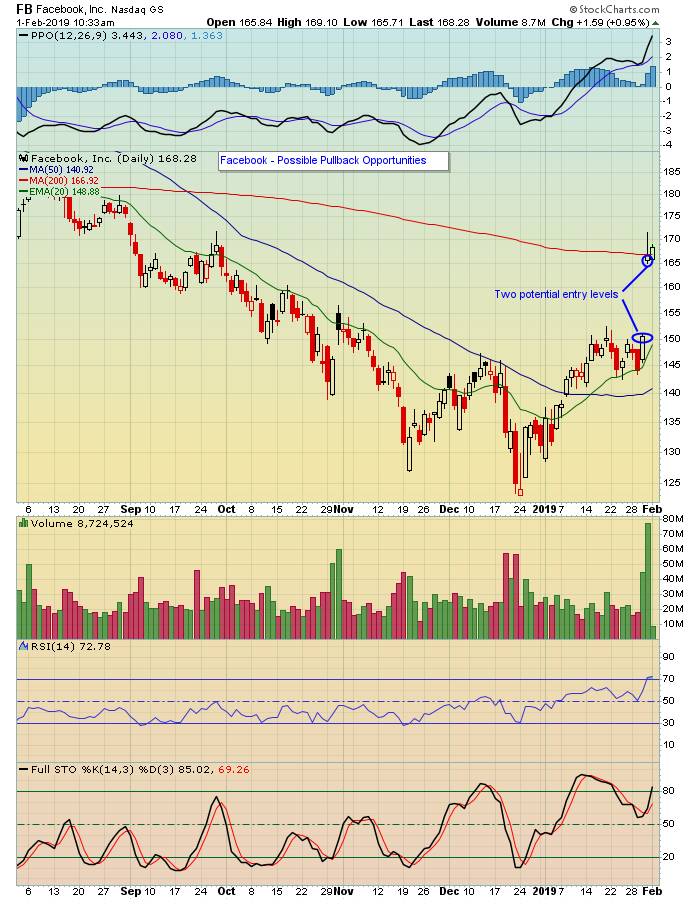 You can see how sharply FB rose on its report, being up over 12% at its high on Thursday. Importantly, it rose above its 200-day moving average for the first time in almost 6 months. But unless you were holding the stock into its report - something we're always leery about - you missed the big move higher. And who wants to chase a stock that has risen double digits in less than 24 hours?
If the market continues to move higher, FB could move higher as well, with the next key level of resistance close to 180. If that were to occur, we could easily see a pullback to the $165 level, perhaps a level to consider buying on the dip with a tight stop. It's also possible the stock peaks here in the near term and, at some point, pulls back to its breakout level near $150, which could potentially provide an even better entry level.
On the flip side, there are plenty of stocks that have or will miss earnings expectations and, at the right time, could become short candidates. At EarningsBeats, we scan for companies that both beat and miss earnings expectations for the purpose of zeroing in on those that are ripe for a trade. So I've decided to conduct a webinar this Monday, February 4 to go over some specific stocks that just reported earnings, including those that fit the long or short category. If you want to join me for this FREE event, just click here.
There are many things that impact the market every day, including key economic reports, world developments and sudden surprises. But when everything is said and done, earnings are what matter the most to serious traders.
At your service,
John Hopkins
EarningsBeats