SO MANY stocks that recently reported earnings beat expectations and gapped up sharply on very strong volume after their results were released. Those stocks include OLED, TTD, W and PANW, among others. In fact, take a look at the chart below on TTD, which reported its earnings before the bell on February 22, and you'll get a snapshot of what a lot of stocks that beat expectations looked like.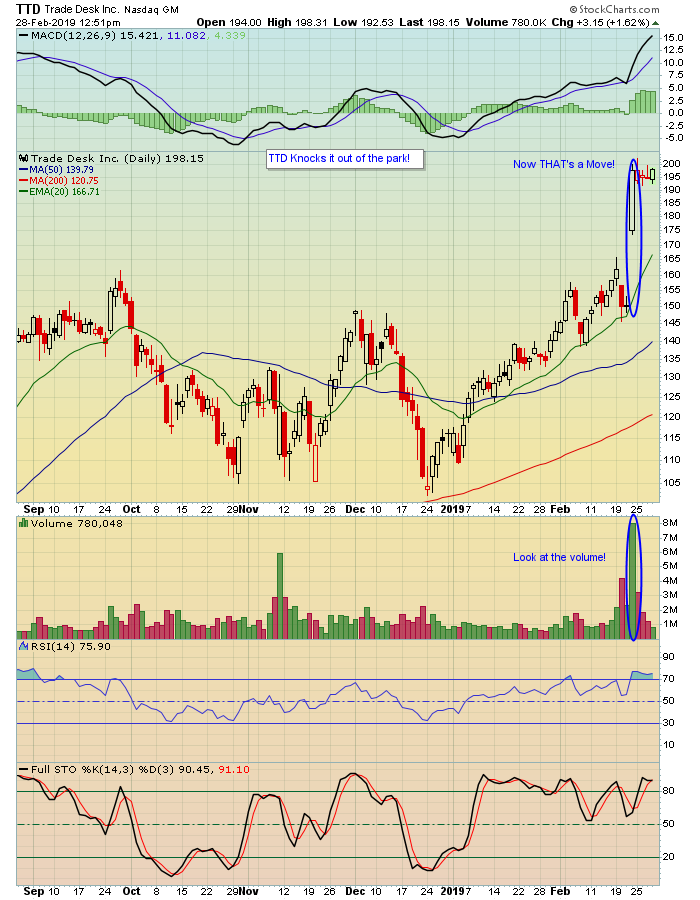 Just take a look at that powerful gap up on massive volume, which occurred when traders heard about the company's numbers; it climbed 33% from the prior day's close to the high of the day of the earnings report!.
Of course, it would have been great to own the stock into the report; who doesn't like a 33% pop on a trade? But it goes both ways, as we've also seen plenty of stocks that got hit hard on their numbers. Nonetheless, TTD is now one of many stocks that traders have their eyes on, looking to snag on any decent pullback.
Keeping an eye out for companies that beat or miss earnings expectations is a labor of love for us at EarningsBeats.com. Yes, it takes a lot of time to zero in on those companies that beat/miss expectations and have charts that could turn them into high reward-to-risk trading opportunities. Once you've identified those companies, though, you will have access to a treasure chest that is just waiting to be unlocked.
As an example, we recently conducted a webinar featuring StockCharts.com Senior Technical Analyst Tom Bowley, where he unveiled his Top Ten Picks that came from our Strong Earnings Chart List. During the event, Tom showed how his previous Top Ten Picks, which came from a previous Strong Earnings Chart List in late November of last year, CRUSHED the S&P, with a gain of over 17% on average compared to .64 on the S&P over a 3-month period. In other words, strong proof that traders gravitate to the "Best of the Best."
I've decided to conduct another webinar this Monday (March 4), where Tom will again join me and show how to combine Relative Strength with our ChartLists. It's reserved for our members, so if you want to learn more about how you can attend this highly educational event (and get access to over 250 stocks on our Strong/Weak Earnings Chart Lists), just click here.
The market has been on a tear since its late December bottom due to one primary reason: strong earnings. You, too, can benefit from following those stocks that knocked it out of the park.
At your service,
John Hopkins
EarningsBeats