Last week was chock-full of blockbuster earnings reports, including AAPL, AMZN, FB, GOOGL and MSFT. Together, those five companies have a combined market cap of over $8 trillion. That's a lot of earnings fire power! Overall, the five companies in total had superb earnings including top line, bottom line and future prospects.
Of the five tech giants, Facebook had the most favorable response, as it rose almost 8% at its peak the day after it reported. And, as you can see below, it held up quite well even with the market softening some into the weekend.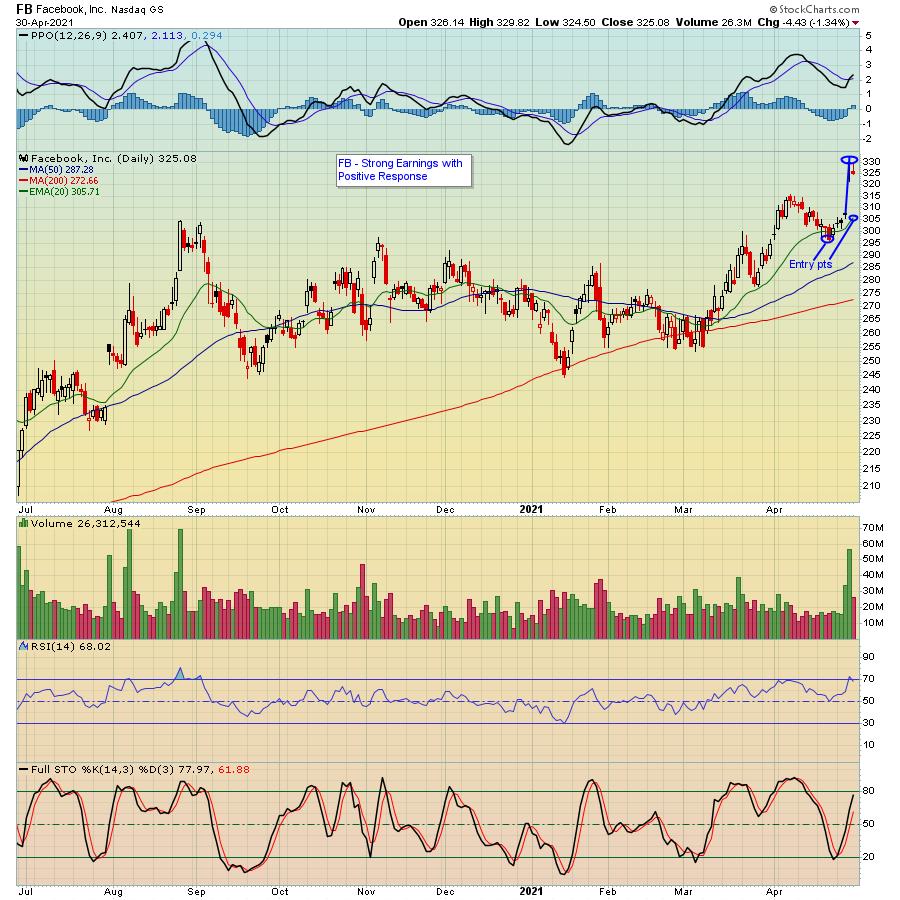 Unless you owned FB into its earnings report, you would have missed out on the nice bump higher. And you have to decide if you want to chase a stock like FB after it has already made a substantial move higher. But now that we have seen some fantastic results, you can start thinking about taking on a position when stocks like FB pull back to levels that become attractive. For example, in the case of FB, if you are willing to be patient, there's a good chance you will be able to buy the stock cheaper. For example, if you look at the chart above, one place to consider taking a partial position would be on any pullback to the 20-day moving average, currently near $305. Below that is another position near $296. You could keep a tight stop in case the stock continued to go lower, but, the point is, FB is likely to be on the radar screen of a lot of traders, so any pullback could be a nice buying opportunity.
There are still a ton of companies set to report their earnings over the next few weeks. But how has the market reacted to earnings so far? Great question! And we have the answer as our Chief Market Strategist Tom Bowley has created a very detailed spreadsheet showing exactly that -- reactions to earnings on specific stocks that have already reported their numbers. If you would like to get a copy of the spreadsheet (and accompanying video explaining how it works) just click on this link and sign up for our FREE EarningsBeats Digest newsletter that comes out every M, W and F. It is full of great earnings and market-related information.
With every earnings season comes great opportunities. Just make sure you are keying in on those companies with the strongest results, then wait for them to pull back to levels that could result in high reward-to-risk trades.
At your service,
John Hopkins
EarningsBeats.com